Sponsored by the Oni-Lion Forge Publishing Group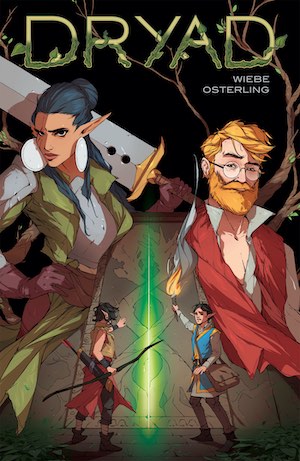 From best-selling writer Kurtis Wiebe (Rat Queens) and rising artist Justin Osterling comes a sweeping ongoing fantasy series! The Glass family spent thirteen years hiding peacefully in the sleepy forest settlement of Frostbrook where Morgan and Yale planted roots and raised their twins, Griffon and Rana. But secrets never stay hidden, and the family finds themselves the target of an unearthly manhunt across Frostbrook. Now on the run from Muse Corp., they must flee to the massive city of Silver Bay where the twins are uprooted and answering for their parents' mistakes.
Happy Tuesday, shipmates! It's Alex, with some shiny new releases and a few news items for you on this lovely day. I had a rough patch with reading over the last few weeks (gee, I wonder why I couldn't focus on anything, it's a mystery) but I just finished reading Burning Roses by S.L. Huang and I want to tell you it's a beautiful little story about family and forgiveness. Hope you've got a good book at hand right now. Stay safe out there, space pirates, and I'll see you on Friday!
A couple happy things for today:
I cannot stop watching this explanation video about Gritty made by an an American for confused French people.
Also, I hope this knowledge will help someone out there: King Arthur Flour has recipes on how to downsize pies for small holiday celebrations.
Looking for non-book things you can do to help in the quest for justice? blacklivesmatter.card.co and The Okra Project.
---
New Releases
When Caiden's home planet is destroyed, all he has left is a single-minded quest for revenge. Picked up by a crew of alien misfits who fly on a ship that might well be alive–and might contain its own universe–he pursues the slavers that took away everything he loved. His best chance for vengeance is to infiltrate his enemies and destroy them from the inside.
Kit Brightling is a foundling who has worked hard to rise in the ranks of the Crown Command and become one of the few female captains. Her magical affinity with the sea gives her small ship speed and maneuverability beyond its specifications. But when she's sent on a special mission with Rian Grant, someone she has every reason to distrust, she must learn to set aside her suspicions if they're to succeed at rescuing a spy and saving their country.
Left for dead by her so-called allies after saving Nikan from invaders and defeating an evil empress, Fang Runin still isn't ready to give up. She returns to her roots in the southern provinces, and while the leadership of that coalition is untrustworthy, the millions of commoners echo her thirst for vengeance. She will use every weapon to defeat the new Dragon Republic and the colonizers, but will she be able to resist the Phoenix's urge to burn everything?
The fourth book of the Stormlight Archive saga continues the brutal war of the human resistence against the invasion, with technological discoveries by Navani Kholin's scholars promising to change the face of battle even as the enemy prepares its own deadly operation. The conflict becomes an arms race set to challenge the heart of the Radiant ideals–and perhaps reveal secrets better left buried.
Eartheater by Dolores Reyes, translated by Julia Sanches
In an unnamed slum in Argentina, a young woman is compelled to eat earth, and the consumption of it gives her visions of lost and broken lives. At first she keeps these visions to herself, but after befriending a withdrawn police office, word of her ability spreads and soon desperate people are searching her out, trying to find news of their lost loved ones.
In 1920s Shanghai, the streets run red with blood, drawn in a feud between two rival gangs. Juliette Cai, a former flapper who is now heir to the Scarlet, faces off against her first love who betrayed her, Roma Montagov of the White Flowers. But their bitter enmity must be set aside after rumors of a monster in the shadows causing death and madness reach their ears.
News and Views
Lil Nas X has released his Holiday single and the video is as delightfully sci-fi as one could hope.
Check out the Kickstarter for It Gets Even Better: Stories of Queer Possibility for an upcoming anthology of positive, queer SFF.
J Michael Straczynski has announced that, 47 years later, Harlan Ellison's The Last Dangerous Visions anthology will be published in Spring 2021.
A long read by Geoff Allshorn about "queer science fictions and our place as creatores, audiences, and participants": From Queer to Eternity
There's a book of Star Trek-themed cocktails coming out, and a Wonder Woman cookbook? Sure, why not.
Ernest Cline is making noises about a prequel for Ready Player One, and Ready Player Two is going to be out soon.
November 12 was the 40th annivesary of Voyager 1's closest approach to Saturn.
And November 11 was the 50th anniversary of Oregon blowing up a dead sperm whale with 20 cases of dynamite. Here is the remastered video of the… incident.
On Book Riot
Mary Wollstonecraft or Mary Shelley? How to tell the difference.
This week's SFF Yeah! podcast is about genre books that aren't what they seem.
This month you can win a YA Fantasy and Sci-Fi book bundle and/or a $250 dollar Barnes and Noble gift card.
---
See you, space pirates. If you'd like to know more about my secret plans to dominate the seas and skies, you can catch me over at my personal site.