Sponsored by DC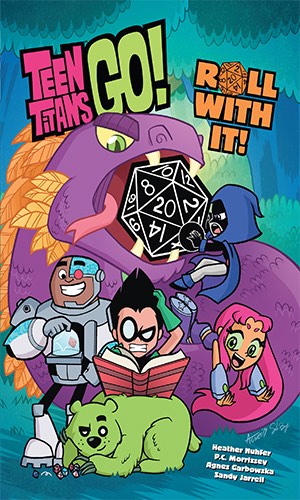 Join Teen Titans Go! on an all new action adventure—tabletop edition! Enter, Basements & Basilisks, where the fun never stops! With danger lurking around every corner, Robin worries that the Titans will be trapped in their imaginations forever, going on endless quests, and neglecting their heroic duties in Jump City!
Heather Nuhfer and P.C. Morrissey (Teen Titans Go!), Agnes Garbowska (DC Super Hero Girls), and Sandy Jarrell (Batman '66) team up for game night with the Titans in Teen Titans Go! Roll With It!
Hey readers!
We're back with another week of new children's book releases!
The Snow Dancer by Addie Boswell and Mercè Lopez
Well, it's November so it might as well be winter time so get a head start on the wintry fun with this cute picture book about Sofia, a girl who ventures out into a fresh snow to dance her own snow ballet. At least until her solitary dance is interrupted by other children looking to play.
Infinity by Pablo Bernasconi
For those who want something bold, artistic and unusual, this new picture book tackles the concept of infinity, and all of its mystery. Combining art, math, science, literature, and philosophy, this is a book meant to stimulate imagination and encourage contemplation.
This beautifully illustrated picture book tells the story of a young Korean boy, June, whose father works far away from home. Like a goose, June's father flies away for long periods of time. When June's father plants a tree with him, it becomes June's responsibility while his father is away.
Ruby Bridges, known for integrating a segregated school as a first-grader, pens this nonfiction picture book. Written as a letter, it recalls Bridges' harrowing experience, the inspiring children she's met, and provides context and insight to present-day protests across the country.
And the People Stayed Home by Kitty O'Meara, Stefano di Cristofaro and Paul Pereda
Ah, yes, we are entering the era of the Covid-19 book. This one is a sweet poem reflecting on the early days of the virus's appearance across the world and the many ways people passed their time in isolation, making a difficult choice for the betterment of the planet.
In this fun graphic novel, Kirby is a hero at his school, known for his clever plots to stop bullies and bring the school together and for his "7 Good Reasons Not To Grow Up" which make fun of adults. But Kirby isn't all he appears to be, and when his friends learn his secret, they'll have to grow up.
Friend Me by Sheila M. Averbuch
For middle grade readers looking for a fast-paced thriller, this one might be perfect. Roisin just moved to Boston from Ireland and is being bullied by classmate Zara. Her only relief is in her new online friend Haley, at least until Zara suffers a strange and terrible accident, leading Roisin to suspect her new friend isn't what she seems.
Until next week!
Chelsea (@Chelseabigbang)