Sponsored by Peachtree Publishing Company.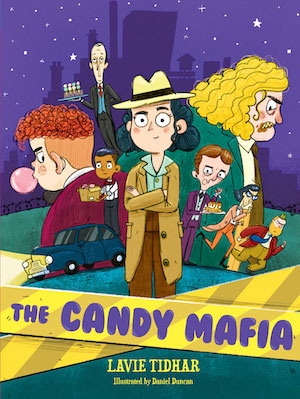 In a city where candy is a crime and sugar is scandalous…Nelle Faulker is a 12-year-old private detective swept up in a sinister underworld of sweets smugglers. When notorious candy gangster Eddie de Menthe asks for her help to find a missing teddy bear, Nelle Faulkner is on the case. But as a seemingly innocent investigation unravels into something more ominous, Nelle and her friends quickly find themselves in the shady underworld of sweets smugglers, back alley deals, and storefront firebombs. With moody illustrations by Daniel Duncan, readers will be sucked into this page-turning mystery from World Fantasy Award-winning author Lavie Tidhar.
Dear Kid Lit friends,
Robots are very trendy these days, and there are plenty of children's books to satisfy robot-loving readers! *Please note that the dearth of representation in this list demonstrates the lack of robot books written by authors of color.*
For picture books, check out Jessie Sima's Love, Z. I just love Jessie's illustrations, and this one is no exception. When a small robot named Z discovers a message in a bottle signed "Love, Beatrice," they decide to find out what "love" means. Unable to get an answer from the other robots, they leave to embark on an adventure that will lead them to Beatrice—and back home again, where love was hiding all along.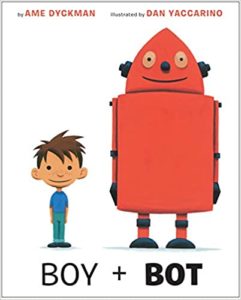 Boy + Bot by Ame Dyckman, illustrated by Dan Yaccarino, is a charming book about a boy and a robot who meet in the woods and spend the day together. But when Bot gets switched off, Boy thinks he's sick. The usual remedies—applesauce, reading a story—don't help, so Boy tucks the sick Bot in, then falls asleep. Bot is worried when he powers on and finds his friend powered off. He takes Boy home with him and tries all his remedies: oil, reading an instruction manual. Nothing revives the malfunctioning Boy! Can the Inventor help fix him?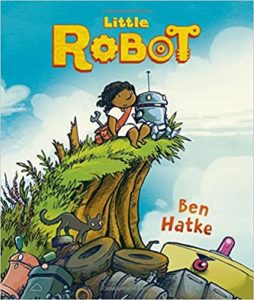 In Little Robot by Ben Hatke, a little girl finds an adorable robot in the woods. When she presses a button and accidentally activates him for the first time, she finally has a friend. But the big, bad robots are coming to collect the little guy for nefarious purposes, and it's all up to a five-year-old armed only with a wrench and a fierce loyalty to her mechanical friend to save the day!
For newly independent readers, check out Geeger the Robot Goes to School by Jarrett Lerner. This Amelia Bedelia-like book is about Geeger the Robot, and he is going to school. But not robot school…a school with kids, the human kind! As expected, Geeger isn't used to human ways, and his zany misunderstandings and overly literal responses to instructions lead to quite a few mishaps. He's starting to wonder if he can even make it until snack time! Will a bot made of wires, nuts, and bolts fit in with a classroom of kids?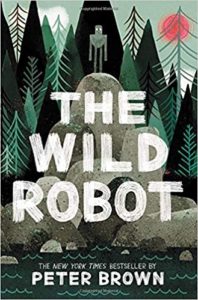 And for middle grade readers, check out The Wild Robot by Peter Brown. When robot Roz opens her eyes for the first time, she discovers that she is all alone on a remote, wild island. She has no idea how she got there or what her purpose is–but she knows she needs to survive. After battling a violent storm and escaping a vicious bear attack, she realizes that her only hope for survival is to adapt to her surroundings and learn from the island's unwelcoming animal inhabitants. As Roz slowly befriends the animals, the island starts to feel like home–until, one day, the robot's mysterious past comes back to haunt her.
What I'm Reading
Thank you, Miyuki by Roxane Marie Galliez, illustrated by Seng Soun Ratanavanh
Nacho's Nachos: The Story Behind the World's Favorite Snack by Sandra Nickel and Oliver Dominguez
Eric by Shaun Tan
What are you reading these days? Let me know! Find me on Twitter at @KarinaYanGlaser, on Instagram at @KarinaIsReadingAndWriting, or email me at KarinaBookRiot@gmail.com.
Until next time!
Karina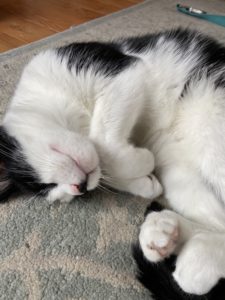 *If this e-mail was forwarded to you, follow this link to subscribe to "The Kids Are All Right" newsletter and other fabulous Book Riot newsletters for your own customized e-mail delivery. Thank you!*