Sponsored by Scholastic.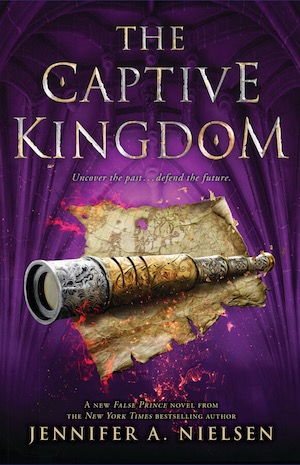 Return to the world of the bestselling series, The False Prince! The highly anticipated fourth book, The Captive Kingdom is here! During a routine sea voyage, Jaron, the Ascendant King, is taken hostage. The mysterious captors accuse him unthinkable acts and are in possession of some shocking information that force Jaron to consider the impossible: Could his brother be alive? Return to Carthya to uncover new secrets, high-stakes action, and breathtaking twists.
Happy Friday, space pirates! October is just whizzing by, isn't it? It's Alex with some news and ghostly reads for you. This weekend, I'm really excited because it's the inaugural FIYAHCon. Tickets for the convention itself are sold out, but if you've got some free time this Friday/Saturday morning, you can participate in the Fringe programming for free. Stay safe and keep sailing—and I'll see you on Tuesday.
These guys always make me smile.
Looking for non-book things you can do to help in the quest for justice? blacklivesmatter.card.co and The Okra Project. Or check out the In This Moment anthology being kickstarted by Maurice Broaddus.
News and Views
K Tempest Bradford has announced her middle grade SF debut!
N.K. Jemisin did a Twitter thread of her 10 greatest blog hits.
NYCC programming: When fantasy world building and the real world collide
The Disney Channel has optioned Sal and Gabi!
Suyi Davies Okungbowa's next book has a cover and it looks SO COOL (pre-order here)
Roseanne A. Brown's sequel also has an awesome cover (pre-order here)
Yoko Ogawa's The Memory Police is being adapted as a feature film
Malka Older: Why We Still Need Democracy. She also wrote a humdinger of a Twitter thread when Senator Mike Lee opened his mouth, and she's going to be working on a SF hyper-text mystery called Neurocracy.
World Fantasy Con is at it again (and by "it," I mean failing super hard on basically every axis of diversity) and K Tempest Bradford explains in detail
On Book Riot
6 books celebrating women's early contributions to fantasy and sci-fi
9 of the best YA vampire books
4 speculative YA books about formidable females of the high seas
8 witchy YA novels to get you ready for Halloween
100 Dune quotes to get ready for the movie
LGBT urban fantasy: 11 of our favorites
20 must-read fantasy romance books
10 space opera series to get you through the winter
This month, you can enter to win a $250 Barnes & Noble gift card.
Free Association Friday: Heartwarming Ghosts
It's still the best month of the year, so let's stick on brand for this glorious time of year! Sadly, there aren't enough books about the wonderful crunchy noises fallen leaves make when you step on them to make a list, so I decided that ghosts were a good second place, thematically. Because we can have ghosts and not have it be out-right horror—sometimes it's even downright heart-warming. So let's do some ghostly fantasy!
Chelsea has been dead for two years due to an unfortunate accident, but she's not about to let that stop her from making it to her brother's wedding. Along with the much older ghost who acts as her mentor and their one living friend, an unhoused woman who has an amazing talent as a mime and can see ghosts, they set out to walk from New York City to San Francisco. It's a road trip book like you've never read before.
Li Lan is the daughter of a bankrupt family, so she doesn't have many marriage prospects… until the wealthy and powerful Lims offer to have her become the ghost bride of their only son, who died under somewhat mysterious circumstances. Li Lan must find out the truth behind her betrothed's death if she wants to make it out of this alive… (Note, this has been made into an extremely cute limited series that's on Netflix.)
A trans boy named Yadriel is determined to prove to his traditional family that he's a brujo, and the first step is summoning a ghost… but he accidentally summons the ghost of a high school classmate he didn't even realize was dead. And the ghost refuses to pass on until Yadriel does a few things for him. And while Yadriel is dealing with a cranky yet very cute ghost (oh no) he's also trying to figure out what made this classmate and a brujo in his own family disappear at about the same time… (Look, I love this book, and it's VERY cute.)
People are supposed to live a certain amount of time, and when they shuffle off the mortal coil early for any reason, they find a heavy debt on their record. These ghosts can steal from the living, or they can earn it back in other ways. Jenna, one such ghost, ekes out a little time each day by volunteering at a suicide prevention hotline. But something is binding the ghosts around her into mirror, and she needs to find out what–and stop it.
Elatsoe by Darcie Little Badger
Elatsoe (Ellie) is a normal ace Apache teen living in a paranormal life thanks to the magical ability to raise the spirits of dead animals, a talent passed down from her ancestors. Rather than going to college, she's decided she'll be a PI, putting her brains and natural curiosity to good use. But when her beloved cousin is murdered and his ghost visits her, she has her first case earlier than she ever could have expected–and her whole family is in danger.
---
See you, space pirates. If you'd like to know more about my secret plans to dominate the seas and skies, you can catch me over at my personal site.