Sponsored by Julian at the Wedding by Jessica Love.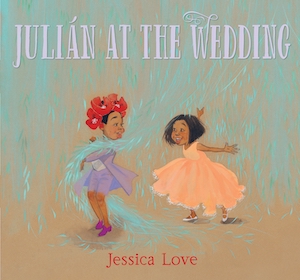 tk
Hear Me Out Launched At Pennsylvania Libraries

The Free Library of Philadelphia, in collaboration with the Carnegie Library of Pittsburgh and partnered with other libraries, has a new initiative: Hear Me Out. The new program's goal is for people in Pennsylvania from different backgrounds to speak to one another through moderated online sessions. The first discussed topic, on October 27th, will be "Does my vote count?", focusing on personal experiences.
The New Magic School Bus Trailer

Netflix is dropping a new 45-minute special for The Magic School Bus Rides Again–based on the popular children's books by Joanna Cole–The Frizz Connection. The special will have the school bus split in three, sending the class to different places around the globe with different versions of Ms. Frizzle aboard! And you can watch the trailer here while we wait for it to stream on Netflix beginning October 20th.
I Can Read! Comics From HarperCollins

HarperCollins' I Can Read! line is expanding with the launching in 2021 of I Can Read! Comics. The graphic novels will have three reading levels for kids 4-8 and each will include a page that teaches kids how to read a comic. Four titles will start the line next summer releasing in hardcover and paperback.
10 Native North American Women Writers to Read This Fall

It's Indigenous Peoples' Day! Explore poetry, nonfiction, plays, and more by these excellent Native North American Women writers.