Sponsored by Tor Books.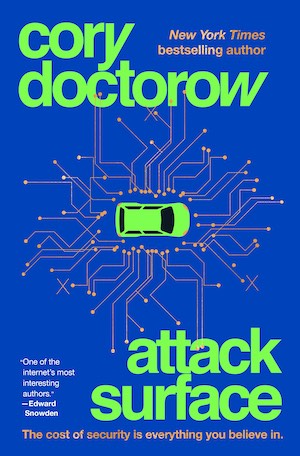 Cory Doctorow's Attack Surface is a standalone hacker thriller set in the world of New York Times bestsellers Little Brother and Homeland. In her day job at a transnational cybersecurity firm, Masha makes the hacks that allow repressive regimes to spy on dissidents. But, for fun and to ease her conscience, Masha sometimes uses her skills to help those troublemakers evade detection. When her targets were strangers, she could compartmentalize. But when the hacks she's devised are directed at her friends—Masha must finally choose: the winning side or the right side? And whatever choice, someone's going to get hurt.
It's time for another Tuesday full of books! There are several amazing new books out today. At the top of my list of today's titles that I want to read are How to Write One Song by Jeff Tweedy and This is All Your Fault by Aminah Mae Safi. (I am told this one is like Empire Records in book form, but since I have never seen Empire Records (SHHHH PLEASE STILL LOVE ME), I will not have a problem making comparisons.)
You can also hear about some amazing books on this week's episode of All the Books! Vanessa and I discussed The Once and Future Witches, The Midnight Bargain, Ring Shout, and more great new books.
As always, I am wishing the best for all of you in whatever situation you find yourself in now. Please reach out to your friends and family if you need someone to talk to, and be sure to keep social distancing and washing your hands to keep yourself and others safe.
And now, it's time for everyone's favorite gameshow: AHHHHHH MY TBR! Here are today's contestants:
While I am not personally a fan of watching football – too many starts and stops! – I love reading novels about football. And this is just about the best one involving the sport that I have read. It's about a young man, Miles Furling, whose childhood dreams of playing professional football get one step closer to reality when he gets a scholarship to the prestigious King College. Coming from a modest background, the scholarship is everything, even if the school's team isn't very good. At school, Miles becomes roommates with the school's top player, Reshawn, who doesn't want to explain how someone with his talent wound up on a terrible college team. Eventually Miles and Reshawn become close, and the novel blossoms into a thoughtful, heart-punching look at privilege, sexuality, and the toxic environment surrounding football. It's a really great debut, and it was recently longlisted for 2020 Center for Fiction's First Novel Prize. (CW for homophobia, violence, and death.)
Backlist bump: The Throwback Special by Chris Bachelder
This is a beautifully illustrated YA graphic novel about belonging and being true to yourself. Tiến's family came to America from Vietnam, which sometimes makes it difficult for him to feel like he fits in, but his realization that he's gay makes him feel even more alone in the world. To comfort himself, he immerses himself in books (something we all can identify with), reading story after story from his culture. But he knows one day, no matter how much he avoids it, he'll have to face the real world. (CW for homophobia, racism, and death.)
Backlist bump: The Best We Could Do by Thi Bui
I must admit that my knowledge of Dolly Parton songs is very limited. (Like 9 to 5 and maybe one other. Oh! Islands in the Stream!) But I am a huge fan of her simply for the sheer amount of books she has shared with campaign for children's literacy. I also enjoyed reading Heartland, Smarsh's last book, so I was happy to pick this one up. It's a combination memoir about experiences in Smarsh's life and a look at some of Parton's songs and women whose lives were touched and validated by the stories in her songs. (And if you're interested in hearing from Dolly herself, get ready for November 17, when you can pick up Dolly Parton, Songteller: My Life in Lyrics.) (CW for discussions of misogyny and abuse.)
Backlist bump: Heartland: A Memoir of Working Hard and Being Broke in the Richest Country on Earth by Sarah Smarsh
Thanks for subscribing! – XO, Liberty