Sponsored by Lerner Books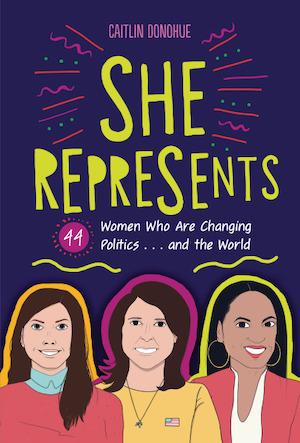 In a complicated political era, this book celebrates feminism and female contributions to politics, activism, and communities. Each of the forty-four women profiled in this illustrated book has demonstrated her capabilities and strengths in political and community leadership and activism, both in the United States and around the world. This book will show you what the road to power looks like for women in modern times. By showing up and representing women in the decisions that make or break a country, these leaders pave the way for future female politicians. Draw inspiration from these groundbreaking women to make a difference in your own world.
Welcome to Check Your Shelf. This week has been fueled by rage, but amidst the rage, we had to take our old, grumpy cat, Gilbert, to have some teeth extracted, and now he has about 10 teeth left in his mouth. His new nickname is officially Gilbert "Ten Toofs." And Houdini has been in a LOT of time outs this week because he refuses to let Gilbert recuperate in peace. Send help!
---
Libraries & Librarians
News Updates
Cool Library Updates
Worth Reading
---
Book Adaptations in the News
---
Books & Authors in the News
---
Award News
---
Pop Cultured
---
On the Riot
---
It's the weekend again. ALL REMAINING POLITICAL AND CULTURAL ICONS NEED TO BE BUBBLE WRAPPED AND PROTECTED AT ALL COSTS.
—Katie McLain Horner, @kt_librarylady on Twitter. Currently reading The Real Lolita: The Kidnapping of Sally Horner and the Novel That Scandalized the World by Sarah Weinman.