Sponsored by Forge Books.
Isabel Lincoln is gone. But is she missing? It's up to Grayson Sykes to find her. Although she is reluctant to track down a woman who may not want to be found, Gray's search for Isabel Lincoln becomes more complicated and dangerous with every new revelation about the woman's secrets and the truth she's hidden from her friends and family. Featuring two complicated women in a dangerous cat and mouse game, Rachel Howzell Hall's And Now She's Gone explores the nature of secrets—and how violence and fear can lead you to abandon everything in order to survive.
Hello mystery fans! It was a light week in finding you all the good clickable things, but I still found you stuff, including an adaptation casting that sounds amazing, ebook deals, and an exciting new film to watch.
From Book Riot And Around The Internet

Rincey and Katie talk about mysteries featuring technology and social media, along with some mixed feelings about adaptation news recently announced on the latest Read or Dead.
Quiz: Which Book of Magic and Mystery Should You Read Next?
The cover reveal & opening excerpt for Arsenic and Adobo by Mia P. Manansala
15 Mystery-Thriller Books Perfect for True Crime Podcast Fans
'Maybe We Should Take Him to the Desert and Bury Him There?' Read an exclusive excerpt from family-comedy-meets-crime-thriller 'Dial A for Aunties' now.
(Give me this right now!) All the Old Knives: Amazon Studios Acquires Thriller Starring Chris Pine & Thandie Newton
Judith Butler on the culture wars, JK Rowling [who writes the Robert Galbraith mystery series and keeps making many anti-trans statements] and living in "anti-intellectual times"
The Death On The Nile Book Ending Is Impossible To Guess
Win a year subscription to Audible
Enter to Win $50 to Your Favorite Independent Bookstore!
Watch Now
Netflix: Enola Holmes is here! If you ever wanted to imagine that Sherlock Holmes had a younger teenage sister, and follow her on a mystery–their mother has disappeared!– great news: the film adaptation of Nancy Springer's The Case of the Missing Marquess is now streaming on Netflix. If that wasn't enough of a sell, it stars Millie Bobby Brown, Henry Cavill, and Helena Bonham Carter.
Kindle Deals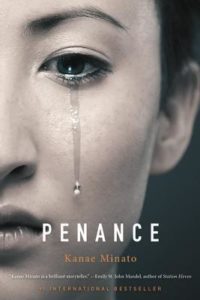 If you're looking to up your translation reading and enjoy character driven mysteries: Penance by Kanae Minato is $1.99! (Review) (sorry, don't remember TWs)
For a genre mix of "chick lit" (I hate that term!) and locked-room mystery: I'll Eat When I'm Dead by Barbara Bourland is $1.99! (Review) (sorry, don't remember TWs)
If you love atmospheric mysteries, procedurals, and want a trip to Australia: The Dry by Jane Harper is $2.99!
Browse all the books recommended in Unusual Suspects previous newsletters on this shelf. See upcoming releases for 2020 and 2021. Check out this Unusual Suspects Pinterest board and get Tailored Book Recommendations!
Until next time, keep investigating! In the meantime, come talk books with me on Twitter, Instagram, and Litsy–you can find me under Jamie Canavés.
If a mystery fan forwarded this newsletter to you and you'd like your very own, you can sign up here.