Sponsored by Fly on the Wall by Remy Lai.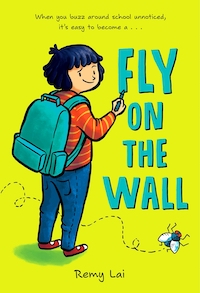 "Bright, funny storytelling . . . in this sharp, sweet story there is much to connect with." —The New York Times. In Fly on the Wall, a moving and hilarious diary-style illustrated novel from the award-winning author of Pie in the Sky, a twelve-year-old boy goes on a (forbidden) solo adventure halfway around the world to prove his independence to his overprotective family. Filled with humor, heart, and hijinks, Fly on the Wall is a sure bet for fans of Jerry Craft, Terri Libenson, and Shannon Hale!
Hey there, book nerds! I can't believe we're halfway through September already. I hope you're enjoying cooler temps and all the trappings of fall, including the explosion of new releases and all the exciting book news! I'm already having trouble keeping up with all the books I want to read this month! Let's dive in, shall we?
Trivia question: In honor of her birthday on Tuesday, what was Agatha Christie's debut novel?
Deals and Squeals
Furia by Yamile Saied Mendez, which just came out this week, has been chosen as Reese Witherspoon's next YA book club pick!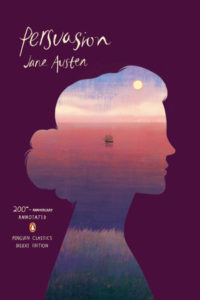 Two bits of exciting news: We are getting a new Persuasion adaptation, and Anne Elliot has been cast!
Plan accordingly: Barack Obama's memoir will be dropping sometime in November!
The Booker Prize shortlist is here and it's the most diverse shortlist ever! We love to see it.
Ibram X. Kendi revealed the cover of his next book, Four Hundred Souls: A Community History of African America 1619-2019.
Ken Liu's The Dandelion Dynasty has just grown from a trilogy to a quartet!
The hashtag #RIPJKRowling was trending on Twitter–not because the author died, but because a review of her new detective novel (written under the name Robert Galbraith) has been revealed to have a highly transphobic subplot.
Riot Recommendations
At Book Riot, I'm a cohost with Liberty on All the Books!, plus I write a handful of newsletters including the weekly Read This Book newsletter, cohost the Insiders Read Harder podcast, and write content for the site. I'm always drowning in books, so here's what's on my radar this week!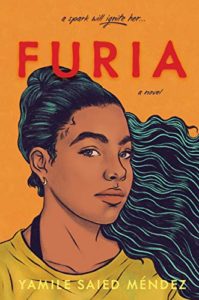 Excited to read: Furia by Yamile Saied Mendez
I am so darn excited for this book, especially since it's been named a YA book club pick by Reese Witherspoon! It follows Camila, an Argentinian teen who plays soccer and keeps it from her parents, and dreams of one day qualifying for a scholarship to a North American college. When her team advances to an important tournament and someone from her past returns, Camila will have to figure out how to balance her dreams with her obligations.
Books I Acquired:
The Nesting by C.J. Cooke
Never Look Back by Lilliam Rivera
Recommended for You by Laura Silverman
Trivia answer: The Mysterious Affair at Styles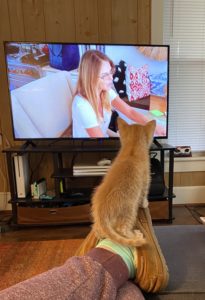 That's it for me, book nerds! I leave you with a photo of the kitten, who has grown even more curious and now climbs everything. Here he is, having discovered the TV. (As an aside, anyone else watching The Vow on HBO? It's absolutely BONKERS and a bit scary.)
Happy reading!
Tirzah