Sponsored by Come On In by Adi Alsaid, published by Inkyard Press.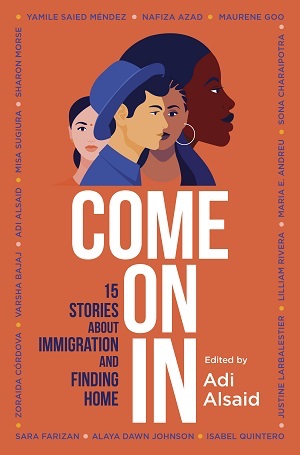 This exceptional and powerful anthology explores the joys, heartbreaks and triumphs of immigration, with stories by critically acclaimed and bestselling YA authors who are shaped by the journeys they and their families have taken from home—and to find home.
Welcome to In The Club, a newsletter of resources to keep your book group well-met, well-read, and well-fed. It's Mexican Independence Day! That's right: it's the day that everyone thinks is Cinco de Mayo (insert facepalm here). To celebrate, I'll be doing my very best grito at midnight*, cooking some delicious Mexican food, and of course sharing some works by some fantastic Mexican authors for you to read in your book clubs. Let's kick off Hispanic Heritage Month with a bang then, shall we?
To the club!!
*probs closer to 9PM because I am an old and midnight is past my bedtime
---
Nibbles and Sips
Today I'm going a little left and recommending two food shows instead of the usual nibbles and sips, shows that made my mouth water, my soul long to travel, and my heart swell with pride for the stock from which I come. Both of these are on Netflix, and they are:
Show: Chef's Table: BBQ
Episode: Rosalia Chay Chuc
Show: Street Food: Latin America
Episode: Oaxaca, Mexico (watch the whole thing though, it's fantastic)
Both of these shows feature some truly inspiring Mexican cooks making food their way, the old way, folks who have remained steadfast in their culinary approach in a world urging them to change with the times. The entire Street Food series is fantastic, but Doña Vale is, I think, my fave. That lady oozes strong IDGAF energy and I hope to someday try those scrumptious-looking memelas!
Mexican Authors to Add to Your List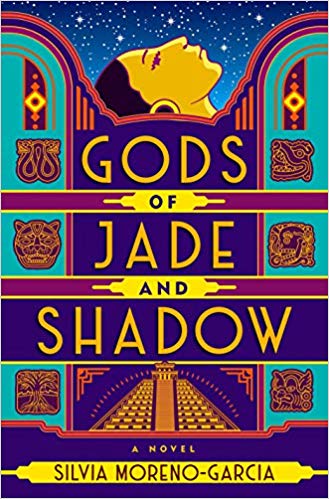 I'm coming in hot and recommending not one title, but an author, and that author is Silvia Moreno Garcia. I don't know how to talk about her without sounding like a starry-eyed fangirl, but let's face it: that's precisely what I am. She's given us vampires in Mexico City in Certain Dark Things, a folkloric jaunt through Jazz Age Mexico with the Mayan God of Death in Gods of Jade and Shadow, a coming-of-age thriller set on the coast of Baja California with Untamed Shore, and my favorite read of 2020 so far: the gothic horror masterpiece that is Mexican Gothic. This isn't even her entire catalog! Give this woman her flowers, please.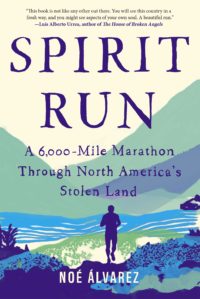 Spirit Run: A 6,000-Mile Marathon Through North America's Stolen Land by Noé Álvarez – Noé Álvarez, the son of working class Mexican immigrants, was a first-generation college student in search of a sense of belonging. That's when he first heard about a Native American/First Nations movement called the Peace and Dignity Journeys, a series of epic marathons through what were once Indigenous lands wherein participants seek to renew cultural connections to those lands. At 19, Álvarez dropped out of school to embark on a four month, 6,000 mile journey from Canada to Guatemala. This book is the story of that journey, a tale of pushing limits, self discovery, and pondering the heartbreaking history of this stolen land.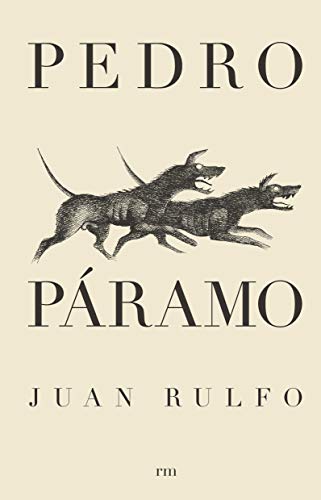 Pedro Páramo by Juan Rulfo – For shame! I confess that I have not read what many consider to be theeeee great Mexican novel. One of the best pitches I've seen for the book is one I saw in The Guardian of all places, where the book is described as "a ghost story stuffed into another ghost story stuffed into a coffin made of dust, memory, and soil." It's about a man named Juan Preciado who travels to his recently deceased mother's hometown and comes across a literal ghost town on the way.
Suggestion Section
Reese Witherspoon chose Furia by Yamile Saied Méndez as the September YA pick for her book club! It made my heart happy to see Yamile share her joy.
This Electric Literature profile on Yaa Gyasi's latest release Transcendent Kingdom reminded me what a perfect book club pick this novel would be—just ask Barnes & Noble and The Today Show's Jenna Bush Hager (that second link includes lots of good book cub questions). It examines issues like addiction, grief, faith, mental health, and race. I have so many thoughts on this one and I'm not even all the way through.
---
Thanks for hanging with me today! Shoot me an email at vanessa@riotnewmedia.com with your burning book club questions or find me on Twitter and the gram @buenosdiazsd. Sign up for the Audiobooks newsletter and catch me once a month on the All the Books podcast.
Stay bad & bookish, my friends.
Vanessa