Welcome to Read This Book, the newsletter where I recommend a book you should add to your TBR, STAT! I stan variety in all things, and my book recommendations will be no exception. These must-read books will span genres and age groups. There will be new releases, oldie but goldies from the backlist, and the classics you may have missed in high school. Oh my! If you're ready to diversify your books, then LEGGO!!
Fall 2020 New York Fashion Week is almost over, but I have been in a fashion state of mind for months, y'all! During the past few months, I have been streaming America's Next Top Model. I am currently on Cycle 18, where it's the Brits versus the Yanks. Unfortunately, it's the last cycle for noted, sexy fashion photographer Nigel Barker, runway diva coach extraordinaire Miss Jay Alexander, and creative director and model mentor Mr. Jay Manuel. That means, no more Jays Chat for me along with the inevitable downfall of ANTM because what is Top Model with the Jays, Nigel, and especially Tyra Banks? Since I am definitely not yet ready to let go of Mr. Jay, I was excited to read his debut novel, The Wig, The Bitch, and the Meltdown, colloquially referred to as The Meltdown.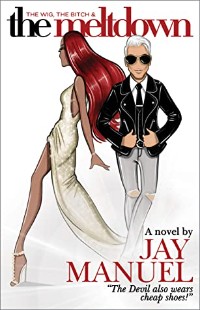 Model Muse is a reality model competition show that has quickly become a global phenomenon. Behind the scenes is "The Fixer" Pablo Michaels who is the heart of production and the man everyone turns to in crisis. As Pablo struggles to hold the show together season after season, he must juggle the demands of his BFF, Supermodel Keisha Kash, who also happens to be his boss. As Keisha Kash's true nature is revealed, will Pablo be able to maintain his moral compass and pursue his dreams?
If you love America's Next Top Model, then this book is a must-read for you! I am so glad I found the Jays Chat or else I don't think this book would have ever popped up on my radar. I bought it on the day it released and couldn't put it down once I started. I appreciated all the ANTM Easter eggs, which made the story so much more enjoyable for me. Sometimes, it's juicier to tell your truth through a work of fiction because it leaves the reader wondering how much of the book is truth and which parts of the story are literary license taken to the extreme. Even if you aren't an ANTM fan, you can still enjoy this story as a hybrid of The Devil Wears Prada and Crazy Rich Asians.
Until next time bookish friends,
Katisha
Find more of me on Book Riot.
Find more books by subscribing to Book Riot Newsletters.