Sponsored by Revell, a division of Baker Publishing Group.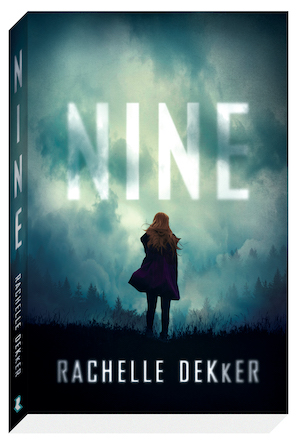 Zoe Johnson spent most of her life living in the
shadows, never drawing attention to herself. But when a wide-eyed, bedraggled teenager with no memory walks into the diner where Zoe works, everything changes. Now, against her better judgment, Zoe, who has been trying to outrun her own painful memories of
the past, finds herself attempting to help a girl who doesn't seem to have any past at all. The girl knows only one thing: she must reach a woman in Corpus Christi, Texas, hundreds of miles away, before the government agents who are searching for her catch
up to them.
Hi mystery fans! I've got an entertaining cozy, with a core ghostly friendship I adore, and a thoughtful crime novel with all the dread. What a combo!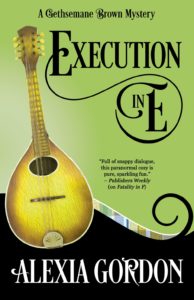 Execution in E (Gethsemane Brown Mysteries #5) by Alexia Gordon: This is one of the few series that I actually stay up to date with and this is now my favorite book in the series. We get an awful influencer and her also awful wedding party, a suspicious death, and a music teacher and her ghost friend on the case. It's fun!
(Heads up the entire case revolves around whether it was a suicide or murder.) Think of Gethsemane like Jessica Fletcher–if Fletcher were Black, and younger, and assisted by a ghost–because people just keep dropping like flies ever since Gethsemane, an American musician, moved to the Irish countryside. Luckily for the town, she's nosy, capable, and has a ghost–whose name she helped clear in a past case–to help her snoop for evidence. This time we have a destination wedding with an awful couple who are only marrying each other for what they can do for the other: a social media wedding for the influencer bride; marrying into money and status for the groom. But then the groom ends up dead and those who know him are certain it wasn't suicide.
So Gethsemane and her ghostly friend Eamon decide to find out what really happened, because if it was murder then the number one suspect will be local friends, since the groom actually dated a local and it ended badly! Basically, anyone who knew the groom is also a suspect because, as I mentioned, these people are awful. Enter the occult, a priest, the Garda who wants nothing more than for Gethsemane to stick to teaching music and not crime solving, the entertaining banter between Gethsemane and Eamon, and town gossip for a fun, everyone-is-a-suspect mystery! (TW main case is a possible suicide, details/ suicide on page/ briefly recounts drowning)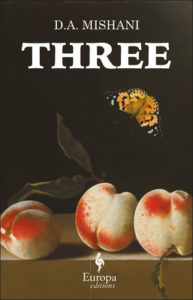 Three by D.A. Mishani, Jessica Cohen (Translation): Mishani has an Israeli procedural series (The Missing File) I really like, so when I saw that he had a new standalone crime novel, I was excited. And wow did it deliver. Seriously, I won't say how or why but [redacted] is chef's kiss. The title is in reference to three women in Tel Aviv–all incredibly different from each other and who don't know each other–that are separated into three sections.
We start with Orla, a recently divorced single mother who is struggling financially and emotionally. She ends up dating Gil, slowly at first, after meeting through online dating and the charming, wealthy, devoted father unravels into a trigger warning for men. The brilliance in Mishani's story and writing is how a seemingly mundane start to dating takes a slow and dark path you don't realize is danger until too late. And then we meet the next woman and by then my knuckles were already white and I was shouting like Bastian in The Neverending Story for them to hear me!
This is a dark in content crime novel, that feels like having the rug taken out from under you, but, rather than being written as detailed violence or gore, the dread comes from the realization that this is every day–there is nothing over the top here for thrills.
If you've yet to discover Mishani's writing I highly recommend him: his characters feel like studies on human behavior, his writing is thoughtful, and twisty without the twists feeling gimmicky, and at this point I get to pick up his work without worrying I may end up with something problematic I wasted my time reading. I'll just be over here still shouting how we need more translated crime books!
Oh, and if you're an audiobook reader, the narrator Lucy Paterson does a great job of really bringing the three women to life–you may already know her from the Killing Eve books and Yrsa Sigurdardottir's thrillers. (TW talk of suicide as a cover for murder/ briefly mentions past loss of pregnancy)
Browse all the books recommended in Unusual Suspects previous newsletters on this shelf. See upcoming releases for 2020 and 2021. Check out this Unusual Suspects Pinterest board and get Tailored Book Recommendations!
Until next time, keep investigating! In the meantime, come talk books with me on Twitter, Instagram, and Litsy–you can find me under Jamie Canavés.
If a mystery fan forwarded this newsletter to you and you'd like your very own, you can sign up here.