Sponsored by Kingdom of Sea and Stone by Mara Rutherford, published by Inkyard Press.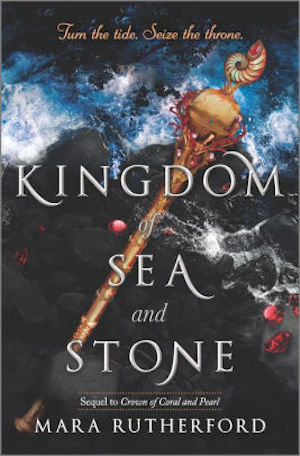 Ever since Nor was forced to go to a nearby kingdom in her sister's place, she's wanted nothing more than to return to the place and people she loves. But when her wish comes true, she soon finds herself cast out from both worlds, with a war on the horizon. As an old enemy resurfaces more powerful than ever, Nor will have to keep the kingdom from falling apart. There are forces within the world more mysterious than Nor ever guessed—can she stay alive long enough to conquer them?
Hey there, book nerds! I hope you had a fantastic long weekend and were able to squeeze in some good reading! I read, listened to audiobooks, and baked with the last of the season's peaches, so it was wonderful.
I've got tons of news and excitement for you this week, but remember—keep wearing your masks, washing your hands, and stay hydrated!
Trivia question: Who is the only author whose work was adapted twice by Alfred Hitchcock?
Deals and Squeals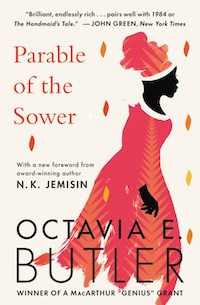 Fourteen years after her death, The Parable of the Sower finally makes Octavia Butler a New York Times bestselling author. I'm not crying, you're crying.
The trailer for the Netflix adaptation of Rebecca by Daphne du Maurier is here and it is everything!
Ready to throw it back to the early 2000's? Meg Cabot's Mediator series is being made into a Netflix movie!
Three of your YA faves are teaming up for a spooky YA novel called Three Kisses, One Midnight! Sandhya Menon, Roshani Chokshi, and Evelyn Skye will each write an interconnected novella—think Let It Snow, but Halloween!
We're super excited to see that Steph Cha, author of Your House Will Pay, will be the new Best American Mystery Stories editor! Starting in 2021, she'll edit the anthology, which will be renamed Best American Mystery and Suspense.
Want to know what people are reading during the pandemic? Here you go!
Riot Recommendations
At Book Riot, I'm a cohost with Liberty on All the Books!, plus I write a handful of newsletters including the weekly Read This Book newsletter, cohost the Insiders Read Harder podcast, and write content for the site. I'm always drowning in books, so here's what's on my radar this week!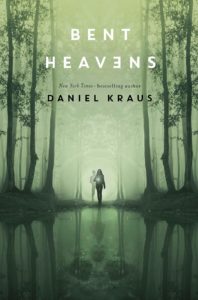 Current read: Bent Heavens by Daniel Krause
The minute September is here, I want to read all the creepy and spooky books. I picked up this novel because a fellow Rioter said it was the single most unsettling book she's read all year long and friends, I started it last night and stayed up way past my bedtime, unable to set it down. It's about Liv, an Iowa teen whose father disappeared three years ago. He returned, but he wasn't quite right—he claimed aliens experimented on him, and he set a series of deadly traps in the woods behind their house before vanishing for good. Now a senior in high school, Liv is looking forward to moving on and she resents that her friend Doug insists they check the traps each week. But just as Liv has decided to destroy the traps, she finds something in the woods. And she learns that her father might have been telling the truth all along. I'm not finished yet, but please know that the suspense is excellent. I've been thinking about this book all day long, and I would like to go back to reading now!
What I'm reading this week:
Watch Over Me by Nina LaCour (out next week, but I started it and it's fantastic)
Winter Counts by David Heska Wanbli Weiden
The Only Good Indians by Stephen Graham Jones
Trivia answer: Daphne du Maurier! Her novel Rebecca and short story "The Birds" became Hitchcock films.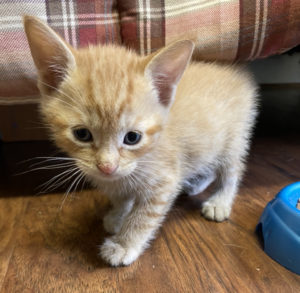 I shall leave you with this photo of my new kitten, Jin! Yes, we might have adopted him in part because he's orange and therefore matches our big cat (they haven't met yet). He's very cuddly and I anticipate lots of good kitten snuggles in our future!
Happy reading!
Tirzah