Sponsored by Kind of a Big Deal by Shannon Hale, with Fierce Reads.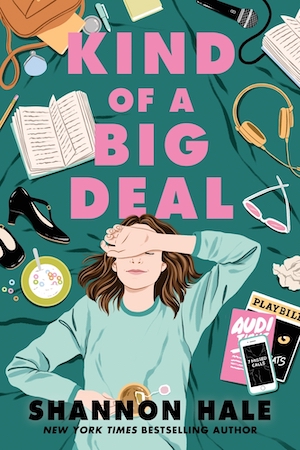 tk
Netflix's Black Children's Book Series
Marley Dias, the teen author and founder of #1000BlackGirlBooks, will host a new Netflix video series, Bookmarks. Five minute videos will feature celebrities–including Lupita Nyong'o, Marsai Martin, Tiffany Haddish–reading children's books by Black authors. Starting September 1st you can watch (be read to in) twelve episodes on Netflix and the Netflix Jr. YouTube channel.
NYPL Essential Feminist Reading List
For the 100th anniversary of the ratification of the 19th Amendment, the New York Public Library created a reading list for kids, teens, and adults highlighting and exploring feminism through history. "The list includes first-hand accounts and histories of the suffrage movement that chronicle both its successes and its limitations—particularly for women of color—as well as contemporary essays on how feminism intersects with race, class, education, and LGBTQ+ activism."
Publishing Organizations Warn Over Amazon's Market Power
President/CEO of the Association of American Publishers, Maria Pallante, executive director of the Authors Guild, Mary Rasenberger, and CEO of the American Booksellers Association, Allison Hill came together and wrote a letter to Rep. David Cicilline, the chairman of the House Antitrust Subcommittee, regarding Amazon's dominance in bookselling. "Amazon no longer competes on a level playing field when it comes to book distribution, but, rather, owns and manipulates the playing field, leveraging practices from across its platform that appear to be well outside of fair and transparent competition." They ask for consideration in prohibiting Amazon from doing four things.
Check Out These Adult Comps For Your Fave Children's Books
If you loved popular middle grade books like Beezus and Ramona, Coraline, and more, try these adult fiction books with similar themes.