Sponsored by Spiritual Rebel.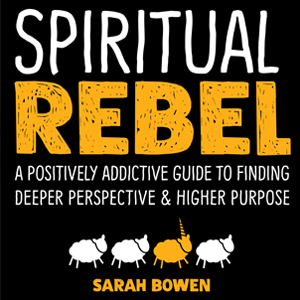 Explore 21 days of creative spiritual practices drawing from ancient wisdom and pop culture in this award-winning guide to modern spirituality. Part memoir, part inspiring guide, Sarah confesses her challenges with her birth religion, descent into addiction, and recovery into a life where everything can be sacred, offering readers easy practices for experiencing more meaningful moments in their own lives. ― Nautilus Book Award Winner | A Spirituality & Health Magazine "100 Books We Love" Pick
Hola Audiophiles! Tis I, Vanessa, asking you to hold onto your butts in preparation for the new release bonanza headed our way next month. I'm going easy on you this week with four titles that caught my attention, just know that fall is coming and it's coming in hot.
Ready? Let's audio.
---
New Releases – week of August 18  (publisher descriptions in quotes)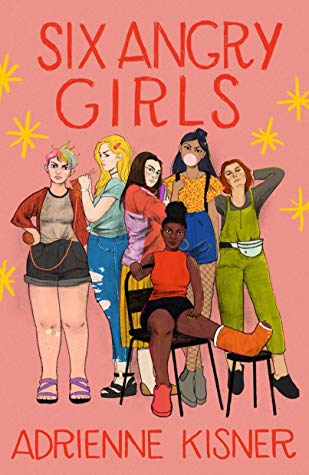 Six Angry Girls by Adrienne Kisner, read by Khristine Hvam (contemporary YA fiction)- Raina and Millie are two down-on-their luck high school seniors dealing with breakups, crappy parents, and being dumped by their school clubs. When Raina finds new purpose in a pair of knitting needles and a politically active local yarn store, Raina inspires Millie to start a Mock Trial team of their own to rival the all-boy version that voted her out. They join forces to recruit four other angry girls and smash the patriarchy in the process.
Narrator Note: Khristine Hvam has a deep bench of audiobook credits that includes lots of Audible Originals and romance series. You may also recognize her from Lauren Beukes's The Shining Girls and Dare Me by Megan Abbott.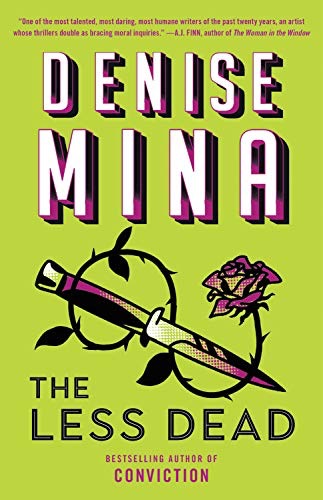 The Less Dead by Denise Mina, read by Katie Leung (mystery/thriller) – When I say Dr. Margot Dunlop is going through it, I mean she's going through it: she's newly single, secretly pregnant, worried about her bestie's dangerous relationship, and her adoptive mom just died. Too consumed with grief to begin emptying her mother's house, she begins a search for her birth mother instead. She finds her aunt who has some bad news for Margot: her mother is dead and the killer is sending her threatening letters. Margot is debating whether to get involved or stay out of this mess when she receives a letter, too.
Narrator Note: Katie Leung reads the A Murder Most Unladylike Mystery series by Robin Stevens, the Penguin Classics recordings of Alice's Adventures in Wonderland, and oh yeah… she played Cho Chang in the movie franchise based on those books by that author who shan't be named. Nothing but love for you, Katie!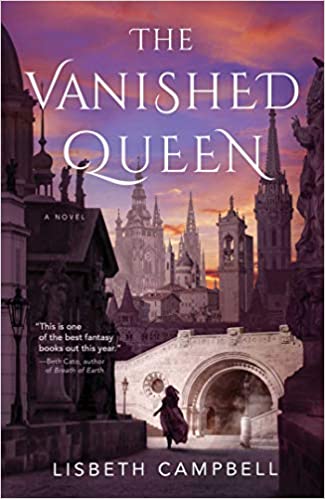 The Vanished Queen by Lisbeth Campbell read by Lisa Flanagan, Tristan Morris, and Vanessa Moyen (fantasy) – Queen Mirantha vanished long ago, and while her king claims she was assassinated by a neighboring king, everyone knows it was him did away with her. Reeling from the unjust execution of her father, Anza finds the queen's diary. The words she finds therein inspire Anza to join a resistance group to overthrow the king.
Narrator Note: Lisa Flanagan reads Naomi Novik's Spinning Silver and Juliet Grames' The Seven or Eight Deaths of Stella Fortuna; Tristan Morris is part of the ensemble cast for Leigh Bardugo's Six of Crows and most recently read both books in Emily Duncan's Something Dark and Holy series.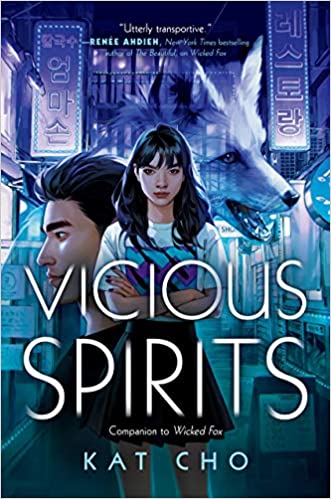 Vicious Spirits by Kat Cho, read by Emily Woo Zeller (YA fantasy) – After the events of Wicked Fox, Somin just wants to help her friends pick up the pieces and heal, but Jihoon and Miyoung are both distant and grieving. Their not-so-favorite dokkaebi Junu is the only one who seems ready to move forward, and despite a rough start to their relationship, Somin and Junu can no longer fight their attraction to each other. Then they learn that the loss of Miyoung's fox bead has caused a tear between the world of the living and the world of the dead. With ghosts flooding the streets of Seoul, the only way to repair the breach is to find the missing fox bead. That, or Miyoung will pay with her life.
Narrator Note: Have I mentioned how much I love Emily Woo Zeller? We all really love Emily Woo Zeller.
Latest Listens
I almost saved this week's listen for another day because I feel like I'm All Romance All the Time in my reading lately. Looking back though, I think I've recommended a decent mix of reads. Maybe? What do you all want to see more of? More backlist listens? Different genres? Shoot me an email and lemme know!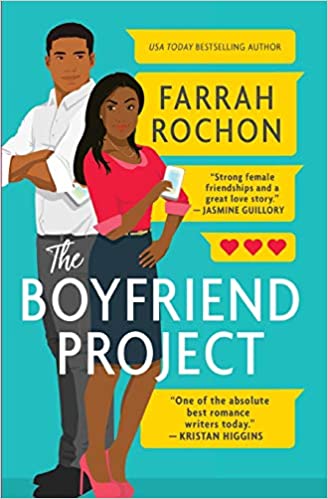 As for today, lemme tell you about Farrah Rochon's The Boyfriend Project. This is the first in a new series about three women who become instabesties after the live Tweeting of a terrible date leads them to an unfortunate discovery. Turns out they've all been catfished by a three-timing jerk face punk! In the wake of their newfound viral fame, Samiah, London, and Taylor bond over Moscow mules and make a no-dating pact: for the next six months, they'll take a break from men and dating to focus on themselves.
For Samiah, that means finally developing the app she's been working on for far too long. But of course the universe has an interesting sense of humor, because it decides this would be a good time to bring a sexy piece of man candy named Daniel Collins to Samiah's office. She's instantly attracted and it's clear that he is too, but she just made this pact and doesn't even really have time for love! Then again, maybe she does, although… is Daniel really as wonderful as he seems?
This romance rings a lot of my bells: an amazing portrayal of female friendship, women of color thriving in their occupations, deliberate requests for consent, and some wonderful steamy scenes. It also dives into the microaggressions Black women face in any workplace, but specifically their struggles in STEM. Samiah is confident in what she brings to the table but also knows damn well that she has to work twice as hard to be considered half as good. I love that she isn't afraid to check Daniel when he doesn't immediately recognize that his experience as a biracial man is not identical to hers, and that he gets it when she calls him out.
The audiobook is read by Je Nie Fleming and I'm going to need to spend more time with her very soon. All of the dialogue flowed so effortlessly, and the personality she breathed into Samiah, London, and Taylor's parts was just the most chef's kiss! The sections that feature those three felt so real, like I was listening in on an actual conversation between women I'd want to be friends with. They're supportive, uplifting, funny, smart, and firmly rooted in their sense of self worth.
If you're in the mood for a guaranteed HEA that explores workplace dynamics, the experience of being a Black woman in a male-dominated field, and that features a truly delightful friendship between empowered women, pick this one up.
From the Internets
Have you heard? Spotify wants a bigger piece of the audiobooks pie, and they're hiring.
Free audiobooks for kids for Audible users
Over at the Riot
Work more audiobooks into your life by diving into crafts.
"It's past time we transitioned from viewing audiobooks as a matter of luxury to a matter of accessibility." Here's an important reminder that audiobooks aren't just a life hack.
I loooove this list of LGBTQ YA audiobooks to listen to in the second half of 2020. Cemetery Boys by Aiden Thomas made my little Mexican heart so full.
---
Thanks for hanging with me today! Shoot me an email at vanessa@riotnewmedia.com with with all things audiobook or find me on Twitter and the gram @buenosdiazsd. Sign up for the In The Club newsletter and catch me once a month on the All the Books podcast.
Stay bad & bookish, my friends.
Vanessa