Sponsored by Tor Books.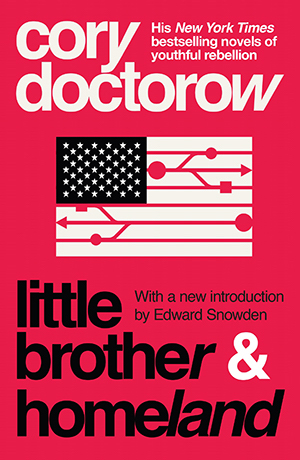 Cory Doctorow's two bestselling novels are now available in an omnibus! In Little Brother, Marcus is seventeen when he is caught in the aftermath of a terrorist attack. After being interrogated by the Department of Homeland Security, his city has become a police state. Nobody will believe him, so Marcus must take down the DHS himself. In Homeland, Marcus is employed by a politician who promises reform. Then his former nemesis, Masha, emerges with evidence of government wrongdoing. When Marcus witnesses Masha's kidnapping, he must decide whether to save her or leak the archive that will cost his employer the election.
Happy Tuesday, shipmates! It's new book release day, and there were plenty of great books to choose from (apparently we're going to get buried on September 3, though, so… brace yourself?). It's Alex, with a selection of new titles and some news for you.
I got a lot of reading done this weekend because there are two massive wildfires in western Colorado that have filled the air with ash and made it basically unbreathable. On the downside, I am getting cabin fever because I couldn't ride my bike around. On the upside, I got to finish The Space Between Worlds by Micaiah Johnson, and I'm taking a point of personal privilege to tell you THIS BOOK IS SO FREAKING GOOD. A multiverse story like I've never read before, filled with grit and marrow and science and spirituality, about the multitudes every single person contains. I cannot recommend it enough.
Here, start your week off right, is Steve Martin playing the banjo.
Looking for non-book things you can do to help in the quest for justice? blacklivesmatter.card.co and The Okra Project.
New Releases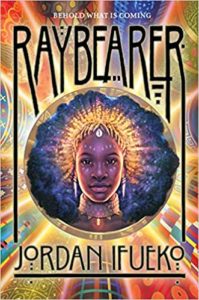 Raybearer by Jordan Ifueko – Tarisai was raised in strict isolation without the normal warmth of a family by a demanding and distant mother she knows only as The Lady. The Lady sends her to compete to join the Crown Prince's Council of Eleven, a body that is joined through the magic powers of the Ray in a bond deeper than blood. But what seems like a dream for lonely Tarisai becomes a nightmare when The Lady demands that she murder the Crown Prince, and she must choose between loyalty and her own deepest wishes.
The Faithless Hawk by Margaret Owens – With the death of the king and the bid of the witch queen Rhusana for the throne, the Crows are forced into hiding—leaving the country vulnerable to a raging plague. Fie must call on old allies to bring the Crows back to the land—and discover ancient secrets along the way.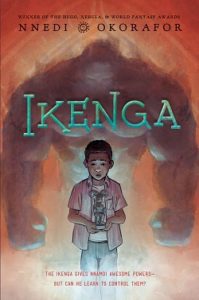 Ikenga by Nnedi Okorafor – When the Chief of Chiefs, the most powerful criminal in Kalaria, murders the good-hearted chief of police, he leaves the man's twelve-year-old son, Nnamdi, alive. Nnamdi helplessly vows revenge, but there's little he can do against such a powerful adult… until a mysterious nighttime meeting leaves him with a magic object, one that gives him superpowers.
When Comes the Stroke of Midnight by Madeline Walz – Zaivyer has never met his father, though he has his name, his eyes, and the same inert metal plate embedded in his temple. When he turns thirteen, the plate activates… and so do his gifts, ones that may lead him some day to save two worlds.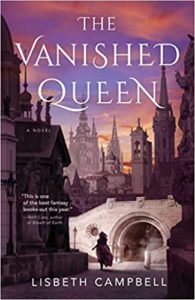 The Vanished Queen by Lisbeth Campbell – The queen vanished long ago, disappeared by her king, who claimed she was assassinated by the neighboring kingdom. Reeling from the unjust execution of her father, Anza finds this long-missing woman's diary. From the past, her words inspire Anza to join in a plot to overthrow the king at last.
Vicious Spirits by Kat Cho – Somin is ready to help her friends move on from their losses and trauma, but Jihoon and Miyoung are still in deep mourning. Only the dokkaebi, Junu, is ready to resume life. Too bad Miyoung's lost fox bead has caused a rift between the worlds of the living and dead, and it's up to Somin and Junu to work together to fix the breach before they lose another friend.
Noumenon Ultra by Marina J. Lostletter – For a hundred thousand years, the great AI I.C.C. has lain dormant, its ships quiescent. But someone walks the halls of the convoy, someone who isn't human, and the AI stirs. Noumenon is still too young to have evolved intelligent life—so who are these visitors, and what do they want? (Full disclosure: Marina and I have the same agent.)
News and Views
From NYT: 'We already survived an apocalypse': Indigenous Writers Are Changing Sci-Fi
Mark Oshiro on the unintended education of literature
FIYAH and Tor.com are working together on an online flash fiction anthology written by Black authors
New generation of writers of color reckon with HP Lovecraft's racism
Speaking of, Misha Green (showrunner of Lovecraft Country) talks about the horror of marginalization
Tor.com showed off the new cover for A Desolation Called Peace, sequel to A Memory Called Empire–and announced Arkady Martine's next book, Prescribed Burn.
There's an SFF Limerick contest!
Sascha Stronach (author of The Dawnhounds, which I am currently reading) offers a Twitter tour of South Island NZ baked goods.
"Teeth the size of bananas." Okay sure why not. At least they're safely fossilized and not, like, you know, a fire tornado.
On Book Riot
11 Black sci-fi authors to read right now
This month you can enter to win $50 at your favorite indie bookstore and a 1-year Kindle Unlimited subscription.
---
See you, space pirates. You can find all of the books recommended in this newsletter on a handy Goodreads shelf. If you'd like to know more about my secret plans to dominate the seas and skies, you can catch me over at my personal site.