Sponsored by Workman Publishing.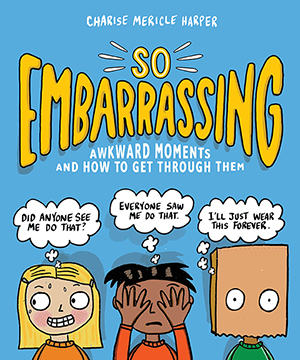 So Embarrassing is a comics-style narrative of vignettes and stories about all the things that make kids feel awkward and embarrassed. Written and drawn by Charise Mericle Harper, the bestselling creator of the Fashion Kitty and Just Grace series, this lively nonfiction graphic novel for ages 8–12 combines humor, scientific facts (what happens when we blush, for example), tips for recovering quickly, and practical advice, like what to say to comfort a totally embarrassed friend.
Welcome to Check Your Shelf. This issue of CYS is brought to you in part thanks to the efforts of my new at-home supervisor, who made sure I stayed on task this afternoon.
---
Collection Development Corner
Publishing News
New & Upcoming Titles
What Your Patrons Are Hearing About
RA/Genre Resources
On the Riot
---
All Things Comics
On the Riot
---
Audiophilia
On the Riot
---
Book Lists, Book Lists, Book Lists
Children/Teens
Adults
On the Riot
---
Level Up (Library Reads)
Do you take part in Library Reads, the monthly list of best books selected by librarians only? We've made it easy for you to find eligible diverse titles to nominate. Kelly Jensen created a database of upcoming diverse books that anyone can edit, and Nora Rawlins of Early Word is doing the same, as well as including information about series, vendors, and publisher buzz.
Mask up and stay hydrated. See you on Friday!
—Katie McLain Horner, @kt_librarylady on Twitter.