Sponsored by The Fixed Stars by Molly Wizenberg, published by Abrams Press, August 4, 2020.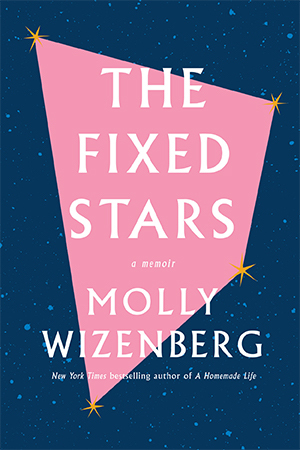 At age 36, while serving on a jury, author Molly Wizenberg found herself drawn to a female attorney. Married to a man for nearly a decade and mother to a toddler, Wizenberg tried to return to her life as she knew it, but something inside her had changed irredeemably. Instead, she would discover that the trajectory of our lives is rarely as smooth or as logical as we'd like to believe. The Fixed Stars is a memoir exploring questions about desire, identity, and family in honest and searing prose, from the bestselling author of Delancey and A Homemade Life.
Hey, book nerds! Happy Thursday! I hope you're all having a lovely week, and if you're having a not so great week–well, it's almost the weekend, so hold on. I hope you've got a giant stack of books awaiting you!
I've got more book news and excitement for you, but remember to be kind to yourself if you're feeling stressed–we're in the middle of a global pandemic after all–and wash your hands and wear a mask!
Trivia time: What's Starr's dad's name in The Hate U Give?
Deals and Squeals: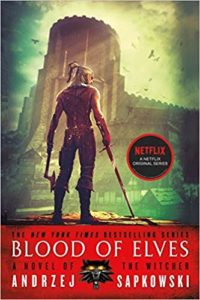 Expect more of The Witcher content in your life! Netflix is moving forward with a six-part limited prequel series.
Tor has announced the 2020 World Fantasy Award Finalists!
Speaking of finalists, the Book Prize Longlist has been announced, and we're thrilled to see Real Life by Brandon Taylor, Such a Fun Age by Kiley Reid, and How Much of These Hills is Gold by C Pam Zhang on the list!
The limited series TV adaptations of Little Fires Everywhere and Watchmen have been nominated for an Emmy!
In the yikes category, Newsweek reported that Patrick Rothfuss's editor reacted to an article published on Book Riot, Authors Don't Owe You Books, by claiming she hasn't seen book three of Rothfuss's series, and that she doubts that Rothfuss has even been working on it in recent years. She expressed lots of frustration felt by fans, but it definitely seems like something that should have been addressed with the author and his agent, not on Facebook!
Ethan Herisse, who starred in Ava DuVernay's When They See Us, will narrate the audiobook of Punching the Air by Ibi Zoboi and Dr. Yusef Salaam. Herissa portrayed Salaam in DuVernay's film.
Song of the Sun God by Shankari Chandran is being adapted into a six-part TV series. The novel covers three generations in a Sri Lankan family following the country's independence in 1948 to the present.
Riot Recommendations
At Book Riot, I'm a cohost with Liberty on All the Books!, plus I write a handful of newsletters including the weekly Read This Book newsletter, cohost the Insiders Read Harder podcast, and write content for the site. I'm always drowning in books, so here's what's on my radar this week!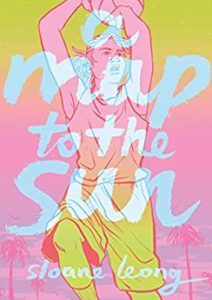 Want to Read: A Map to the Sun by Sloane Leong
I'm always, always on the lookout for gorgeous new graphic novels, and just look at this cover! This book is about two girls who forge a friendship on the basketball court, only for one girl to move away and fall out of touch. When she shows up again years later, the former friends find themselves both on a newly formed women's basketball team at their school, trying to rebuild their relationship and trust each other again. I absolutely cannot wait for my copy to arrive. It'll be out next week, August 4th!
My book acquisitions this week:
Being Toffee by Sarah Crossan
Once You Go This Far by Kristen Lepionka
Where Dreams Descend by Janella Angeles
Trivia answer: Maverick! And fun fact–Angie Thomas's new novel Concrete Rose stars Maverick as a teen!
Read on Book Riot: Screen Time is Money: How Authors Make Money on Ebooks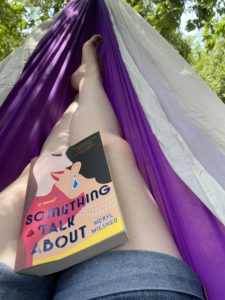 I hope you have a fantastic weekend full of socially-distanced summer fun! I'll leave you with a picture I snapped of my hammock reading session with Something to Talk About by Meryl Wilsner, which was probably the most fun I'd had…in a while. There's something great about enjoying a book while hanging suspended in the air, and this one was extra great!
Happy reading,
Tirzah