Sponsored by Lucy Knisley's Stepping Stones, from Random House Graphic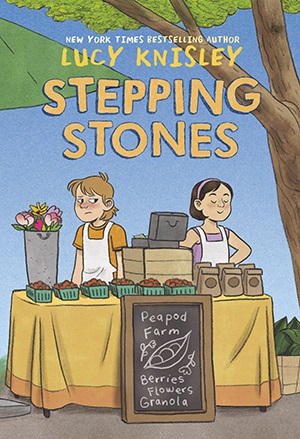 New York Times bestselling creator Lucy Knisley just released her first middle-grade fiction graphic novel! STEPPING STONES follows Jen, a young girl who moves to the country with her mom following her parents' divorce. Now they live on a farm with her mom's boyfriend and his two daughters. Having to learn how to work on a farm and sell at a farmer's market is hard enough, but it's more difficult when your new stepsister is basically perfect. This heartfelt new story finds Jen struggling to deal with change, and trying to find her own voice in the process.
Welcome to Check Your Shelf. We're a little light on news updates for this week, mainly because most of the news right now is about libraries furloughing and laying off employees. It's been a rough week.
---
Libraries & Librarians
News Updates
Cool Library Updates
Worth Reading
---
Book Adaptations in the News
---
Books & Authors in the News
---
Award News
---
Bookish Curiosities & Miscellaneous
---
On the Riot
---
Keep on keeping on, everyone. Be kind to yourselves, and I'll see you all next week.
Katie McLain Horner, @kt_librarylady on Twitter.