Sponsored by Shadow of the Fox series by Julie Kagawa, published by Inkyard Press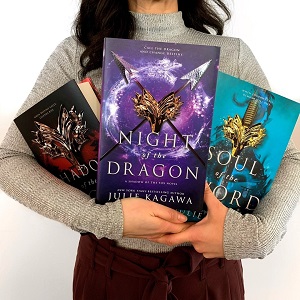 Inspired by Japanese mythology, New York Times bestselling author Julie Kagawa weaves a stunning, high-stakes tale of alliances and deceptions, characters who aren't what they seem, and secrets that could change the fate of the world in the epic Shadow of the Fox trilogy.
A great new series to pick up for fans of Marie Lu and Sarah J. Maas!
Happy Friday, shipmates! It's Alex with some fun links and a moment of me being in my feelings about labor in science fiction. And congratulations to everyone–we made it out of the decade known as April and are now in the May epoch! Stay safe out there, space pirates.
News and Views
Check out the cover of Nghi Vo's upcoming novella When the Tiger Came Down the Mountain, which is the standalone sequel to The Empress of Salt and Fortune.
DisCon III, aka Washington DC WorldCon in 2021, did a fun Twitter thread of science fictional occupants of the White House.
Queer visibility and coding in The Last Unicorn
The Weird Sisters of Shakespeare and the witchcraft trials of his time
Short story to read: Anything Resembling Love by S. Qiouyi Lu. (CW: sexual assault)
A delightful Twitter thread about how various Star Wars characters make their coffee.
If you ever wondered what happened when lightning strikes sand…
A study finds that the majority of authors "hear" their characters speak.
On Book Riot
This week's SFF Yeah! podcast is about books within books…
Terry Pratchett's Discworld is getting new adaptations
15 magical books like Harry Potter for adults
Quiz: What YA mythological tale should you read next?
Free Association Friday: May Day
It probably comes as no surprise, but I have a lot of Feelings and Opinions about organized labor and unions, and it's International Worker's Day–solidarity forever! So how about some science fiction (that isn't mine) that touches on labor issues. Oddly enough, there isn't much fantasy that I'd say really digs into labor issues… at least that I know of.
First of all, it's not a book, but if you haven't seen Sorry to Bother You, directed by Boots Riley, you need to correct that ASAP. This movie is probably the most sharply incisive science fiction I've ever seen about labor issues. It's weird, funny, and very disturbing. (Honorable mention goes to Sleep Dealer, directed by Alex Rivera, which is about labor exploitation by the US across the Mexican border, when Mexican workers are no longer allowed to cross… but they are allowed to remotely pilot robot frames on work sites.)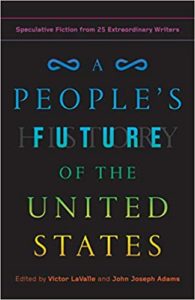 A People's Future of the United States edited by Victor LaValle and John Joseph Adams – Considering that its title is a riff on Howard Zinn's A People's History of the United States, you can guess what kind of issues of justice the short stories (by a lot of really awesome writers including N. K. Jemisin, Charles Yu, and G. Willow Wilson) are interested in interrogating. Every story isn't about labor, but it's definitely a presence in the book.
The Future of Another Timeline by Annalee Newitz – A time travel story in which Tess is trying to find a way to get her edits to stick… and then encounters another group of time travelers in 2022 who are bent on stopping her at any cost. Her story intertwines with that of Beth, whose life was forever changed by the murder of a friend in 1992. And in among all that, the IWW and United Steelworkers put in an appearance.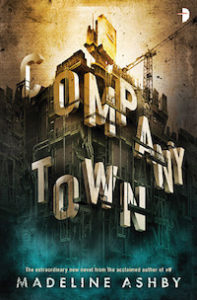 Company Town by Madeline Ashby – The company town in question is an oil rig the size of a city that's owned entirely by one corporation… bringing with it all the labor issues you might guess. Hwa normally functions as a bodyguard for members of the sex worker's union, but then she gets tapped to guard the young scion of the company that owns the town… while there's a series of murders going on.
For the Win by Cory Doctorow is is a very "this could happen at any moment" story about gold farmers in MMORPGs (which are a real thing in the world already) who are low-wage pieceworkers being exploited mostly in Asia. They start to unionize for wages despite the real-world threat posed to them by enforcers employed by their bosses.
On the darker side…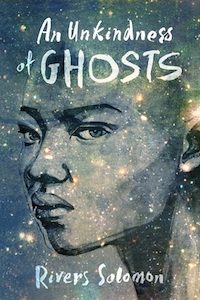 An Unkindness of Ghosts by Rivers Solomon is an absolutely brutal science fictional examination of racialized labor exploitation, set on a generation ship where the society is set up like the antebellum South. There's a lot more to it–Aster's journey to discover the truth of what happened to her mother as the already terrible world around her begins to fall apart touches on a lot of deeply emotional issues.
The Only Harmless Great Thing by Brooke Bolander – An alternate history that brings together labor exploitation and animal rights, where there are sapient elephants who can communicate with humans during the workplace horror that was the radium girls.
---
See you, space pirates. You can find all of the books recommended in this newsletter on a handy Goodreads shelf. If you'd like to know more about my secret plans to dominate the seas and skies, you can catch me over at my personal site.