Sponsored by We Are Water Protectors written by Carole Lindstrom, illustrated by Michaela Goade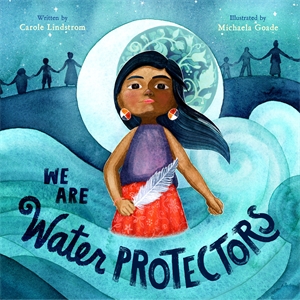 Inspired by Indigenous-led movements, this lyrical picture book is an urgent rallying cry to safeguard the Earth's water from harm and corruption.
Welcome to Check Your Shelf. How the heck did we get through April so fast when March was a thousand years long?
---
Collection Development Corner
Publishing News
New & Upcoming Titles
What Your Patrons Are Hearing About
On the Riot
---
All Things Comics
On the Riot
---
Audiophilia
On the Riot
---
Book Lists, Book Lists, Book Lists
Children/Teens
Adults
On the Riot
---
Level Up (Library Reads)
Do you take part in LibraryReads, the monthly list of best books selected by librarians only? We've made it easy for you to find eligible diverse titles to nominate. Kelly Jensen created a database of upcoming diverse books that anyone can edit, and Nora Rawlins of Early Word is doing the same, as well as including information about series, vendors, and publisher buzz.
Virtual hugs. Stay safe, healthy, and relatively sane.
—Katie McLain Horner, @kt_librarylady on Twitter. Currently re-reading The Andromeda Strain by Michael Crichton.