Sponsored by our Debbie Macomber prize pack giveaway! Enter here.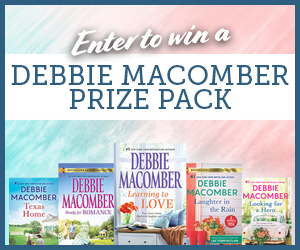 Looking for some cozy romance reads? We've got you covered! Book Riot is teaming up with Harlequin.com and Read Bliss to offer up a Debbie Macomber prize pack to one lucky winner, titles include: Texas Home, Learning to Love, Laughter in the Rain, Looking for a Hero, and Ready for Romance! Enter here.
Happy Tuesday, shipmates! It's Alex with the Tuesday salvo of new releases! And yes, believe it or not, it's the last Tuesday of the century we know as "April." It's going out on a strong selection of new books to read, at least. Stay safe out there, space pirates.
In things that I loved from the last few days that don't get to be in the news section:
A non-SFF volunteer opportunity if you're looking for something cool to do in your quarantine time: History Colorado is looking for help transcribing documents from suffragists.
Dr. Fauci said he'd like to be played by Brad Pitt. SNL has him covered.
New Releases
Ship of Fates by Caitlin Chung – During the California Gold Rush, a ship decorated with red paper lanterns sits at anchor on the Barbary Coast, welcoming gamblers and drinkers aboard. On board this ship, an ancient lighthouse keeper who wants only freedom has their fate tied to that of two young women.
The Human Son by Adrian J. Walker – The Erta, a species created to be hyper-intelligent and "unburdened" by human emotion, saved the Earth by removing what was killing it: humans. 500 years later, they consider if they should reintroduce this troubled species to the paradise they have built. They decide to start with a single human child and let the weight of his species' damnation or salvation rest on his shoulders. But raising a child is more difficult than any of the Erta expected… and there's more to human history than they've been told.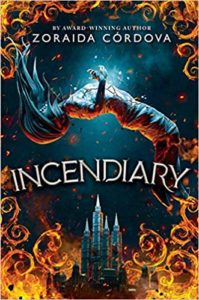 Incendiary by Zoraida Cordóva – Renata is a memory thief, someone who possesses the rarest and most feared kind of magic. She was kidnapped as a child and raised in the royal palace; under that influence she carried out the King's Wrath, and in so doing, caused the death of thousands of her own people. Kidnapped again and brought to freedom by the rebel Whispers, she joins their cause despite the suspicion and hatred with which they regard her… and the overwhelming presence of the memories of the dead that haunt her. When a undercover mission takes her back to the palace, she has to maintain her cover and rein in her own thirst for vengeance as she uncovers secrets about her own past that will change the course of the war and her world.
If It Bleeds by Stephen King – A new collection of four novellas from Stephen King, whose best work has often been in this shortened form. The novellas are tantalizingly titled: Mr. Harrigan's Phone, The Life of Chuck, Rat, and If It Bleeds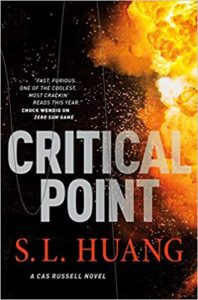 Critical Point by S.L. Huang – Cas Russell has a lot to think about; after stopping a shadowy organization from brainwashing the world, she's discovered that her mathematical powers were artificially created and that someone deliberately erased her past. Her processing time is interrupted by a demolitions expert targeting her and her friends and a conspiracy from her past rearing its head. Soon, she's in a race against time to save her best friend, with her past, present, and future on a collision course.
Firefly: The Ghost in the Machine by James Lovegrove – After Mal picks up a sealed crate that they're supposed to take to Badger with no questions asked, River tries to convince him to space it because it's filled with ghosts. Running desperately short on cash, the crew really doesn't have a choice but to ignore her warnings… and then the mysterious crate begins causing hallucinations that drive everyone but River further and further from reality.
News and Views
To prepare us for Network Effect, ART and Murderbot had an Instragram Live AMA.
io9 has a sneak peek of S.A. Chakraborty's The Empire of Gold.
Margaret Atwood's lockdown diary
Science Fiction and Human Rights (also, if you want to actually see the Octavia E. Butler letter referenced, there's a picture here.)
Actor Mary Neely has been reenacting short bits from her favorite musicals and they're all great, but Beauty and the Beast is definitely her best work.
Sebastian Stan says Falcon and the Winter Soldier has the same feel as Captain America: The Winter Soldier and now I am a zillion times more excited.
New Doctor Who short, which offers a moment of mercy.
Just when you thought Dolly Parton couldn't be more awesome, you find out that she was a producer on Buffy the Vampire Slayer.
In case you'd forgotten: space travel is really, really bad for humans and that's a major challenge.
Geology/paleoclimate nerd moment: rapid sea level rise 14,650 years ago might have been due to the collaps Eurasian Ice Sheet.
On Book Riot
Last week's SFF Yeah! podcast is about the Hugos and the Dune adaptation, among other things.
You can enter to win a $250 Barnes and Noble gift card
---
See you, space pirates. You can find all of the books recommended in this newsletter on a handy Goodreads shelf. If you'd like to know more about my secret plans to dominate the seas and skies, you can catch me over at my personal site.