Sponsored by The Jerusalem Assassin by New York Times bestselling author Joel C. Rosenberg.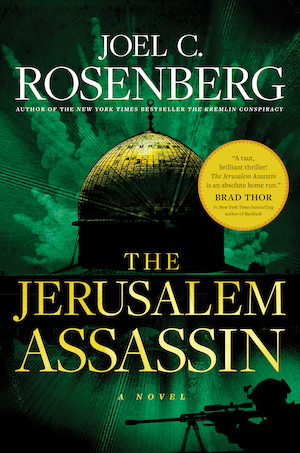 The fate of the Middle East and the American president is at stake in this heart-pounding race against time. CIA operative Marcus Ryker has spent his entire career studying killers. One thing he knows for sure: a peace summit is the ultimate stage for an assassination. With all eyes on Jerusalem and the president in the crosshairs, it's up to Ryker to stop an international alliance from carrying out its chilling plot. The fate of the region depends on his success.
Hello mystery fans! I noticed a theme in a few of my last reads so I thought I'd share two great teen sleuths and a YA revenge fantasy.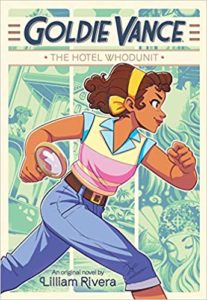 Goldie Vance: The Hotel Whodunit by Lilliam Rivera: Welcome to Florida where Goldie Vance works as a valet at the resort her father manages but really she's always up in the in-house detectives business because Goldie has a one-track mind and it's always focused on solving a mystery. For the first half of the book you get to know her and her friends, also working at the hotel, her mermaid performing mother, the in-house detective, how the hotel runs, and that there's a monster movie being filmed there. The big case starts halfway through when a prized piece of costume jewelry is stolen! Nothing will get in Goldie's way of figuring out what happened, especially when fingers point at her mother as the thief.
This is the first in a series and is based on the Goldie Vance comics–if you've already read those, the mystery is new but the book is introducing Goldie, her family, and friends to potentially new readers, which, as someone who loves Goldie, was a great re-welcome for me. If you're excited for more Goldie and Diane, you'll have to wait until the end of this one and the next book as Goldie 100% makes her crush known, but she stays focused on work and the mystery until the end when it's solved. If you love young sleuths who charge ahead to help and solve mysteries, are kind, and fun you'll love Goldie and her family and friends.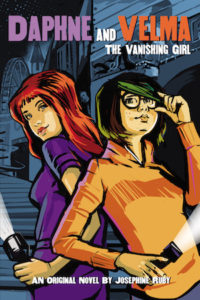 The Vanishing Girl (Daphne and Velma YA Novel #1) by Josephine Ruby: I didn't know this existed until I saw it while scrolling on Hoopla and I pressed play immediately, which was a great decision on my part because it is so much fun! This takes two characters from the Scooby-Doo franchise, Velma and Daphne, and makes them lead characters with alternating chapters. They used to be best friends but had a falling out and Daphne, the popular one, got a new best friend, and Velma just stayed away from her. Until Daphne's best friend goes missing and they join up to figure out what happened.
I really enjoyed the characters, which are based on the cartoon characters' personalities but are further developed and given their own voices as they deal with family and friendship issues. You get the spooky town, appearances from other members of the Scooby gang–Scooby included!–a good mystery, friendships, and the is-it-a-monster-bad-guy reveal! It's listed as the first in a series and I will do all the gimme hands for the next in the series.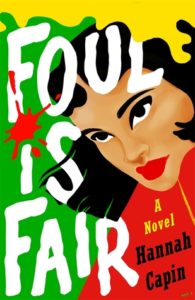 Foul Is Fair (Foul Is Fair #1) by Hannah Capin: The author kindly lists trigger warnings her work so I'll link to that at the end, but the entire story hinges on something that I need to talk about so I'm starting with one trigger warning for date rape. That's what happens to Elle when she goes out partying for her sixteenth birthday to a boy's prep school party. Afterwards she tells her friends, her parents (withholding who the boys were), and transfers to the school the boys attend. Why? Revenge. All planned out. Every boy involved in her assault is going to die and her group of popular girlfriends, her coven, is going to help, along with one boy from the school she's going to force to help. It isn't going to be easy, but her mind is made up and these boys need to pay, and the school's rape culture needs to come to an end at any cost.
This felt like a melodrama war cry meets Lady Macbeth meets Heathers and should be "fun" for fans of revenge fantasies that want to think of nothing more than revenge. It gets bloody! (TW Capin gives detailed notes here.)
Recent Releases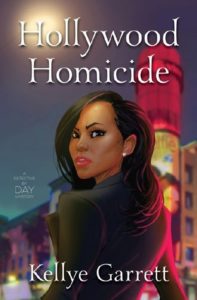 Hollywood Homicide by Kellye Garrette: Now available on audiobook and narrated by one of my favorite narrators Bahni Turpin (You know her from Dread Nation; The Hate U Give.) (Review)
The June Boys by Courtney C. Stevens: TBR YA mystery about The Gemini Thief who is a serial kidnapper that takes three boys and holds them captive for a year.
Gone by Midnight (Crimson Lake #3) by Candice Fox: TBR the third in the series that follows an unlikely pair of detectives in Australia.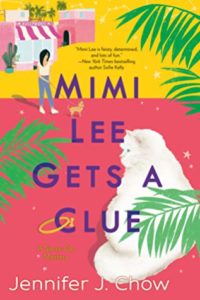 Mimi Lee Gets a Clue (A Sassy Cat Mystery #1) by Jennifer J. Chow: The start to a cozy mystery series starring a pet grooming store owner who after reporting a puppy mill becomes a murder suspect. Oh, and a cat she's watching talks to her and becomes helpful in clearing her name!
A Murderous Relation (Veronica Speedwell #5) by Deanna Raybourn: Currently reading one of my favorite historical mystery series with a will-they-won't-they pairing that always delivers in adventure and laughs.
Browse all the books recommended in Unusual Suspects previous newsletters on this shelf. See 2020 upcoming releases. An Unusual Suspects Pinterest board. Get Tailored Book Recommendations!
Until next time, keep investigating! In the meantime, come talk books with me on Twitter, Instagram, and Litsy–you can find me under Jamie Canavés.
If a mystery fan forwarded this newsletter to you and you'd like your very own you can sign up here.