Sponsored by the audiobook edition of The Unexpected Spy by Tracy Walder and read by Devon Sorvari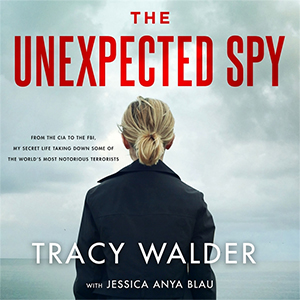 When Tracy Walder enrolled at the University of Southern California, she never thought that one day she would offer her pink beanbag chair in the Delta Gamma house to a CIA recruiter, or that she'd fly to the Middle East under an alias identity. The Unexpected Spy is the riveting story of Walder's tenure in the CIA and, later, the FBI. This highly entertaining audiobook, read by Devon Sorvari, will transport you from high-security, steel-walled rooms in Virginia to North Africa, Europe, The Middle East and beyond. Start listening now!
Hola Audiophiles! It's Vanessa here with the latest from the audiobook world. I've finally gotten back on a good listening streak after striking out with *seven* different "meh" listens! I'll share one of the good ones with you all today, but first: let's get to new releases.
Ready? Let's audio.
---
New Releases – February 25  (publisher descriptions in quotes)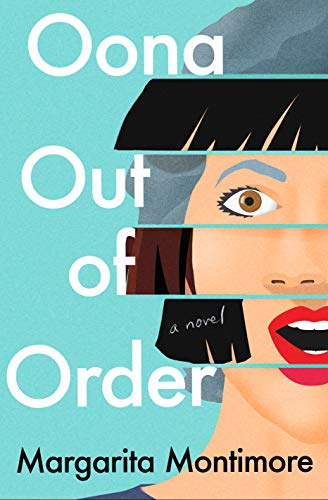 Oona Out of Order by Margarita Montimore, narrated by Brittany Pressley – It's 1982 on New Year's Eve and Oona Lockhart will turn 19 at midnight. Then she faints, wakes up, and BAM! She's 51 years old in a strange house she learns belongs to her. She also learns that with each passing year, she'll wake up at a different point in her life at random.
Narrator Note: I've had my eyes on Maybe You Should Talk to Someone by Lori Gottlieb which Brittany Pressley also narrates. You may recognize her from lots of thriller titles by David Baldacci, Fiona Davis, Mary Burton, and Carolyn Brown. She also narrates Zoraida Cordova's YA Star Wars novel A Crash of Fate!
Hood Feminism by Mikki Kendall, narrated by the author – I know the term "searing" gets thrown around a lot, but this very much sounds like it earns the searing badge of honor. It asks: "How can we stand in solidarity as a movement when there is the distinct likelihood that some women are oppressing others?" Basically, it flames white feminism, indicting the glaring blindspot therein that ignores women outside a particular category of race, class, and privilege. I'm always looking for ways to keep myself accountable; this book promises to be a powerful reminder on the importance of intersectionality.
Narrator Note: Listen to that sample, yo. Mikki Kendall is a natural; she narrates like she's speaking her words to you in an in-person conversation.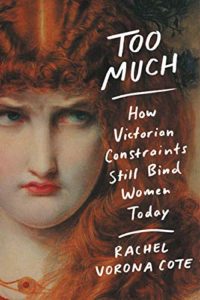 Too Much: How Victorian Constraints Still Bind Women Today by Rachel Vorona Cote, narrated by Suehyla El Attar – Rachel Vorona Cote is a Victorian scholar who draws some interesting (and maddening!) parallels between that era's fixation on women's "hysterical" behavior and the policing of women's behavior that still very much occurs today. How dare we "illicit liberties to feel or fuck or eat with abandon!" It encourages women to reconsider the beauty of their excesses; as I like to say whenever I'm called a handful, maybe some of y'all just need bigger hands!
Bonus: Rachel Vorona Cote recently wrote a piece for Lit Hub that rang ALL of my bells: How Ramona Quimby Taught a Generation of Girls to Embrace Brashness. Have I ever told you all that I named one of my dolls Chevrolet?
Narrator Note: Suehyla El Attar is one of the narrators on Trust Exercise by Susan Choi, a book that most people seem either love or hate with no in between!
We Unleash the Merciless Storm by Tehlor Kay Mejia, narrated by Kyla Garcia – This is the sequel to Latinx inspired fantasy We Set the Dark on Fire and gaaaaah I can't say much here without spoiling it! In the first book, the Medio School for Girls trains young women for one of two roles in their highly polarized society: Primeras run their husbands' households and Segundas raise their children. Dani is stoked when she's named Primera to Medio's most eligible bachelor, until mean girl Carmen is appointed her Segunda. To make matters worse, Daniela is approached by a resistance group who will only keep Daniela's deepest, darkest secret if she agrees to help them spy on her husband, who it turns out is kind of a jerk face. What to do???
We Unleash the Merciless Storm picks up right after We Set the Dark on Fire's cliffhanger ending. It promises high stakes, political intrigue, and (I hope) a continuation of a certain queer love story. Gimme!!
Narrator Note: Yes, yes, I've been critical of Kyla Garcia's narration in the past. I'm pleased to report that I enjoyed her work here and had no issues with any of the pronunciations!
Latest Listens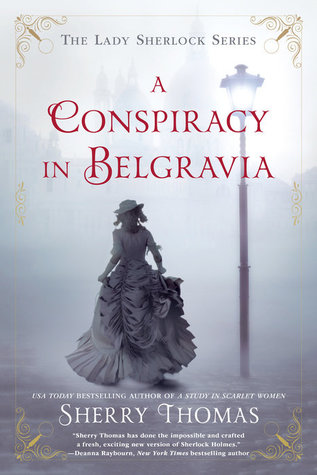 A Conspiracy in Belgravia by Sherry Thomas, narrated by Kate Reading – This is the second book in the Lady Sherlock series and I think Lady Sherlock is my fave! The famed detective Victorian-era London knows as Sherlock Holmes is actually Charlotte Holmes, who solves cases with the help of a generous benefactor, a camera, and a few little white lies about her brother Sherlock being in another room. Huzzah! In A Conspiracy in Belgravia, Lady Ingram writes to "Sherlock" to ask for help finding the man she loves. Problem! The missing love of her life is not the man she's married to but he is Charlotte's estranged half brother. Problem, part two: Lady Ingram's husband is Lord Ingram, the gentleman our dear Charlotte happens to be in love with.
I'll admit that it took me a second to get into this listen, but I don't think that was due to any fault on Reading's part. As is often the case with this style of whodunnit, a lot of facts needs to be laid out before we get to the good stuff. About a quarter of the way in, I was hooked! I am a sucker for an English accent, and I love how smoothly Reading switches between numerous dialects and how she paces her narration. I'm excited to keep going with this series!
From the Internets
I sometimes naively forget that not everyone has hopped aboard the audiobook train.. Let's welcome all newbies with open arms and remind them that now is a great time to start!
Jude Law, Evanna Lynch, Jason Isaacs, Bonnie Wright and several other actors from the HP universe have signed on to narrate the new Tales of Beedle the Bard audiobook! J.K. Rowling isn't someone I'm eager to throw my money at these days, but guess what else is true: Jude Law could get it is very nice on the eyes and ears (as are the rest of the cast) and no amount of hate can take those stories from my Hogwarts-loving corazon. Also, sales of the new audiobook will go to the Lumos foundation.
Over at the Riot
Sometimes you need a quick listen and that's where short stories come in. Here's a list of some excellent short story collections for you ear holes.
---
That's all I got today! Shoot me an email at vanessa@riotnewmedia.com with audiobook feedback & questions or find me on Twitter and the gram @buenosdiazsd. Sign up for the In The Club newsletter, peep the Read Harder podcast, and watch me booktube every Tuesday and Friday too!
Stay bad & bookish, my friends.
Vanessa