Sponsored by Scribner, publisher of Vacuum in the Dark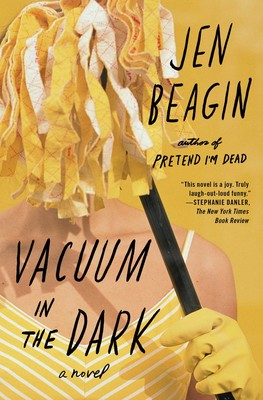 From the award–winning author of Pretend I'm Dead and one of the most exhilarating new voices in fiction—the "thoroughly delightful, surprisingly profound" (Entertainment Weekly) Vacuum in the Dark is now available in paperback. This one-of-a-kind novel about a cleaning lady named Mona and her struggles to move forward in life is ready for your laughs and your book club. "A joy: truly laugh-out-loud funny, while staying grounded and dignified, even as Mona capsizes again and again." —The New York Times Book Review "By turns nutty and forlorn…Brash, deadpan, and achingly troubled." —O, The Oprah Magazine "A wildly exuberant novel by a writer with a singular voice."—NPR
Welcome to In The Club, a newsletter of resources to keep your book group well-met, well-read, and well-fed. This week we're talking re-reads and movie watchings, which I may just partake in by my literal self because writing it about it got me hyped?
While I decide on my preferred book/film combo, let me share a few suggestions with you. To the club!!
---
So you may have noticed that we like to have fun on our podcasts. I know I had a blast breaking down Such A Fun Age with Sharifah and el Jefe, and not just because I got paid to do it! As a listener, I have really been enjoying the main Book Riot podcast's bonus episodes breaking down movie adaptations. This gave me the idea of bringing back the book + movie club idea. I really want to do this!
Nibbles and Sips 
I have been wanting to have a movie night for such a long time; make it bookish and I'm in times two! Arrange to meet at someone's house (or some other event space/venue if you fancy) and have a spread of movie snacks at the ready:
Popcorn – Get the movie theater butter variety, duh.
Candy – Keep it classic with Red Vines, Milk Duds, Raisinettes, etc
Nachos – Yesss, melt that delicious fake processed cheese in that Crock Pot and slather it all on those corn chips! Have pickled jalapeños on deck or I'm not coming.
Beverages – You probs don't have an Icee machine in house (props if you do!), so go with whatever quenches your thirst. Might just have a bottle of Coca Cola to keep it all the way real.
Read the Book, Watch the Flick
I picked a couple of the book/adaptation pairs that Jeff, Rebecca, and friends have covered on the pod recently as well as a couple of others I think would just be fun.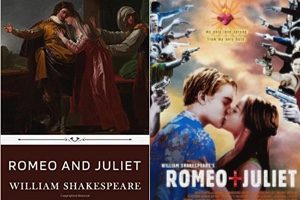 Romeo and Juliet by William Shakespeare – While there are numerous adaptations to choose from here, I think a great one for discussion is Baz Luhrmann's 1996 Romeo + Juliet. Break down the setting (Verona as part Venice Beach, part Brazil?), the use of the traditional iambic pentameter in a modern setting, the soundtrack, and ALL of the symbolism (Catholic imagery! Drugs! Guns!) as it relates to the themes in one of the Bard's most famous of tragedies.
Related: Jeff and Rebecca's rewatch of Baz Luhrmann's Romeo + Juliet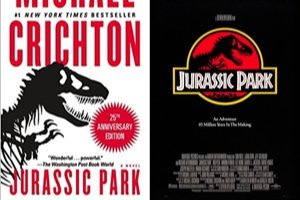 Jurassic Park by Michael Crichton – You know the premise: some smarty pants scientist man finds a dusty ol' mosquito in a chunk of amber and decides it's a good idea to harvest the dino DNA therein. The next logical step is of course to bring dinosaurs back and then stick 'em in a theme park. Foolproof plan, nothing could go wrong! I so, so want to do a re-read and rewatch of this one.
Related: I happened to be sitting next to Jeff as he edited the bonus pod episode covering Jurassic Park and was treated to several hilarious transcriptions snafus, recording anecdotes, and a whistled edition of the Jurassic Park theme song. Amanda joins Jeff and Rebecca for this one – check it out!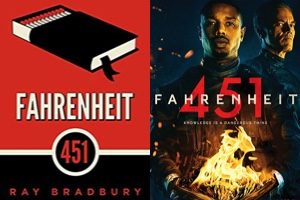 Fahrenheit 451 by Ray Bradbury – Now might be good time to stipulate that this doesn't have to be a re-read situation because ehhemI'veneverreadthisbook. No judgement if it's your first time with a read! Whether you go with the 1966 film version or the one from 2018 HELLO because Michael B. Jordan is fine, there should be plenty to talk about regarding government suppression and misinformation.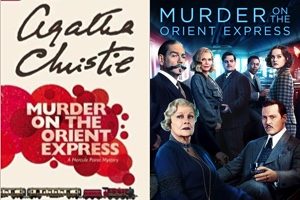 Murder on the Orient Express by Agatha Christie – If you're unfamiliar with this classic by the Queen of Crime, it's all in the title, boo. There is a murder and it happens (gasp!) aboard the Orient Express. I urge you to pair this re-read with the most recent adaptation featuring Kenneth Branagh as Poirot and a whole lotta other famous people. I know one thing I'd like to unpack is the choice to depict Poirot as a man with a broken heart. He's just fastidious, bruh. Did that have to be about a woman? Anyway, discuss!
Note: This version does start Johnny Depp which some of you may take issue with, and I get that. If it makes you feel any better—SPOILER SPOILER SPOILER, skip to the next paragraph if you want to avoid SPOILERS— ol' Johnny Boy's character is the victim of the titular murder so you don't have to look at him for too long.
Suggestion Section
In Rowlett, Texas, a mother and her son started a book club for members of the young man's football team. The group of seventh grade teammates started out reading graphic novels (YES, so much yes) and have now incorporated traditional novels. Love this!
Kiley Reid, Tomi Adeyemi, and Jason Reynolds each shared several books for Black History Month with the Good Morning America Book Club. All of these reads are perfect for book club. I'm re-reading Danez Smith's Homie now!
Club Stuff at the Riot
How to find a queer book club, or start one of your own!
Joining a book club can be an intimidating for an introvert, but it doesn't have to be!
---
Thanks for hanging with me today! Shoot me an email at vanessa@riotnewmedia.com with your burning book club questions or find me on Twitter and the gram @buenosdiazsd. Sign up for the Audiobooks newsletter, get it on the Read Harder podcast, and watch me booktube every Tuesday and Friday too.
Stay bad & bookish, my friends.
Vanessa
More Resources:
– Our Book Group In A Box guide
– List your group on the Book Group Resources page