Sponsored by William Morrow Paperbacks, publisher of The Lucky One by Lori Rader-Day.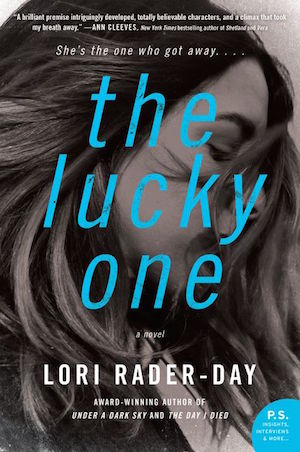 Most people who go missing are never found. But Alice was the lucky one… From the author of the Edgar Award®-nominated novel Under A Dark Sky comes an unforgettable, chilling new story about a young woman who recognizes the man who kidnapped her as a child, setting off a search for justice, and into danger. Twisting and compulsively readable, The Lucky One explores the lies we tell ourselves to feel safe.
Hi mystery fans! This week I have for you a favorite crime read of this year (already!), an eerie past and present mystery, and a legal thriller for fans of procedural shows.
Djinn Patrol on the Purple Line by Deepa Anappara: This will definitely be one of my favorite reads of the year. It was hard to read this and not think about all the discussions happening surrounding American Dirt and its issues, including it being trauma porn because Djinn Patrol on the Purple Line is the complete opposite of trauma porn. Yes, it follows children navigating through slums in India to find a missing friend as children are going missing and the police are not putting in much effort, but underserved communities are still communities filled with different types of people with lives and desires and this novel shows that.
Jai is a nine-year-old boy who has watched so much procedural shows that he believes himself able to find out what happened to his missing classmate and enlists schoolmates Faiz and Pari to help. They're determined to find out if a bad djinn is responsible for the disappearance, or a bad person, and they set out through the city to get their answers.
The novel shines a light on the underserved communities, treatment of women, and the voices ignored by those in power while keeping focus on the victims and those silenced rather than the perpetrators. Anappara brings to life beautiful characters who keep things upbeat while exploring the darkness of the world in a story that starts with a coming-of-age mystery that travels along into noir territory. If you're an audiobook listener I can not recommend it enough in that format. The narrators, Indira Varma, Himesh Patel, and Antonio Aakeel, are fantastic! (TW child, domestic abuse/ child deaths)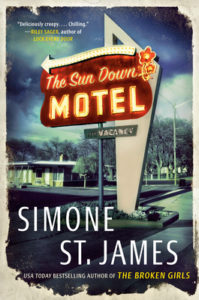 The Sun Down Motel by Simone St. James: A ghostly mystery!
Thirty-five years after her aunt Viv disappeared from her shift at a motel Carly decides to take the same job at the same motel and figure out what happened to her aunt, along with who her aunt was, being that she grew up really not hearing much. The thing about this motel is that it's definitely creepy and haunted. Doors open and slam on their own, customers are either walking red flags or shrouded in mystery, someone keeps smoking but there is no one there…
Told in past and present chapters we follow as Carly in the present tries to piece together what her aunt was doing and what happened to her, and we watch Viv in the past doing her own detective work as the two storylines begin barreling towards each other.
A great past and present mystery with an eerie setting and some spooks. (TW mentions past rape, not graphic)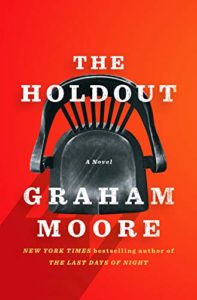 The Holdout by Graham Moore: A legal thriller for fans of procedural shows and films.
This had the implausibility feeling to it that I really enjoy because it let me sit back and just be entertained. The premise is that a group of jurors from a case that got national attention reunite for a true-crime docuseries because one juror is convinced they got it wrong the first time. Maya Seale, who after the case went to law school, was the juror who convinced everyone that the Black teacher was innocent in the disappearance of his white student. There has never been a body, the teacher has since disappeared, and the girl's father is still certain a guilty man walked away when one of the past jurors is murdered and Maya becomes the prime suspect.
Basically everyone's secrets are gonna come out! (TW mentions past PTSD/ past statutory, not graphic/ talk of pedophile and sex offenders/ attempted rape, partially on page/ past child, domestic abuse/ suicide)
Recent Releases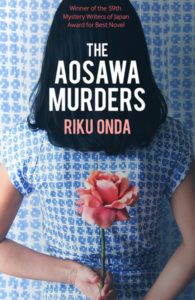 The Aosawa Murders by Riku Onda, Alison Watts (Translator) (Really looking forward to this one about a mass cyanide poisoning and a little girl that survives and is suspected…)
Second Sister by Chan Ho-Kei, Jeremy Tiang (Translator) (Currently reading: Young woman hires a Sherlock hacker type detective to find out who was responsible for her sister's death by suicide.) (TW public groping/ suicide, detail/ date rape)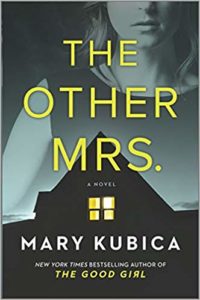 The Other Mrs. by Mary Kubica (An author who I always pick up is back with a psychological thriller about a murdered neighbor in a small-town in Maine.)
Foul Is Fair (Foul Is Fair #1) by Hannah Capin (A revenge fantasy where a teen girl and her friends go after the boys that raped her.)
Death in the Family (Shana Merchant #1) by Tessa Wegert (Trapped on an island murder-mystery!)
A Dangerous Collaboration (Veronica Speedwell Mystery #4) by Deanna Raybourn (Paperback release of one of my favorite series.)
Browse all the books recommended in Unusual Suspects previous newsletters on this shelf. See 2020 upcoming releases. An Unusual Suspects Pinterest board. Get Tailored Book Recommendations!
Until next time, keep investigating! In the meantime, come talk books with me on Twitter, Instagram, and Litsy–you can find me under Jamie Canavés.
If a mystery fan forwarded this newsletter to you and you'd like your very own you can sign up here.