Sponsored by Chicago Review Press
From Carrie Callaghan, author of the critically acclaimed A Light of Her Own, comes the story of the trailblazing Milly Bennett, based on the life of one of the first female war correspondents. American journalist Milly Bennett has covered murders in San Francisco, fires in Hawaii, and a civil war in China, but 1930s Moscow presents her greatest challenge yet. When her Russian husband is suddenly arrested by the secret police, Milly tries to get him released. But his arrest reveals both painful secrets about her marriage and hard truths about the Soviet state she has been working to serve.
Welcome to In The Club, a newsletter of resources to keep your book group well-met, well-read, and well-fed.
We've at long last waved adios to one hell of a January and I am proud of all of us for making it through! My man Punxsutawney Phil has done us a solid and predicted an early spring and we have Black History Month to celebrate; I don't know what the rest of this year brings, but let us revel for now in these two Very Good things.
To the club!!
---
Nibbles & Sips
So what I am NOT gonna do is suggest some gross and patronizing food theme for Black History Month. If I logged on during Hispanic History Month and saw someone suggesting everyone make chimichangas for book club, I might have to take these earrings off.
I do however want to highlight a few of my favorite Black food bloggers, chefs, and TV personalities. These are all recipes I've made and loved from people I've found through podcasts, word of mouth, and my obsessive online recipe search habit because food is life.
Suggestions:
Now for Some Books!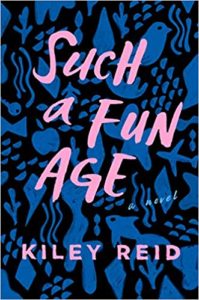 Such a Fun Age by Kiley Reid – Alix, a white influencer, hires Amira. a twenty-something Black woman, to be her young daughter's babysitter. A surprising connection from Alix' past and Amira's present threatens to undo them both. This is a funny, thoughtful read about race and privilege that will be sure to spark good book club conversation, one that really dives into that whole "the road to hell is paved with good intentions" thing. (Also: Sharifah and I will be joining Jeff for a bonus episode of the Book Riot podcast to discuss this very book. Be on the lookout for that in the next few days; I have feelings!)
Trailblazer: A Pioneering Journalists Fight to Make the Media Look More Like America by Dorothy Butler Gilliam – Dorothy Butler Gilliam is the first Black woman to write for the Washington Post, a fact I'm ashamed to admit I didn't know until last year when I picked up this book. This is a memoir of her life and experience breaking down barriers, but also a sort of crash course on the history of Black journalism in America.
Ghost Boys by Jewell Parker Rhodes – Jerome is a twelve year old boy who dies when a police officer mistakes his toy gun for a real one and shoots him. As a ghost, Jerome befriends Sarah, the daughter of a white police offer and only living person who can see him, as well as the ghost of Emmett Till. He observes the complete devastation his death has wreaked on his family and community, and confronts this country's long history of violence against Black people. Yes, this is a middle grade read, but don't let that dissuade you from reading it. It packs a punch and asks a lot of tough but important questions, ones that we need to discuss with children early on.
Suggestion Section
Calling all MythBusters fans! Adam Savage is starting a book club and wants you to join.
February book club picks from PBS and Jenna Bush Hager
Is Reese's Book Club more potent than Oprah's?
An orthodontist in Indiana created Connections Book Club, a book club that brings together health-care practitioners passionate about innovation and partnering with other professionals to better treat their patients.
Why one reader skips her book club meetings – sometimes this is just how it goes!
---
Thanks for hanging with me today! Shoot me an email at vanessa@riotnewmedia.com with your burning book club questions or find me on Twitter and the gram @buenosdiazsd. Sign up for the Audiobooks newsletter, get it on the Read Harder podcast, and watch me booktube every Tuesday and Friday too.
Stay bad & bookish, my friends.
Vanessa
More Resources:
– Our Book Group In A Box guide
– List your group on the Book Group Resources page