Sponsored by award-winning novel Justice Gone, by N. Lombardi Jr, Roundfire Books.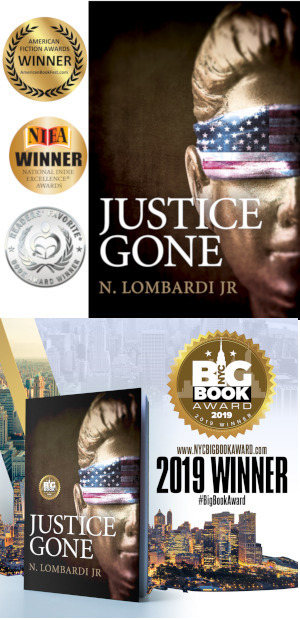 Winner of four awards: New York City Big Book Award; 2019 American Fiction Award; National Indie Excellency Award; Silver Medal Winner 2019 Readers' Favorites Award; Chosen by Wiki.ezvid.com among their list of 10 Gripping and Intelligent Legal Thrillers. One of my favorite suspense novels of the year –The Eclectic Review. The courtroom action is excellent, trimmed to the most gripping parts of the trial, with plenty of emotional impact…a fairly realistic portrayal of the way small-town US society works…a fast-moving story with plenty of dramatic moments, and a big twist in the final pages — Crime Review.
Hi mystery fans! This week I have for you a wealthy family drama that starts with a mass murder and explores the "why," an excellent detective pairing, and a kick ass better-than-Bond graphic novel.
The Majesties by Tiffany Tsao: This book is for fans of Shirley Jackson's We Have Always Lived In the Castle and the bits in Crazy Rich Asians that focus on the family drama and history of the wealth (not the romcom parts). It also works for fans of crime, contemporary fiction, family dramas and the "why" part of mysteries. Because we know the who and what: Estella poisoned the entire Sulinados family (hundreds!), including herself, and everyone is dead except for her sister Gwendolyn, who is barely alive. Gwendolyn, nicknamed Doll, lays in the hospital reflecting on her family's wealth, businesses, relationships (with a heavy focus on her and her sister's), and secrets of course, to pinpoint how and why Estella would have done this.
While I was looking forward to Doll's answers, what kept me fully engaged in this book were the family stories, characters, drama, secrets, and relationships. This was one of the books I was most anticipating this year (that cover!) and it didn't disappoint! (TW murder suicide/ domestic abuse)
The Janes (Alice Vega #2) by Louisa Luna: This is a series that I love because of the partnership.
In the first book Alex Vega traveled from San Diego to Pennsylvania to help find two missing girls and ended up meeting and partnering with a former cop, Max Caplan, nickname Cap. Now Vega is back in San Diego, working with Cap, assisting the SDPD on two Jane Doe cases. Cap is the quiet, calm, listening type while Vega is the "tough woman." But not the character that just gets labeled that so the reader is supposed to think she is. Vega will assault a man and the man will end up being shoved into the trunk of her car. She'll rip her own stitches out to get out of a situation. She's not so great at listening, or playing nice; she's abrasive, and won't stop until she helps the girls she's promised to help.
Watching Cap and Vega learn from each other while trying to stop a sex trafficking ring is a delightful break in this gritty, action packed novel. (TW sex trafficking, girls/ child murder/ torture/ fat shaming/ dog shot)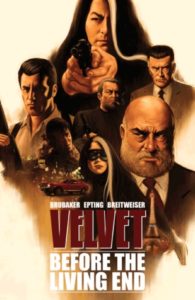 Velvet, Vol. 1 by Ed Brubaker, Steve Epting, Elizabeth Breitweiser, Chris Eliopoulos: Another reason to love my library system is that I'm finally catching up with graphic novels that have been on my TBR list for years. And this was so good!
A James Bond level spy is killed and it turns out the spy agency director's secretary, Velvet Templeton, is really the greatest spy. It's awesome! It has the whole spy running for their life, being framed, having to save their name and life etc vibe. Templeton is a great character that takes you into the now (running for her life) and also how she was trained along with past missions. And I can't tell you how many times I've DNF'd comics (and books) where the women were just so poorly written/drawn that I couldn't, so it was such a delightful treat to read about an older woman truly kicking ass.
And if your library has Hoopla the three volumes of the series are there. (TW mentions pedophile/ PTSD/ alcoholism/ partner abuse)
Recent Releases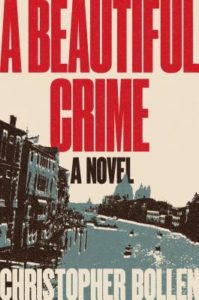 A Beautiful Crime by Christopher Bollen (From the author of Orient, a couple decides to sell counterfeit antiques as a way to escape their NY life, and of course it's a crime novel so nothing will go well.)
Hi Five (IQ #4) by Joe Ide (The fourth in the Long Beach PI installment that is a modern day Sherlock.)
Holding Smoke (Judah Cannon #3) by Steph Post (The final book in this Florida crime family trilogy.)
Browse all the books recommended in Unusual Suspects previous newsletters on this shelf. See 2020 upcoming releases. An Unusual Suspects Pinterest board. Get Tailored Book Recommendations!
Until next time, keep investigating! In the meantime, come talk books with me on Twitter, Instagram, and Litsy–you can find me under Jamie Canavés.
If a mystery fan forwarded this newsletter to you and you'd like your very own you can sign up here.