Sponsored by Book Riot's new literary fiction podcast Novel Gazing.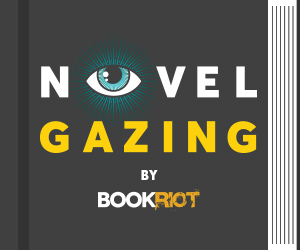 Novel Gazing is your destination for all things literary fiction, bringing you news from the world of fiction, and recommendations for under the radar reads, works in translation, buzzy books, and more. Stay in the know, expand your TBR and your view of literary fiction, and, of course, have some laughs with hosts Mary Kay McBrayer and Louise Johnson. Novel Gazing is a biweekly show available wherever you get your podcasts–go listen to episode one now!
In the long-ago time before social media, my college roommate wrote all her favorite lyrics and quotes on index cards and taped them to her side of the dorm. When her sister visited, she said, "No one is EVER going to read all of that. Unless you die." My roommate laughed, and I said back, "Or maybe if you killed someone?"
I realized much later, when I was studying nonfiction in my MFA program that it's really hard to make someone GAF about your true story. Much nonfiction leaves readers wondering, so… what? But there's something about crime and creeps that makes us need to know more. I personally need to know all that shit so I can avoid it, but I also, like, can't NOT know. It's not so much the voyeuristic secondhand adrenaline as the WAIT WHAT WHO NOW impulse that has me read biographies, especially those with the element of horror. By the way, you're in The Fright Stuff, Book Riot's weekly newsletter about the latest and greatest in horror. I'm Mary Kay McBrayer, and I'll be your Virgil through this circle of hell, Horrific Biographies.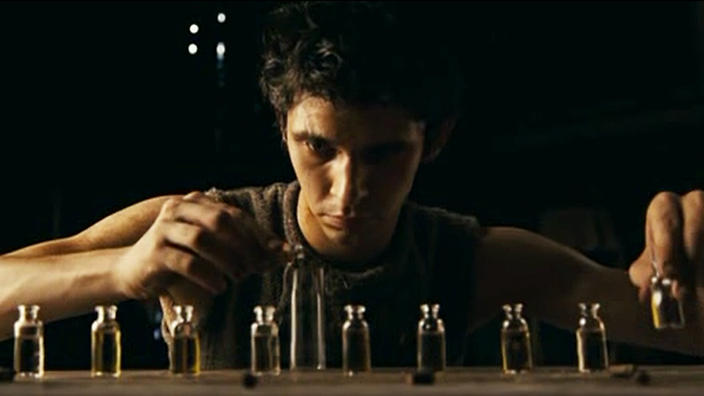 Earworm: "Bad Girls" by M.I.A.… live fast, die young, bad girls do it well.
Fresh Hells (FKA New Releases):
Born to Be Posthumous: The Eccentric Life and Mysterious Genius of Edward Gorey by Mark Dery
This biography of the eccentric author and illustrator is not straight-up horror: it more so shows how the author conceptualized the horrors from his pseudo-children's books like The Gashleycrumb Tinies, The Doubtful Guest, and The Hapless Child. If you love learning about the childhood and inspirations of your horror icons, you'll really like this book.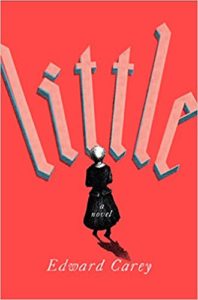 Little: A Novel by Edward Carey
Edward Carey calls this book a "fictionalized biography," but it reads like a novel, and I mean that in a good way. So often, biographies lose the human condition for the sake of facts, but that's not the case at all with this book. It's based on Marie Tussand, of the Wax Museums. You, like me, probably associate the wax museum with kitschy tourist traps, but it started out as the exact opposite: the wax museums were a way that art preserved the history of the French Revolution, and Marie, or "Little," as they call her in the book, because of her jarring appearance, is the one who kept it going. I know you're thinking, but where is the horror? UM, DID YOU KNOW that she cast the heads of the aristocrats beheaded by the guillotine? And that's not even the most harrowing of it….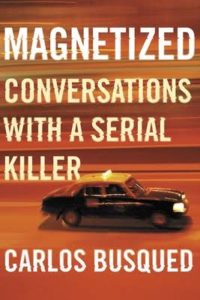 Magnetized: Conversations with a Serial Killer by Carlos Busqued, translated by Samuel Rutter
Though this book is not exactly a biography, it definitely paints a vivid picture of the real-life serial killer in Buenos Aires, Ricardo Melogno. The author visited Melogno in prison and interviewed him, and in this mixed-media book which includes everything from newspaper clippings to Santeria indoctrination, you'll start to fear the "something dense" that Melogno says inhabits him. Seriously, from the jump, the actual epigraph about magnets and their currents, I was like… yo, I don't know if I'm gonna make it through this one–y'all know that demons are in my trifecta of shit I can't handle! (I should mention that this one is only available for pre-order in English, but if you are a Spanish speaker, GET IT NOW.)
Crypt-Keepers (FKA horrors from the backlist):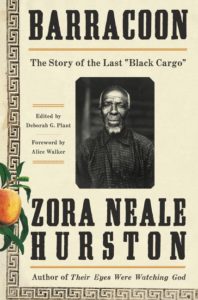 Barracoon: The Story of the Last "Black Cargo" by Zora Neale Hurston
Though this biography does not have the goal of scaring its readership, everyone with a conscience will be straight shook. Zora Neale Hurston (whom you may know from Their Eyes Were Watching God or Tell My Horse) authored this book decades ago, but the tale of the last "Black Cargo" was only published in 2018. It's based on the interviews she conducted in 1928 with Cudjoe Lewis, the last presumed living survivor of the Middle Passage.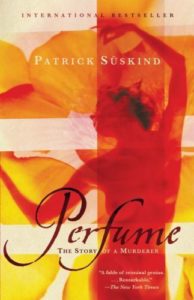 Perfume: The Story of a Murderer by Patrick Suskind
This novel chronicles the life of Jean-Baptiste Grenouille, fictional personage who, though he has no body odor of his own, can smell literally everything. He fixates on an odor that he follows through the smelliest place on earth, the fish market of Paris, where he finds a beautiful woman. Grenouille spends the rest of his life trying to manufacture scents–even objects that have no smell, like glass–in order to recreate the scent of that woman. It's a story of true obsession, art, and overall horror.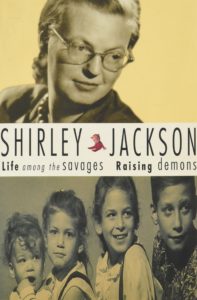 Life Among the Savages by Shirley Jackson
This book is one of Shirley Jackson's memoirs, but I think it counts here. You probably know her work from We Have Always Lived in the Castle or The Haunting of Hill House, or even "The Lottery," and she's certainly well known for her slow-burn terror. This book, though, illustrates motherhood as though it is a horror movie.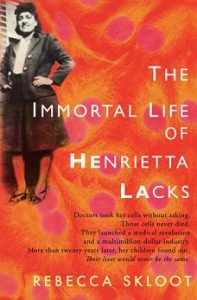 The Immortal Life of Henrietta Lacks by Rebecca Skloot
When I was studying creative nonfiction, they called this book "science nonfiction," which is just a way of rebranding… call it what you will, this book is genius. It documents Henrietta Lacks, a Black woman who noticed that something was wrong and went to the doctor, where she was diagnosed with cervical cancer, and a sample of her tumor was taken without her consent. If you have not yet read this book, then you are doing yourself a disservice.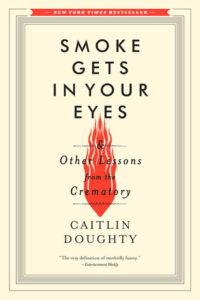 Smoke Gets In Your Eyes: And Other Lessons from the Crematory by Caitlin Doughty
Caitlin Doughty writes of her own life in this book, from her obsession with death when she saw a child fall through an atrium in a mall as a child, herself, through her training in mortuary science. This book takes it upon itself to destigmatize death through the story of her life, and while it is definitely fascinating, it is also wildly uncanny for anyone unaccustomed to the subject matter.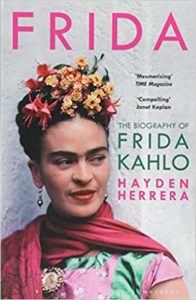 Frida: A Biography of Frida Kahlo by Hayden Herrera
Oh, my love, Frida. I've been obsessed with her and her surrealist art since I was in high school, fell in love with the biopic starring Salma Hayek in college, and have just been poring through this biography since then. The Julie Taymor film was based loosely on this biography, but in case you are unfamiliar with her work, Frida Kahlo was a Mexican painter in the 1930s and 1940s, and she painted works inspired by her life. From the trolley accident that rendered her infertile through her miscarriages, marriages, and love affairs, this book shows the horrors that the artist endured.
News:
Preliminary nominees for the Bram Stoker Awards are listed here!
Mardi Gras designer finally credited.
Did you hear that Netflix is dropping a new show called Murder House Flip… which is exactly what it sounds like?
Memorial installed to commemorate victims of the European witch hunt.
This tweet from author and translator of Aladdin, Yasmine Seale shows "the fish glue, leather and other substances that made up Arabic and Ottoman manuscripts appealed to insect appetites."
Want to know why the devil came to Salmon Street? Check this shit.
Visit Qumran National Park in Israel to see where the Dead Sea Scrolls were discovered!
Want to hear about the whistleblower of one of the most horrific experiments of all time, the Tuskegee Syphilis experiment? Read this article, which goes in depth about why medical whisteblowers are so rare.
In case you missed the drama about American Dirt, here's Book Riot's TLDR version.
That's it. I hope you've enjoyed this tour through the hell of horrific biographies. As always, please follow me or send your recommendations on Twitter or Instagram.
Your Virgil,
Mary Kay
TW: @mkmcbrayer
IG: @marykaymcbrayer