Sponsored by Rocky Mountain Press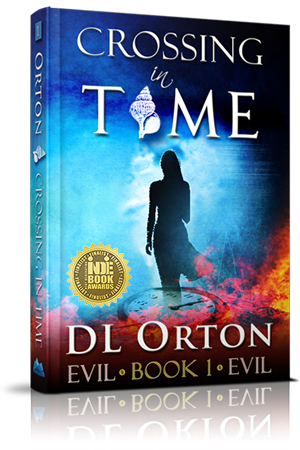 They say that love transcends spacetime… But what if your soulmate is brutally murdered—and you're offered a chance to undo it! Would you crawl into a jury-rigged metal coffin aimed twenty years into the past to save him? No-brainer, right? Except when you arrive… He doesn't believe you! In fact, he thinks you're one fry short of a Happy Meal. Fall into this award-winning, action-packed, darkly comedic, dystopian love story, and be prepared to encounter a finicky time machine, a mysterious seashell, and a very clever dog.
Happy Friday, shipmates! We made it, no matter how bruised and battered after one heck of a week. It's Alex, ready for some serious escape and some good books–as well as news and discussion that's more to the fun side this week. Let's do this.
I am absolutely obsessed with this TikTok and it's made me laugh so much.
News and Views
Author Iori Kusano did an adorable Twitter thread about her (mis)adventures over the last couple of weeks as a shrine maiden.
Brandon O'Brien wrote a barn burner of an essay about masculinity and Joker.
Food Network Challenge did an episode with Pokémon cakes and look I don't care if this isn't even really adjacent to science fiction books, it's my newsletter and I love everything about this.
Thanks to the Netflix series, The Witcher books are getting a huge reprint.
You can read an excerpt from C.L. Polk's Stormsong. And, you know, pre-order it.
The nominees for the 2020 Philip K. Dick Award were announced. Some solid books to check out.
Amazon has announced its cast for The Power.
On Book Riot
How Reading Sir Terry Pratchett Helped Me Through My Depression
5 Comics and Graphic Novels to Read if You Love The Expanse
Free Association Friday: Winter Books
In honor of northwest Washington and coastal British Columbia getting hit with a snowstorm they don't really have the infrastructure to deal with, let's go for some books with snow and cold and generally crummy weather. The sort of books you want to read while you're curled up somewhere nice and warm, preferably witih a hot chocolate or other warm beverage of your choice.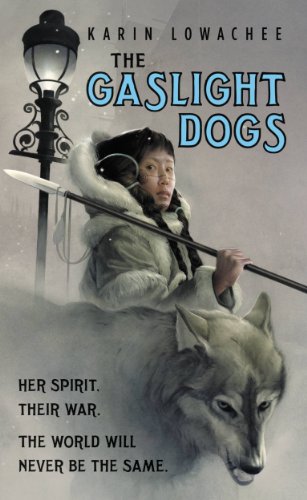 The Gaslight Dogs by Karin Lowachee – A nomadic tribe in the arctic faces the invasion and colonization of an Empire. A young spiritwalker is captured and thrown by circumstance into the orbit of a captain in the invading army…and she can teach him a forbidden skill that will make him an outcast and perhaps save both of their peoples. The cold just seeps out of this dense and beautifully written book.
Ajjiit: Dark Dreams of the Ancient Arctic by Rachel Qitsualik-Tinsley and Sean Qitsualik-Tinsley – Is a collection of dark fantasy stories with roots deep in Inuit stories and shamanism.
Spinning Silver by Naomi Novik is a fairy tale retelling–an amalgam of several fairy tales, perhaps–about a moneylender's daughter in a land where winter is encroaching ever earlier and more deeply to the point that it's nearly endless now, thanks to icy fae creatures. After her reputation for being able to turn silver into gold, if with the mathematics of interest rather than magic, reaches the ears of the fae king, she's spirited away into danger that she could never imagine and finds the fate of two kingdoms in her hands.
The Bear and the Nightingale by Katherine Arden – This book starts off the Winternight Trilogy and also has its roots deep in eastern European fairy tales. Vasilisa grows up at the edge of the wintery Russian wilderness and grows up on traditional stories. Then she meets one of the monsters of those stories, the winter demon Frost.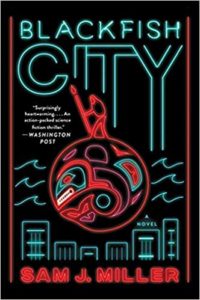 Blackfish City by Sam J. Miller – Set in the global climate change post-apocalypse, the titular city floats in Arctic waters, battered by waves and cold winds as one of the remaining livable places on Earth. The city is already unraveling as wealth inequality and corruption create an ever-larger gap between the haves and have-nots… and then a new, terrifying plague begins to burn through the city. And then a mysterious woman arrives, riding on a killer whale, a polar bear by her side.
The Left Hand of Darkness by Ursula K. Le Guin – The book takes place on an icebound planet of snow and glaciers named Winter, populated by a people who know how to survive well in that environment. In addition to liking the cold, the people of Winter are genderfluid and have no sexual prejudice. The human ambassador who visits them has a long journey to get over his own prejudices.
---
See you, space pirates. You can find all of the books recommended in this newsletter on a handy Goodreads shelf. If you'd like to know more about my secret plans to dominate the seas and skies, you can catch me over at my personal site.