Sponsored by Simon & Schuster Childrens Publishing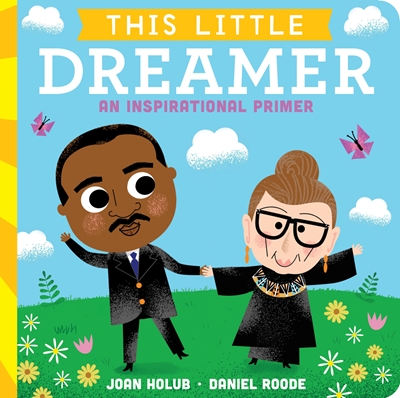 Learn all about dreamers who changed history in this engaging and hopeful board book perfect for dreamers-in-training!
Hey Kid Lit Friends!
I've been thinking a lot about road trips lately. Maybe it's because I yearn for summer when my family is going on a road trip! It will be an epic nine state trip over the course of eleven days. So, of course, I needed to do some research… There are some fantastic children's book that center around road trips. Take a look and let me know what you think!
Picture Books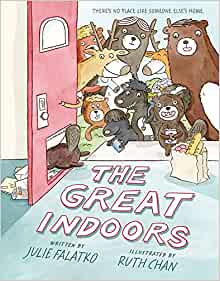 The Great Indoors by Julie Falatko, illustrated by Ruth Chan
When the humans head out to go camping, the animals settle in for a relaxing holiday of their own! Teen bear takes over the bathroom with her curling iron, the beavers prepare their fanciest recipes, and the deer kick up their feet for a dance party. What starts as a little unwinding soon escalates to a big mess, just in time for everyone to head home. . .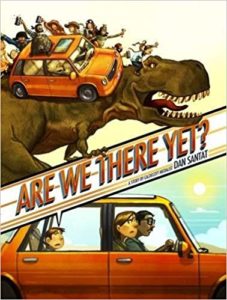 Are We There Yet? by Dan Santat
Everyone knows that when a long car ride gets boring, time slows down. In this book, a boy feels time slowing down so much that it starts going backward–into the time of pirates! Of princesses! Of dinosaurs! This kid may have just been trying to get to his grandmother's birthday party, but instead he's traveling through Ancient Egypt and rubbing shoulders with Ben Franklin. When time flies, who knows where–or when–he'll end up.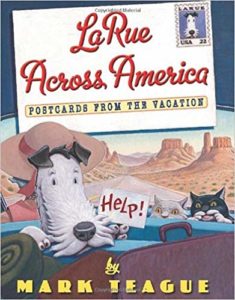 LaRue Across America by Mark Teague
Ike's plans for a peaceful cruise with Mrs. LaRue are thwarted when their neighbor, Mrs. Hibbins, falls suddenly ill from heat stroke. Mrs. LaRue suggests that she and Ike care for her cats while Mrs. Hibbins is in the hospital, inviting them along on the cruise. But cats aren't allowed, and Mrs. LaRue decides to take them all on a week's vacation of road-tripping.
Middle Grade Books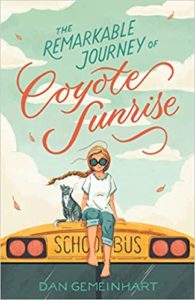 The Remarkable Journey of Coyote Sunrise by Dan Gemeinhart
Five years. That's how long Coyote and her dad, Rodeo, have lived on the road in an old school bus, criss-crossing the nation. It's also how long ago Coyote lost her mom and two sisters in a car crash. Coyote hasn't been home in all that time, but when she learns that the park in her old neighborhood is being demolished―the very same park where she, her mom, and her sisters buried a treasured memory box―she devises an elaborate plan to get her dad to drive 3,600 miles back to Washington state in four days…without him realizing it.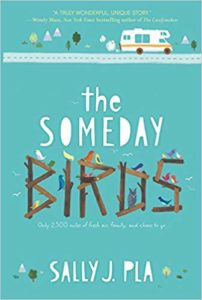 The Someday Birds by Sally J. Pla
Charlie's perfectly ordinary life has been unraveling ever since his war journalist father was injured in Afghanistan. When his father heads from California to Virginia for medical treatment, Charlie reluctantly travels cross-country with his boy-crazy sister, unruly brothers, and a mysterious new family friend. He decides that if he can spot all the birds that he and his father were hoping to see someday along the way, then everything might just turn out okay.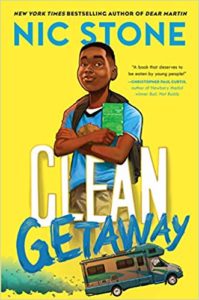 Clean Getaway by Nic Stone
How to Go on an Unplanned Road Trip with Your Grandma:
•  Grab a Suitcase: Prepacked from the big spring break trip that got CANCELLED.
•  Fasten Your Seatbelt: G'ma's never conventional, so this trip won't be either.
•  Use the Green Book: G'ma's most treasured possession. It holds history, memories, and most important, the way home.
What Not to Bring:
•  A Cell Phone: Avoid contact with Dad at all costs. Even when G'ma starts acting stranger than usual.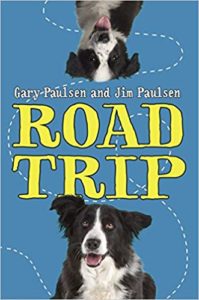 Road Trip by Gary Paulsen and Jim Paulsen
Dad and Ben haven't been getting along lately, and Dad hopes a road trip to rescue a border collie will help them reconnect. But Ben is on to Dad's scheme, and he's got ideas of his own. Like inviting his buddy, Theo, who's sure to get into fun (and trouble) along the way. And if Dad wants a family road trip, then the family dog, Atticus, should get to come, too. What could go wrong? But when their truck breaks down, the family trip takes plenty of unexpected turns. Before they know it, they've commandeered an old school bus and joined forces with its cranky mechanic, Gus. Next, they pick up Mia, a waitress escaping a tense situation. Only sharp-eyed Atticus realizes that Theo is on the run from something bad—and someone is following them.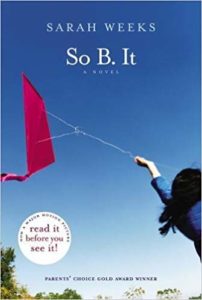 So B. It by Sarah Weeks
She doesn't know when her birthday is or who her father is. In fact, everything about Heidi and her mentally disabled mother's past is a mystery. When a strange word in her mother's vocabulary begins to haunt her, Heidi sets out on a cross-country journey in search of the secrets of her past. Far away from home, pieces of her puzzling history come together. But it isn't until she learns to accept not knowing that Heidi truly arrives.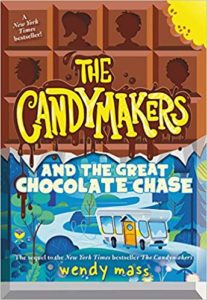 The Candymakers and the Great Chocolate Chase by Wendy Mass
It has been a few months since the nationwide New Candy Contest, and Logan, Miles, Philip, and Daisy have returned to their regular lives. But when the winning candy bar comes down the conveyor belt at the Life is Sweet candy factory, Logan realizes something's very wrong…. When the Candymaker announces that they will be going on tour to introduce the new candy bar, the four friends see this as an opportunity to make things right. But with a fifty-year-old secret revealed and stakes higher for each of them than they ever imagined, they will have to trust one another–and themselves–in order to face what lies ahead.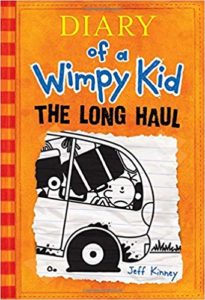 Diary of a Wimpy Kid: The Long Haul by Jeff Kinney
Greg Heffley and his family hit the road in author-illustrator Jeff Kinney's latest installment of the phenomenal bestselling Diary of a Wimpy Kid series.
What are you reading these days? I want to know! Find me on Twitter at @KarinaYanGlaser, on Instagram at @KarinaIsReadingAndWriting, or email me at KarinaBookRiot@gmail.com.
Until next time!
Karina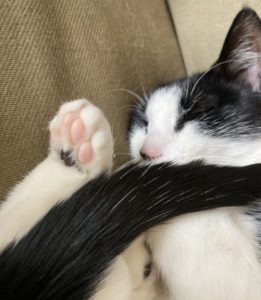 *If this e-mail was forwarded to you, follow this link to subscribe to "The Kids Are All Right" newsletter and other fabulous Book Riot newsletters for your own customized e-mail delivery. Thank you!*