Sponsored by Chicago Review Press.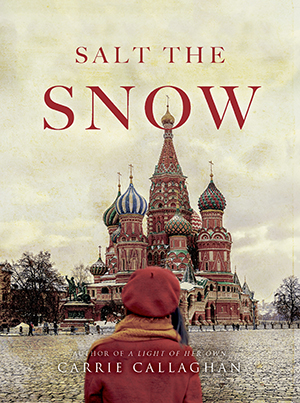 From Carrie Callaghan, author of the critically acclaimed A Light of Her Own, comes the story of the trailblazing Milly Bennett, based on the life of one of the first female war correspondents. American journalist Milly Bennett has covered murders in San Francisco, fires in Hawaii, and a civil war in China, but 1930s Moscow presents her greatest challenge yet. When her Russian husband is suddenly arrested by the secret police, Milly tries to get him released. But his arrest reveals both painful secrets about her marriage and hard truths about the Soviet state she has been working to serve.
It's Monnnnnnnnnday! I mean, assuming you're reading this on the day it went out. Or maybe you're on the other side of the globe, then it's probably already Tuesday, because you're in the future. (In which case, could you email me the winning Maine lotto numbers for today? Thanks.)
I have been chugging along this week, reading and writing, but no 'rithmatic because ew, math. I'm in the middle of watching season four of Bones, which I find kind of silly at this point, but I am still enjoying the forensic parts. Although I have read online that the show gets some of the science and anthropology aspects wrong, which is so confounding to me, because it's the 21st century so you can easily ask people to help with this stuff. People who know about forensics and anthropology, I mean. Not just anyone on the internet. I wouldn't be able to identify bones, for instance. I'd be like, "Sure, that's the funny bone. And the…ham bone. I think this is the bone that was used as a dog biscuit model. And I'm pretty sure that's Leon Redbone."
Whatever your area of expertise, I hope you have something wonderful to read. Please enjoy the rest of your week, and remember to be excellent to each other! I'll see you again on Thursday. – xoxo, Liberty
Here's Monday's trivia question: What famous character was dressed like an old lady to sneak onboard a yacht to steal an emerald necklace when she made her first appearance in comics? (Scroll to the bottom for the answer.)
Deals, Reels, and Squeals!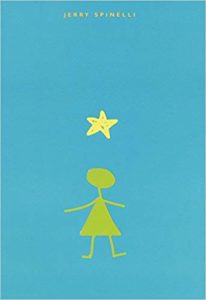 Here's the first trailer for Disney's adaptation of Jerry Spinelli's Stargirl with America's Got Talent winner Grace VanderWaal.
There won't be a second season of Watchmen at HBO after creator Damon Lindelof drops out.
The Magicians author Lev Grossman will publish his first children's book in the fall.
Here's the cover reveal for Girl Giant and the Monkey King by Van Hoang.
The possibility of a third season of Netflix's Mindhunter is in limbo.
Here's the first look at Laurie Halse Anderson's paperback cover for Shout.
Here's the first trailer for Chilling Adventures of Sabrina Part 3.
The Dark Tower series adaptation is off. But AMC is developing Stephen and Owen King's Sleeping Beauties.
The Game of Thrones prequel will be here in 2022.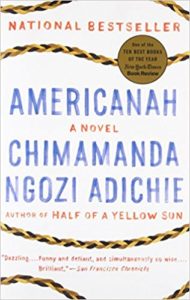 Chinonye Chukwu will direct the first two episodes of Americanah.
Here's the cover reveal for The Summer of Everything by Julian Winters.
DC will publish a comic for Catwoman's 80th anniversary.
The Postcard Killings, the Jeffrey Dean Morgan and Famke Jansen film based on the James Patterson thriller, will be released in March.
And here's the first look at the cover reveal for My Life in the Fish Tank by Barbara Dee.
Book Riot Recommends
At Book Riot, I work on the New Books! email, the All the Books! podcast about new releases, and the Book Riot Insiders New Release Index. I am very fortunate to get to read a lot of upcoming titles, and learn about a lot of upcoming titles, and I'm delighted to share a couple with you each week so you can add them to your TBR!
Excited to read: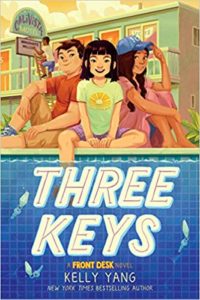 Three Keys (A Front Desk Novel) by Kelly Yang (Scholastic Press, September 15)
Front Desk by Kelly Yang was one of my favorite middle grade novels of 2018. Based on Yang's own experiences, it's about a 10-year-old who helps her parents run a motel. It's charming, funny, and an important read about immigration in America. So I am really excited that there's going to be another book set in that world. And I bet it's as amazing as the first!
What I'm reading this week: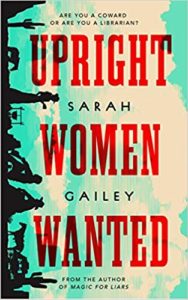 Upright Women Wanted by Sarah Gailey
Real Life by Brandon Taylor
Death in the Family (A Shana Merchant Novel) by Tessa Wegert
Plain Bad Heroines by emily m. danforth
Winter Counts: A Novel by David Heska Wanbli Weiden
Pun of the week:
I used to be a banker, but then I lost interest.
Here's a cat picture: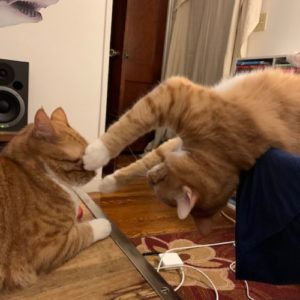 "Guess who?" – Zevon
And this is funny.
Trivia answer: Catwoman.
You made it to the bottom! Thanks for reading! – xo, L