Sponsored by Book Riot Insiders, the exclusive digital hangout for the Book Riot community.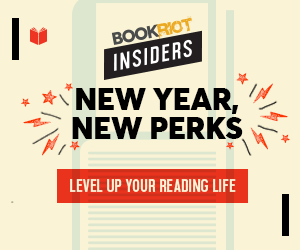 It's a new year, and that means new perks. We've sweetened the current Short Story and Novel levels and introduced a brand new Epic level, and you can try any level out for free for two weeks! The highlight is our new group read, available to all Epic members — and there's no cap on Epic, so the more the merrier. Each quarter we'll read a book, voted on by Epic subscribers, that will fulfill at least one task of the 2020 Read Harder Challenge, and cap off our read-along with a live chat. But wait, there's more! Get the full details on this and all the other perks, and sign up at insiders.bookriot.com.
A tiny part of me always wonders if the world is going to end at the end of the new year. I'll never forget celebrating New Year's Eve 2000 as a middleschooler with my grandmother and first cousins, and as my dad hugged me bye, he saw my anxiety and said, "You know the world's not going to end, right? At least, not because of Y2K."
I'd be lying if I gave that one incident credit for my persistent anxiety about facing my own mortality at any random moment without the ceremony of a countdown and champagne toast, but, like, that didn't help. So, in this edition of Book Riot's horror newsletter, The Fright Stuff, we're going to celebrate the New Year with books that feature the apocalypse and post-apocalyptic worlds. I've tried to steer away from the obvious, like "Masque of the Red Death" by Edgar Allan Poe and The Handmaid's Tale by Margaret Atwood, and I hope to introduce you to some new books and stories you'll give a shot. I mean, this is the time of year for doing new things… we aren't promised tomorrow, after all. I'm Mary Kay McBrayer, and I'll be your Virgil through this circle of hell. Here it comes.
From Lars Von Trier's 2011 film, Melancholia.
Ear worm: "Idioteque" by Radiohead–Who's in a bunker? Who's in a bunker? Women and children first.
Fresh Hells: (FKA new releases)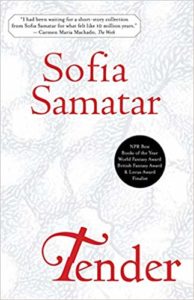 "Fallow" by Sofia Samatar in Tender 
This short story–though not very short–is one of the best, most fascinating things I read in 2019. It's a part of the collection, Tender, which retells fairy tales and reimagines common tropes in our popular culture. This story focuses on the group of fundamentalist Christians who leaves Earth at its destruction and starts a colony, which it names "Fallow." I don't want to tell too much about this one, but trust that it is amazing, and you should buy this whole collection as soon as you get your 2020 money right.
American War by Omar El Akkad
This novel is also one of my favorite recent reads–I got it on audiobook, and because my mind wanders sometimes, when I tell you the voice-acting is IMPECCABLE, Oh my God, believe me. I never got confused, even in long sections of stacked dialogue. This book takes place after America's second Civil War, and it's set in the American South. One thing I loved about this book is how political it is without being divisive about contemporary issues, AND that its star and protagonist is a young multiethnic girl who is not particularly beautiful. She's just straight-up awesome. You're gonna love this book.
Cryptkeepers: (FKA backlisted favorites)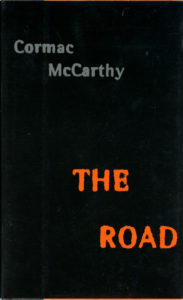 The Road by Cormac McCarthy
No list about the end of the world would be complete without this Pulitzer-prize winning bomb by one of my favorite authors, Cormac McCarthy. When I taught gifted middle schoolers this book–yes, that is a real thing that I had the delight of doing–in a class about the end of the world, not only did they ask to keep reading, but they were fascinated by how much information the narration relays in such minimalist style. The thing I think it captures best, though, is how humanity falters for the sake of our hierarchy of needs, even when the most important thing to its protagonist is another human–honestly, the reason the end of the world is scary is not particularly the world itself, but the end of our human civilization and our relationships. That's what this book focuses on: not the end of the world itself, but its repercussions.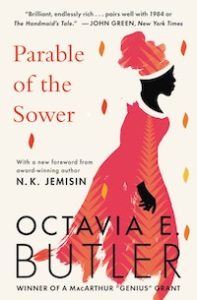 Parable of the Sower by Octavia Butler
This dystopia is set in 2024 in Los Angeles, when global warming has brought drought, rising sea level, and a hard divison between the middle class and those who are homeless. It's told through the journal entries of a fifteen-year-old girl who lives in one of the gated communities. This one, like pretty much all of Octavia Butler's writings, is a classic.
News:
In the 1890s, these female students of anatomy embroidered their spooky yearbook.
One apocalyptic fresco at the Cathedral of the Resurrection of Christ in Montenegro has caused particular controversy.
Here's a first look at Lovecraft Country, HBO's supernatural horror series by Jordan Peele.
FANGORIA has a new online horror column called "Joe Bob Goes to the Drive In"–and if you already subscribe, it's free to read online!
Check out this article about Black horror, and Candyman in particular, on Graveyardshift Sisters.
The Modern Language Association wrote this piece about "scare quotes." (See what I did there? (It's a joke all the way down!))
That's it from me, y'all. The world is laying low right now in the wake of the doom that didn't happen. If you like what you read here, though, please do give me a follow on Twitter as @mkmcbrayer or Instagram as @marykaymcbrayer and absolutely please let me know of any horror news I missed! Talk to you next week, if next week happens.
Your Virgil,
Mary Kay McBrayer
Co-host of the literary fiction podcast, Novel Gazing