Sponsored by Lost Hills, the first thrilling read in a new series by Lee Goldberg.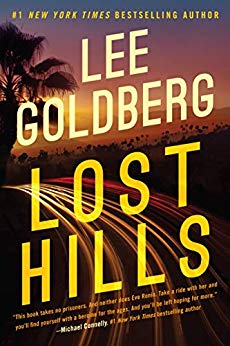 Suspense meets adventure in the hills of LA County in the first read in a new series by bestselling author Lee Goldberg. When Eve Ronin becomes the youngest female homicide detective in the Los Angeles County Sheriff's Department, she feels a need to prove she earned her badge. Now, she has to rely on her instincts and tenacity to capture a vicious killer, all while battling her own insecurities and mounting pressure from all directions. It's a deadly ordeal that will either prove her skills… or totally destroy her. Read Lost Hills by Lee Goldberg.
Welcome to the first edition of the Read This Book! This is a weekly newsletter where I recommend one book that I think you absolutely must read. The books will vary across genre and age category to include new releases, back list titles, and classics. If you're ready to explode your TBR, buckle up!
This week's Read This Book recommendation is Pet by Akwaeke Emezi.
Content warnings: child abuse
"Angels can look like many things. So can monsters."
Welcome to Lucille, where Jam and her best friend Redemption grew up hearing about how the angels got rid of the monsters before they were born so they can live in a safe, accepting, diverse society. Lucille lives by the words written by the poet Gwendolyn Brooks:
"…we are each other's
harvest:
we are each other's
business:
we are each other's
magnitude and bond."
But one day, Jam's mother paints a monstrous creature that comes to life. Its name is Pet, and it tells Jam there is a monster in Lucille that they must hunt. Jam is understandably confused, and reluctant to help—especially when Pet reveals the monster is lurking in Redemption's house.
To Jam and Redemption's understanding, monsters are the billionaires who destroyed the environment, the crooked police who abused their powers, the criminals who took advantage. None of those things exist in Redemption's house. But as much as she doesn't want to believe Pet, Pet doesn't let Jam shirk this duty. Jam and Redemption must hunt this monster. The monster must be dealt with.
Pet is a slim, strange novel that may feel deceptively simple when you first begin reading. It unfolds like a fable, but with each paragraph Emezi skillfully builds a highly suspenseful story about the monsters that lurk in plain sight and the obligation that we have to look out for others, especially the most vulnerable. With lyrical writing, they also paint an alluring world that is inclusive and accepting in an unfussy way—people in Lucille exist on a spectrum of gender, sexuality, ability, and mobility, and all of these differences are acknowledged and included. Pet is a book that will make you think, make you gasp, and keep you on the edge of your metaphorical seat. Adults will be absorbed, but it's also an excellent novel for teens and upper middle grade readers to talk about community, abuse, the responsibilities that we have to others, and how appearances can be deceiving. I believe this book is, at its core, about the dangers of not recognizing a monster (or evil) when you see it, and finding the bravery to see the truth.
It's no wonder that Pet was a National Book Award finalist for 2019—this book pulls no punches. Emezi knows exactly when to pull away and when to get in close, no matter how much throwing the light on a monster may scare you. And even though Pet didn't take the award, you simply must read this book.
Bonus: Pet makes an excellent audiobook! It's narrated by Christopher Myers, founder of Pet's publisher, the imprint Make Me a World. Myers brings energy, compassion, and an urgency to this book that is deeply compelling.
Happy reading, book nerds! See you next week.
Tirzah
Find me on Book Riot, the Insiders Read Harder podcast, or on Twitter!