Sponsored by our $50 Barnes and Noble gift card giveaway! Enter here.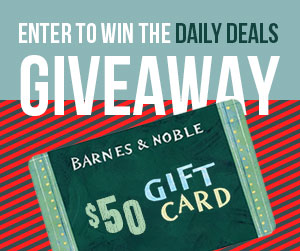 We're giving away a $50 Barnes and Noble gift card to one Riot reader. To enter, just click here and sign up for our Daily Deals email to get notified about the day's best book sales!
Hi, Kid Lit Friends!
Happy, happy new year! I hope 2020 brings you much joy and lots of wonderful reading!
Speaking of wonderful reading, there are so many beautiful picture books coming out in the next few months! Here are some of the ones that caught my eye. What books are you excited about for the new year?
*Please note that all descriptions come from the publisher.*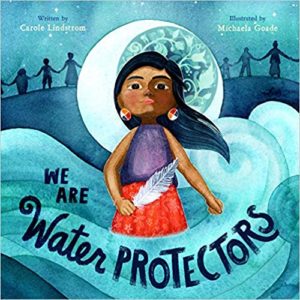 We Are Water Protectors by Carole Lindstrom, illustrated by Michaela Goade (Roaring Brook Press, 3/17/20)
Water is the first medicine.
It affects and connects us all . . .
When a black snake threatens to destroy the Earth
And poison her people's water, one young water protector
Takes a stand to defend Earth's most sacred resource.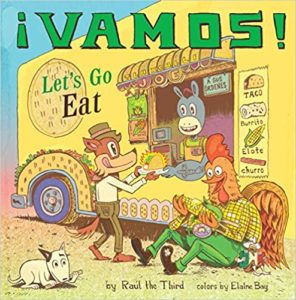 Vamos! Let's Go Eat by Raul the Third (HMH, 3/24/20)
In this new Vamos! title, Let's Go Eat, Little Lobo is excited to take in a show with wrestling star El Toro in his bustling border town. After getting lunch orders from The Bull and his friends to help prepare for the event, Little Lobo takes readers on a tour of food trucks that sell his favorite foods, like quesadillas with red peppers and Mexican-Korean tacos. Peppered with easy-to-remember Latin-American Spanish vocabulary, this glorious celebration of food is sure to leave every reader hungry for lunch!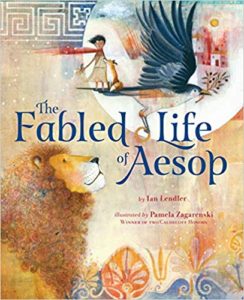 The Fabled Life of Aesop by Ian Lendler, illustrated by Pamela Zagarenski (HMH, 3/10/20)
The Tortoise and the Hare. The Boy Who Cried Wolf. The Fox and the Crow. Each of Aesop's stories has a lesson to tell, but Aesop's true-life story is perhaps the most inspiring tale of them all. Gracefully revealing the genesis of his tales, this true story of Aesop shows how fables not only liberated him from captivity but spread wisdom over a millennium. This is the only children's book biography about him.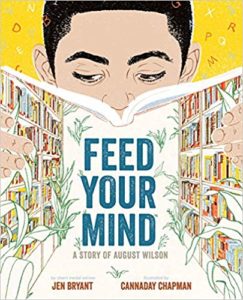 Feed Your Mind: A Story of August Wilson by Jen Bryant, illustrated by Cannaday Chapman (Abrams, 1/7/20)
August Wilson (1945–2005) was a two-time Pulitzer Prize-winning playwright who had a particular talent for capturing the authentic, everyday voice of Black Americans. As a child, he read off soup cans and cereal boxes, and when his mother brought him to the library, his whole world opened up. After facing intense prejudice at school from both students and some teachers, August dropped out. However, he continued reading and educating himself independently. He felt that if he could read about it, then he could teach himself anything and accomplish anything.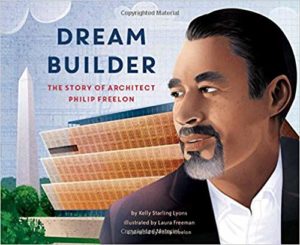 Dream Builder: The Story of Architect Philip Freelon by Kelly Starling Lyons, illustrated by Laura Freeman (Lee and Low, 1/14/20)
Philip Freelon's grandfather was an acclaimed painter of the Harlem Renaissance. His father was a successful businessman who attended the 1963 March on Washington. When Phil decided to attend architecture school, he created his own focus on African American and Islamic designers. He later chose not to build casinos or prisons, instead concentrating on schools, libraries, and museums–buildings that connect people with heritage and fill hearts with joy. And in 2009, Phil's team won a commission that let him use his personal history in service to the country's: the extraordinary Smithsonian National Museum of African American History and Culture.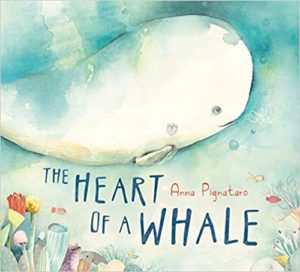 The Heart of a Whale by Anna Pignataro (Penguin Random House, 1/28/20)
Whale's beautiful song winds its way through the ocean, reaching the farthest of faraways. His song is one of happiness and hope, magic and wonder–and Whale's fellow sea creatures are calmed, cheered, and lulled by it. But though Whale sings his tender song day after day, night after night, Whale wonders why he has no song to fill his empty heart. So when he lets out a mournful sigh, the ocean carries it like a wish through its fathoms, bringing it to just the right place.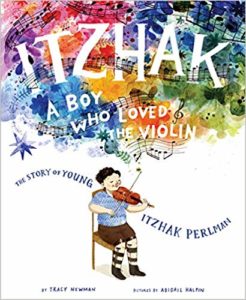 Itzhak: A Boy Who Loved the Violin by Tracy Newman, illustrated by Abigail Halpin (Abrams, 5/12/20)
Before becoming one of the greatest violinists of all time, Itzhak Perlman was simply a boy who loved music. Raised by a poor immigrant family in a tiny Tel Aviv apartment, baby Itzhak was transformed by the sounds from his family's kitchen radio—graceful classical symphonies, lively klezmer tunes, and soulful cantorial chants. The rich melodies and vibrant rhythms spoke to him like magic, filling his mind with vivid rainbows of color. After begging his parents for an instrument, Itzhak threw his heart and soul into playing the violin. Despite enormous obstacles—including a near-fatal bout of polio that left him crippled for life—Itzhak persevered, honing his extraordinary gift.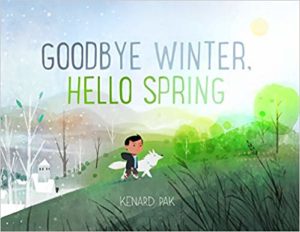 Goodbye Winter, Hello Spring by Kenard Pak (Henry Holt, 2/18/20)
As days stretch longer, animals creep out from their warm dens, and green begins to grow again, everyone knows―spring is on its way! Join a boy and his dog as they explore nature and take a stroll through the countryside, greeting all the signs of the coming season. In a series of conversations with everything from the melting brook to chirping birds, they say goodbye to winter and welcome the lushness of spring.
Nesting by Henry Cole (Katherine Tegen, 3/3/2020)
In this black-and-white picture book highlighted with robin's egg blue, the reader will follow two robins as they build a nest with twigs and grass. Then mother robin lays four beautiful blue eggs and will keep the eggs warm in the nest until they hatch into four baby robins. The father robin protects the babies until they can fly on their own. The perils the babies encounter are many, including snakes and storms. The nest is always their safe place.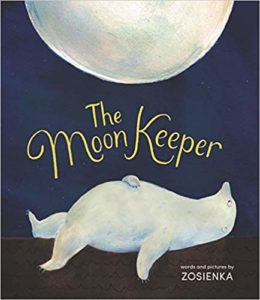 The Moon Keeper by Zosienka (Harper, 3/10/2020)
Emile, a very responsible polar bear, has a new job as moon keeper. He spends his evenings making sure the moon has everything it needs to shine its light over the night creatures. Night after night he keeps watch over the moon—clearing away the clouds and telling the fruit bats to move along when they play too close. Emile finds the moon nice to talk to in the stillness of the night. But what happens when the moon starts to change and slowly disappears? In a lovely and touching series of small investigations, consultations with neighbors, and a fair amount of worry, he learns that in life, things come and go—and it's okay.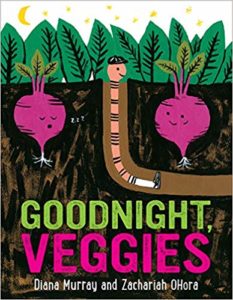 Goodnight, Veggies by Diana Murray and Zachariah Ohora (HMH, 3/10/2020)
As the sun begins to set, the tomatoes are tuckered out, the cucumbers are calm, and the beets are simply beat.
But what's got them all so exhausted?
Celebrate the turning of day to night in this perfect bedtime ritual for plants—and humans—everywhere!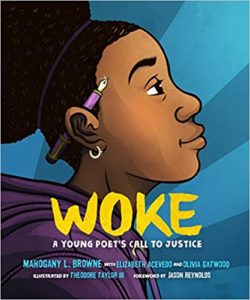 Woke: A Young Poet's Call to Justice by Mahogany L. Browne, illustrated by Theodore Taylor III (Roaring Brook Press, 3/10/2020)
Historically poets have been on the forefront of social movements. Woke is a collection of poems by women that reflects the joy and passion in the fight for social justice, tackling topics from discrimination to empathy, and acceptance to speaking out. With Theodore Taylor's bright, emotional art, and writing from Mahogany L. Browne, Elizabeth Acevedo and Olivia Gatwood, kids will be inspired to create their own art and poems to express how they see justice and injustice.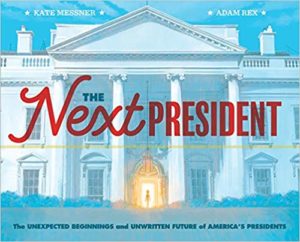 The Next President: The Unexpected Beginnings and Unwritten Future of America's Presidents by Kate Messner, illustrated by Adam Rex (Chronicle, 3/31/2020)
Who will be the NEXT president? Could it be you? When George Washington became the first president of the United States, there were nine future presidents already alive in America, doing things like practicing law or studying medicine. When JFK became the thirty-fifth president, there were 10 future presidents already alive in America, doing things like hosting TV shows and learning the saxophone. And right now—today!—there are at least 10 future presidents alive in America. They could be playing basketball, like Barack Obama, or helping in the garden, like Dwight D. Eisenhower. They could be solving math problems or reading books. They could be making art—or already making change.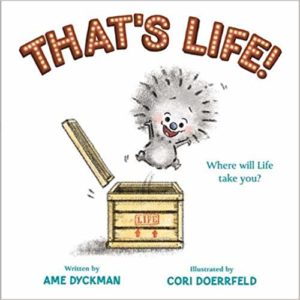 That's Life! by Ame Dyckman, illustrated by Cori Doerrfeld (Little, Brown, 3/31/2020)
After Life literally knocks on their door, one kid discovers that Life is truly what you make it. It's weird and may not always cooperate, but Life's beauty becomes apparent when it's embraced for all of its quirks. This story is filled with tongue-in-cheek idioms that will appeal to readers of all ages and will impart deeper wisdoms about the many milestones and stages of life.
Exquisite: The Poetry and Life of Gwendolyn Brooks by Suzanne Slade, illustrated by Cozbi A. Cabrera (Abrams, 4/7/2020)
Gwendolyn Brooks (1917–2000) is known for her poems about "real life." She wrote about love, loneliness, family, and poverty—showing readers how just about anything could become a beautiful poem. Exquisite follows Gwendolyn from early girlhood into her adult life, showcasing her desire to write poetry from a very young age. This picture-book biography explores the intersections of race, gender, and the ubiquitous poverty of the Great Depression—all with a lyrical touch worthy of the subject. Gwendolyn Brooks was the first Black person to win the Pulitzer Prize, receiving the award for poetry in 1950. And in 1958, she was named the poet laureate of Illinois. A bold artist who from a very young age dared to dream, Brooks will inspire young readers to create poetry from their own lives.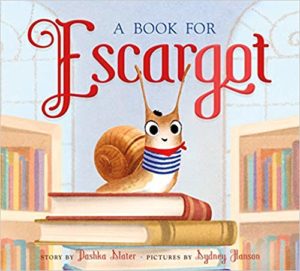 A Book for Escargot by Dashka Slater, illustrated by Sydney Hanson (Farrar Strauss and Giroux, 4/7/2020)
Bonjour!
It is moi, Escargot, your favorite French snail.
Today I am going on a trip to the library, where there are so many stories to choose from!
Stories about dog superheroes…
guinea pig detectives….
and flamingo astronauts.
But sadly, none of these books is about a daring snail hero who saves the day. What is that you say? Perhaps this is the book about the snail hero? Ooh-la-la!
Tiny Bird: A Hummingbird's Amazing Journey by Robert Burleigh, illustrated by Wendell Minor (Henry Holt, 4/14/2020)
When the last summer flowers open their petals to the sun, it's time for a tiny ruby-throated hummingbird to dip its beak into the heart of each bloom, extracting as much nectar as possible before the hard trip ahead. Today is the day Tiny Bird begins its amazing journey south for the winter, traveling as fast as thirty miles an hour for hundreds of miles on end. The trip is long, with savage weather and many predators along the way, but Tiny Bird is built for this epic journey and eventually arrives at its winter home.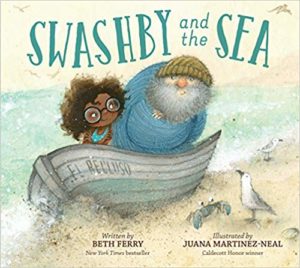 Swashby and the Sea by Beth Ferry, illustrated by Juana Martinez-Neal (HMH, 5/5/2020)
Captain Swashby loves the sea, his oldest friend. And he loves his life by the sea just as it is: salty and sandy and serene. One day, much to Swashby's chagrin, a young girl and her granny commandeer the empty house next door. All Swashby wants is for his new neighbors to GO AWAY and take their ruckus with them. When Swashby begins to leave notes in the sand for his noisy neighbors, however, the beach interferes with the messages that are getting across. Could it be that the captain's oldest friend, the sea, knows what Swashby needs even better than he knows himself?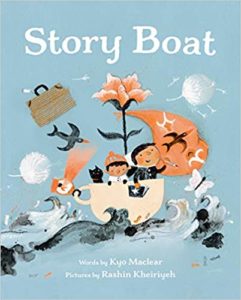 Story Boat by Kyo Maclear, illustrated by Rashin Kheiriyeh (Tundra, 2/4/2020)
When a little girl and her younger brother are forced along with their family to flee the home they've always known, they must learn to make a new home for themselves — wherever they are. And sometimes the smallest things — a cup, a blanket, a lamp, a flower, a story — can become a port of hope in a terrible storm. As the refugees travel onward toward an uncertain future, they are buoyed up by their hopes, dreams and the stories they tell — a story that will carry them perpetually forward.
In A Jar by Deborah Marcero (Penguin Random House, 1/21/2020)
Llewellyn, a little rabbit, is a collector. He gathers things in jars–ordinary things like buttercups, feathers, and heart-shaped stones. Then he meets another rabbit, Evelyn, and together they begin to collect extraordinary things–like rainbows, the sound of the ocean, and the wind just before snow falls. And, best of all, when they hold the jars and peer inside, they remember all the wonderful things they've seen and done. But one day, Evelyn has sad news: Her family is moving away. How can the two friends continue their magical collection–and their special friendship–from afar?
---
What are you reading these days? I want to know! Find me on Twitter at @KarinaYanGlaser, on Instagram at @KarinaIsReadingAndWriting, or email me at KarinaBookRiot@gmail.com.
Until next time!
Karina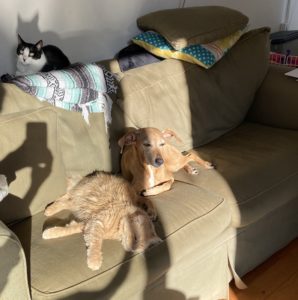 *If this e-mail was forwarded to you, follow this link to subscribe to "The Kids Are All Right" newsletter and other fabulous Book Riot newsletters for your own customized e-mail delivery. Thank you!*