Sponsored by our $50 Barnes and Noble gift card giveaway! Enter here.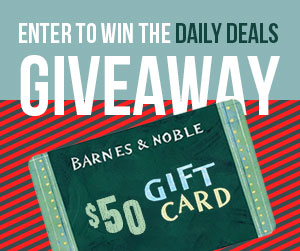 We're giving away a $50 gift card to Barnes and Noble to one lucky reader who signs up for our Daily Deals newsletter. Good luck!
Much as I want to identify with the princess or maiden, the time has come to accept that I more so fit the Crone archetype of the fairy tale. It's mostly because every time I see a little kid, I want to steal it and squeeze it… or because I get mad when someone is prettier than I am. And don't get me started about owning a gingerbread house to fatten up kids running away from evil stepmothers. That's just how crones be.
The crone is just ONE of many characters present throughout fairy tales, though… and since we're in such a mood of retellings right now, this week, we're going to talk about fairy tale horror! You're in The Fright Stuff, by the way, Book Riot's weekly newsletter featuring the latest and greatest in horror, and I'm Mary Kay McBrayer, your Virgil in this ring of hell. Follow my breadcrumb trail, and let's talk scary fairy tales!

Earworm: "Once Upon a Dream" (originally from Disney's Sleeping Beauty) covered by Lana Del Rey. I really just feel like this is the way the song was suppose to sound.
Fresh Hells (FKA New Releases):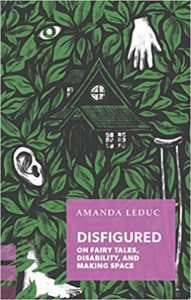 Disfigured by Amanda Leduc
If you love fairy tales, but you were the type of little girl (like me) who was pissed when the beast turned into a prince at the end, this book is for you. Amanda Leduc talks about the ways in which disability is represented in fairy tales, and how usually the disabled characters are the villains. I loved this book, and I can't recommend it enough.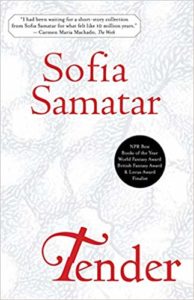 Tender by Sofia Samatar
This entire collection of short stories retells fairy tales, urban legends, and folklore from new perspectives. I've mentioned "Fallow" in previous newsletters, but other stories of hers incorporate the ideas of Selkies, folklore from the Far- and Middle East that escapes the western canon, and even what it's like to live in the African land of witches. Don't miss this book.
Timothy Schaffert's column in Enchanted Living, "The Lesser Periwinkle:The Love Potions of Lady Wilde, Mrs. Whiskeyman, and Other Local Witches"
I am unabashedly obsessed with this author's writing, but hearing the love potion process from the collective perspective of some Weird Sisters is a huge draw for any horror fan. Especially with lines like, "the more a cure hinted at danger and perversity, the more authentic it seemed. Love is mercurial enough to be best situated in the witch's dominion." YIKES. But also, YES.
Cryptkeepers (FKA horrors from the backlist):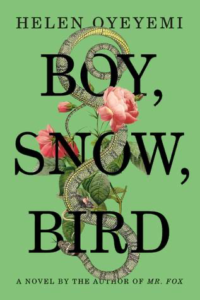 Boy, Snow, Bird by Helen Oyeyemi
If you're not already familiar with Helen Oyeyemi's style of writing, you are definitely in for a horrific and delightful treat. This novel retells the story of Snow White–loosely, though. Very loosely. It's whimsical and gritty in the exactly right formula for a lover of dark fairy tales.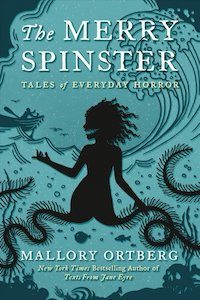 The Merry Spinster: Tales of Everyday Horror by Daniel Mallory Ortberg
Despite its subtitle, the short stories collected in this book are anything but "everyday." From a re-imagining of the Frog Princess to my personal favorite, "The Rabbit," these stories proudly make children's stories horrific. (I really cannot overemphasize how terrifying "The Rabbit" makes its predecessor, The Velveteen Rabbit. That story alone is worth the reading of the whole book. Y'all. I am serious."
There Once Lived a Woman Who Tried to Kill Her Neighbor's Baby: Scary Fairy Tales by Ludmilla Petrushevskaya
I taught this collection of Soviet-Era banned short stories to my World Literature class, and at large they were both stunned and enthralled. Like many folk- and fairy-tales, they seem like allegories, and one section of the collection is labeled as such… but like horror stories, the analogies do not work on a one-to-one ratio. This collection is a fascinating mixture of magical realism and horror.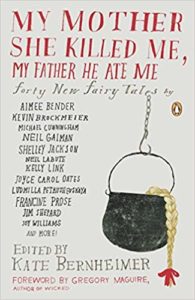 My Mother She Killed Me, My Father He Ate Me edited by Kate Bernheimer
This anthology of fairy tale retellings includes everything from "A Day in the Life of Half of Rumplestilskin," which takes place after he gets so mad at the queen for guessing his name that he tears himself in half, to a retelling of the lesser known "Donkeyskin," called "The Color Master" by Aimee Bender, in which our protagonist has to make a dress the color of the moon. Each story is magical and disturbing, and if you like this anthology, next you should look at the literary journal that Kate Bernheimer edits, The Fairy Tale Review!
News:
Gretel & Hansel drops at the end of this month! I'm super excited to watch those kids try not to get eaten. What a fun and horrific take on this witchy tale… before this film adaptation, my favorite interpretation of the story focuses on the food, in Helen Oyeyemi's Gingerbread.
If you're wondering why the protagonists of horror films seldom have disabilities, you're not alone. Katelyn Nelson writes about ableist horror in the movies Hush and The Furies, and you can find her tweeting about more dope analysis here.
What exactly qualifies as "treasure?" And what does that term imply, according to this coroner?
Check out this Lithuanian water ghost statue entitled 'Juodasis Vaiduoklis' ('The Black Ghost') based on local lore.
The Indie Next List for January is now available!
Read about 7 of Scotland's standing stones that may or may not transport you back in time. (My mom is obsessed with the Outlander series, and I sent this post to her immediately.)
And if you want more fairy tales, check out this post that I wrote for Book Riot's Read Harder challenge, which lists ten fairy tale retellings by authors of color!
As always, I'm definitely in the market for horror recommendations, so if you know of some writings that are based on fairy tales, don't hesitate to get in touch with me on Twitter at @mkmcbrayer or Instagram at @marykaymcbrayer.
I'm Mary Kay McBrayer, and until next week, y'all remember: don't go into the woods, and don't take apples from crones.
Your Virgil,
Mary Kay