Sponsored by our Kindle Paperwhite Giveaway! Enter here.
We're giving away a Kindle Paperwhite to one Riot Reader! To enter, click here and sign up for Daily Deals, our newsletter that rounds-up the best books that have gone on sale every day.
Happy Tuesday, shipmates! We've almost powered through the home stretch of this year. Just a few more days (and an obstacle course composed mostly of cookies and fudge if your life is like mine) stands between us and a bright new year of new books! It's Alex, with one last book celebration for the year, and just a little news on the side.
If you need an absolutely delightful Twitter thread for your day, here's one of scientists explaining what they do in all-too-plain terms.
Also, there will not be a newsletter coming to you next Friday (December 27th) or Tuesday (December 31st), so I'll see you in 2020!
14 Small Press and Indie Books From 2019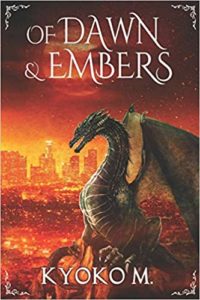 Of Dawn and Embers by Kyoko M – This is the third book of a series about conservation, dragons, and bad people cloning dragons. The first book is Of Cinder and Bone.
Retaking Elysium by M. Darusha Wehm – Jules Morales takes a trip out to Mars, a planet "caught between capitalist exploitation and human exploration" intending to just make a buck, maybe have an adventure. They get more than they bargained for.
The Demon Door by Kim Alexander – This is a whole four book series, and I love Kim's quick summary: "Two worlds, a hot depressed hero, a fierce and passionate heroine, his mother, her sister(s), his best friend, his best friend's boyfriend, a bunch of evil wizards, a snotty little girl who is also a wizard, and a whole lot of poor decision making!"
Five Minutes at Hotel Stormcove edited by E.D.E. Bell is anthology of flash and short fiction and contains stories like this gorgeous one by Jasre' Ellis: By the Light of the New Moon
The Evolved Ones: Awakening by Natasha Oliver – Humanity seems more curious than afraid of the Evolved Ones among them, with scientists trying to discern why some humans are developing abilities while others do not. For humans, it's exciting. For the Evolved Ones, it's hide or disappear.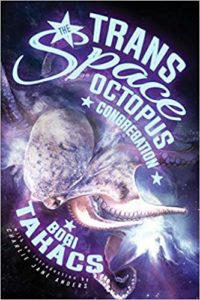 The Trans Space Octopus Congregation by Bogi Takács – A collection of LGBTQ SFF stories that go from space opera to a bit of body horror.
Strangers by V.S. Holmes – the third book of a trilogy about lesbian archaeologists in space. The first book is Travelers.
By Dark by T. Thorn Coyle – Part of the Witches of Portland series, which is paranormal urban fantasy with a little bit of romance in it, set in (yup) Portland. Book one is By Earth.
Trinity Sight by Jennifer Givhan – An anthroplogist pregnant with twins wakes up to find herself in a terrifying wasteland, a post-apocalyptic New Mexico. As volcanoes erupt and long-dead monsters wake, she must reclaim the heritage she once denied if she's to have a hope of saving herself or her children.
Salvage by R.J. Theodore – Floating island nations, aliens, gods, and airships. Book one is Flotsam.
Double Edged by Jessie Kwak – When your arch nemesis dies, it's incredibly rude of them to leave one last puzzle sitting on your doorstep. When it's a puzzle that could stop a civil war or maybe just kill everyone, that's even ruder.
The Hammer Falls by Travis Heermann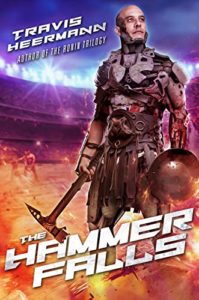 – A gene modified pit fighter has to save the woman he loves–before his heart, damaged by too manny injuries and resurrections, gives out.
Caleuche by Jonathan Ward – The last ship of refugees to escape a world ruined by self-replicating killing machines is the Caleuche. Those on board are frightened, traumatized, and face a new fight for their lives as they try to survive.
The Best Vegan Science Fiction and Fantasy Stories of 2018 edited by B. Morris Allen – Metaphorosis has several anthologies out this year, but this one caught my eye because of the concept. Vegan SFF stories are ones that involve no meat, no hunting, no leather, no use of animals for things such as horseback riding, etc.
News and Views
After thinking about it, I'm not linking to any The Rise of Skywalker news for this week, since I know there are a hideous amount of spoilers floating around out there.
2010-2019: A Decade of Change in Science Fiction and Fantasy
An art exhibit that brings together Star Wars and Southwestern Indigenous artists: The Force is With Our People
The Pen Ten did an interview with Amal El-Mohtar, and you must read it. Amal is half the team that brought you This Is How You Lose the Time War, and you should also check out The Honey Month.
How genre is inspiring Season 18 of Project Runway.
Hulu will not be adapting Anne Rice's vampire novels after all.
This is an interesting one from the Mary Sue – all of the bestselling books this decade have had female leads.
Looking for Leia is now streaming on SYFY.
A really chewy piece here for us SFF fans: The Decade Fandom Went Corporate
On Book Riot
6 Book Recommendations for Douglas Adams fans
15 of the Best Night Circus quotes from Morgenstern's Classic
JK Rowling no. JK Rowling why. (CW: Transphobia)
19 Magical Books Like The Night Circus
See you in the new year, space pirates. You can find all of the books recommended in this newsletter on a handy Goodreads shelf. If you'd like to know more about my secret plans to dominate the seas and skies, you can catch me over at my personal site.