Sponsored by our Kindle Paperwhite Giveaway! Enter here.
We're giving away a Kindle Paperwhite to one Riot Reader! To enter, click here and sign up for Daily Deals, our newsletter that rounds-up the best books that have gone on sale every day.
It's the last Book Radar of 2019! WHAT A YEAR. Despite everything going on out there in the world, there was no shortage of amazing book adaptation news, beautiful cover reveals, and exciting book deals. It has been so much fun to see all the new ideas coming to life and headed our way in the future.
By the time you read this, I will be in my jammies, hanging with my cats, and eating book after book, while BR takes a week off. I wish you all the best rest of the year, and whatever it is you're doing this week, I hope you have something good to read. Thank you so much for visiting with me each week. I'll see you again in 2020! – xoxo, Liberty
Here's Monday's trivia question: This famous author grew up in Los Angeles, after being born in Jerusalem, Israel? (Scroll to the bottom for the answer.)
Deals, Reels, and Squeals! 
Seven more actors have been added to the Netflix adaptation of Shadow And Bone. (Including The Cleaner from Black Books!)
Stephen Graham Jones has two books coming in 2020: Here's the cover reveal for Night of the Mannequins.
Here's the first trailer for The Woman in the Window adaptation starring Amy Adams and Julianne Moore. (Related: Did I already show you this?
And here's the trailer for To All the Boys: P.S. I Still Love You, coming in February.
Tor.com has the cover reveal of Alexis Henderson's The Year of the Witching.
You can watch the first episode of Megan Abbott's Dare Me online now!
Here's the cover reveal for Michael Ian Black's new book, A Better Man.
Book Riot Recommends 
At Book Riot, I work on the New Books! email, the All the Books! podcast about new releases, and the Book Riot Insiders New Release Index. I am very fortunate to get to read a lot of upcoming titles, and learn about a lot of upcoming titles, and I'm delighted to share a couple with you each week so you can add them to your TBR!
Loved, loved, loved: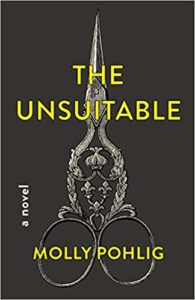 The Unsuitable by Molly Pohlig (Henry Holt and Co., April 14, 2020)
(CW: Self-harm) Iseult (think 'insult' without the 'n') Wince is a young woman on the verge of being branded a spinster. Iseult's mother died giving birth to her, but she hasn't left Iseult's life completely: she lives in a scar on Iseult's neck and talks to her. Iseult has always found her mother's presence a comfort, but now Iseult wants to be independent, of both her parents. Her father wants her out of the house, but his attempts to marry her off have been unsuccessful, partly because Iseult likes to tell guests about her neck-mother. (Neck-Mother is the name of my new band, I called it first.) So her father is down to the last eligible bachelor for Iseult. He's a man with silver skin, and Iseult wonders if he might be the answer she's been waiting for. The Unsuitable is a fiercely feminist Gothic novel of manners and body horror, that portrays spinsterhood, self-image, and mental illness in Victorian times in fresh light.
What I'm reading this week: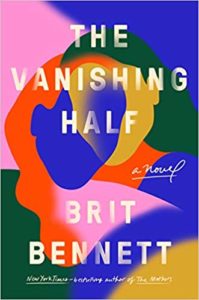 The Vanishing Half: A Novel by Brit Bennett
Drifts: A Novel by Kate Zambreno
Administrations of Lunacy: Racism and the Haunting of American Psychiatry at the Milledgeville Asylum by Mab Segrest
Follow Me to Ground: A Novel by Sue Rainsford
Resistance: A Songwriter's Story of Hope, Change, and Courage by Tori Amos
Pun of the week: 
I was hoping to steal some leftovers from the party but I guess my plans were foiled.
Here's a cat picture: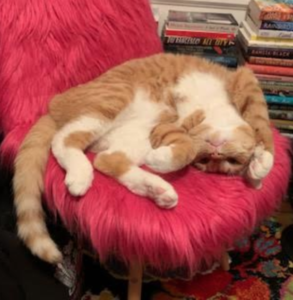 sᴉɥʇ ǝpᴉs dn.
And this is funny.
Trivia answer: Leigh Bardugo.
You made it to the bottom! Thanks for reading! – xo, L