Sponsored by If You Tell by Gregg Olsen.
There was one thing their mother couldn't take away from them: their will to survive. From New York Times bestselling author Gregg Olsen comes the true story of Washington State's real-life, murderous mom. Even as others were drawn into their mother's dark web, sisters Nikki, Sami, and Tori found the strength to escape an escalating nightmare that culminated in multiple murders. Sisters forever, victims no more, they found a light in the darkness that made them the resilient women they are today—loving, loved, and moving on. If You Tell by Gregg Olsen is a survivor's story of absolute evil. Learn more today at Amazon.com/IfYouTell.
Hello and happiest of Fridays, nonfiction readers! The terrible weather in Minnesota has been alleviated, a bit, but the arrival of one of my favorite tools: NPR's Book Concierge. This is an amazing resource for book discovery that brings together more than 2,000 recommendations from staff across NPR. I love, love, love playing around with it to find books I missed or forgot I wanted to read. Check it out!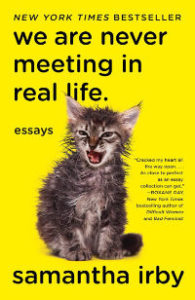 My nonfiction reading this week has been a bit slow, but I did manage to finish an excellent audiobook, We Are Never Meeting in Real Life by Samantha Irby! This collection of essays feels like it's about a little bit of everything – budgets, The Bachelorette, awkward sex and loser exes, childhood trauma, poverty, and more. It was hilarious, gross, sad, and so very smart. I really liked it, but I feel like I have to be a little cautious in recommending it – it could be a little rough if you're squeamish.
Yay, books! Let's switch gears and get to this week's nonfiction news:
Esmé Weijun Wang has landed a two-book deal with Riverhead Books! The deal includes a novel, Soft Animals, and a work of nonfiction, The Unexpected Shape, which explores "the balance between ambition and limitation in contemporary life." Her 2019 essay collection, The Collected Schizophrenias, is one of my favorites of the year, so I couldn't be more thrilled for her.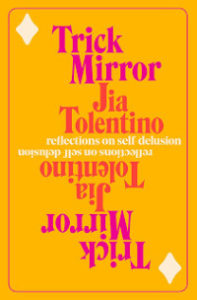 The National Book Critics Circle has announced the finalists for their annual first book prize. The list includes several great nonfiction books: The Yellow House by Sarah M. Broom, Long Live the Tribe of Fatherless Girls by T Kira Madden, and Trick Mirror by Jia Tolentino. The winner will be announced at the NBCC awards ceremony in March 2020.
The American Library Association has announced the finalists for the YALSA Award for Excellence in Nonfiction, honoring nonfiction published for young adults. It's another interesting list, although a little heavy on World War II-related nonfiction for my personal tastes.
Over at Book Riot
The 2020 Read Harder posts are starting to publish and I am very excited about it! Here are some great posts from over at Book Riot this week:
And that's all for this week! You can find me on Twitter and Instagram @kimthedork and co-hosting the For Real podcast here at Book Riot. Happy reading! – Kim