Sponsored by Shadow Mountain Publishing.
In The Christmas Doll, best-selling author Jason F. Wright shares a true story from the life of Gail Saxton Miller, billionaire businesswoman and owner of the Utah Jazz NBA team. But Gail's life was vastly different from her life now—facing poverty in the 1940s, the Saxton family made ends meet by turning their small home into rental apartments and made do with hand-me-downs and secondhand items. But with no money for gifts, could there still be something special for Gail underneath the tree?
Hi Kid Lit Friends,
December is chugging along, and I am trying not to be too worried about everything that needs to get done this month! I am going to avoid my huge list of things to do and celebrate these new books out today. Take a look and let me know what you think!
Picture Book New Releases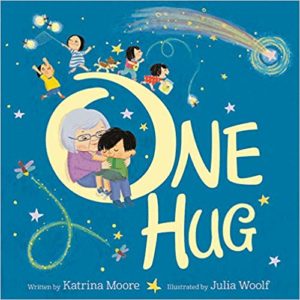 One Hug by Katrina Moore, illustrated by Julia Woolf
As a family wakes up to begin preparing for the arrival of their immigrant relatives, the littlest girl begins to feel left out and nervous. But an encouraging brother and the welcoming arms of her grandma help end the day with a belly full of food, jars full of fireflies, and all in cozy, snuggly slumber.
Backlist bump: Hug Machine by Scott Campbell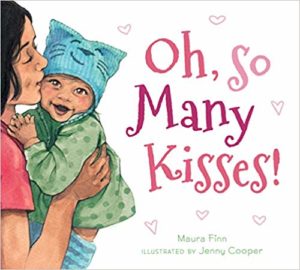 Oh, So Many Kisses! by Maura Finn, illustrated by Jenny Cooper
A shy kiss, a bold kiss.
A warm kiss, a cold kiss.
A kiss to make you better when you've landed on your knee.
Oh, so many kisses! What others can you see?
From gentle kisses to furry kisses, there's a kiss for every moment with adorable babies and those who love them. With rhyming text and precious illustrations, this cuddly story celebrates all the lovable babies—even the animal babies—in your life.
Backlist bump: Mango, Abuela, and Me by Meg Medina, illustrated by Angela Dominguez
Chapter Book New Release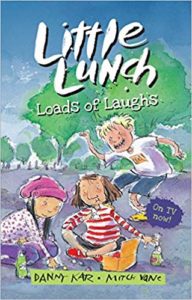 Little Lunch: Loads of Laughs by Danny Kar, illustrated by Mitch Vane
Little Lunch is the best time of day for the kids in Mrs. Gonsha's class, and there's always something interesting going on. First, Atticus doesn't want to eat the strange-smelling mystery snack his grandmother keeps packing in his lunch box. Next, Battie comes to school dressed as his own made-up superhero, Stretcho, but can't understand why no one wants to be rescued. And finally, Melanie is Germblocked by Tamara without explanation, which is hardly fair. A lot can happen in fifteen minutes!
Backlist bump: Dog Days: The Carver Chronicles by Karen English
Middle Grade New Releases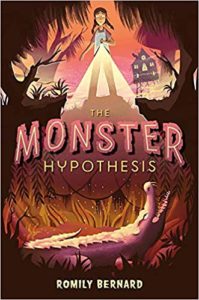 The Monster Hypothesis by Romily Bernard
Welcome to Bohring-home to 453 people, 2,053 alligators, and one monster curse. Correction: home to 454 people, now that Kick Winter is living in the swamp Hollows with her Grandma Missouri, the town (fake) psychic. Bohring is anything but boring for Kick who has already blown a hole through the kitchen floor, befriended a chicken-eating gator, and discovered that the town's hundred-year curse is upon them.
Backlist bump: Hoodoo by Ronald L. Smith
Into the Blizzard by Michael J. Tougias (nonfiction)
In the midst of the Blizzard of 1978, the tanker Global Hope floundered on the shoals in Salem Sound off the Massachusetts coast. When the Coast Guard heard the Mayday calls, they immediately dispatched a patrol rescue boat. But within an hour, the Coast Guard rescue boat was in as much trouble as the tanker―both paralyzed in unrelenting seas. Enter Captain Frank Quirk who was compelled to act. Gathering his crew of four, Quirk plunged his forty-nine-foot steel boat, the Can Do, into the blizzard.
Backlist bump: The Boy Who Harnessed the Wind (Young Reader's Adaptation) by William Kamkwamba and Bryan Mealer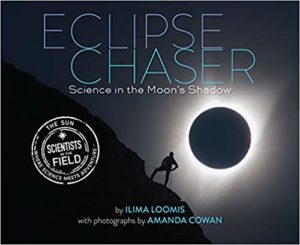 Eclipse Chaser: Science in the Moon's Shadow by Ilima Loomis, photographs by Amanda Cowan (nonfiction)
On August 21, 2017, much of America stood still and looked up as a wide swath of the country experienced totality—a full solar eclipse. Even in areas outside the path of totality, people watched in awe as the moon cast its shadow on the sun. For most, this was simply a once-in-a-lifetime experience. Not so for Shadia Habbal, who travels the world in search of solar eclipses in order to study the sun's corona. Solar wind and storms originating in the corona can have big effects on our planet. They can disrupt technology, expose aircraft to radiation, and even influence global climate change. In the months leading up to the 2017 eclipse, Shadia assembles a team of scientists to set up camp with her in Mitchell, Oregon. Years earlier, a long, expensive trip to Indonesia to study an eclipse failed when the skies remained too cloudy to see it. Shadia is determined to have the 2017 eclipse be a success.
Backlist bump: Every Soul a Star by Wendy Mass (fiction)
Activity Book New Releases
100 Easy STEAM Activities by Andrea Scalzo Yi
Feeling bored on a rainy day? Now you can pick a project, gather your supplies and let the magic happen. Try far-out science experiments like making Shaving Cream Rain Clouds or Lava Lamps. Make math-time snack-time with delicious Cream-Filled Cookie Fractions. Unlock boundless creativity with art projects like Marbled Paper or Monster Bugs. With seasonal activities like the Pool Noodle Obstacle Course and Erupting Pumpkins, there are games to love year-round.
Backlist bump: Art Lab for Kids by Susan Schwake and Rainer Schwake
What are you reading these days? I want to know! Find me on Twitter at @KarinaYanGlaser, on Instagram at @KarinaIsReadingAndWriting, or email me at KarinaBookRiot@gmail.com.
Have you checked out Book Riot's Kidlit These Days podcast yet? I co-host it with my friend, school librarian Matthew Winner. We chat about the intersection of children's books and what's going on in the world today. Give it a listen and let us know what you think!
Until next time!
Karina
*If this e-mail was forwarded to you, follow this link to subscribe to "The Kids Are All Right" newsletter and other fabulous Book Riot newsletters for your own customized e-mail delivery. Thank you!*