Sponsored by Amazon Publishing.
With clashing personalities and conflicting goals, Morgan and her sixteen-year-old daughter Clara want nothing more than to be nothing alike. But when Morgan's husband and Clara's father Chris is involved in a tragic and questionable accident, mother and daughter will have to choose between rebuilding what's crashed down around them together or turning their backs on each other forever. From #1 New York Times bestselling author Colleen Hoover comes a powerful new novel that will touch the hearts of both mothers and daughters. Read it today.
Happy Tuesday, readers! It's time for another round-up, lol. They should just change 'December' to 'Rounduptember." Totally plausible and easy-to-use name, right? Today's newsletter is about 20 of my favorite books of the year! Obviously, I love so many more than that but I cannot mark all of them down, so I will pick the first ones that pop into my head.
If you want to read about more of them, I have started off my yearly Twitter thread of 150 favorites. (Just barely: Twitter was down almost as soon as I started, so I am only up to #9 right now. It was a conspiracy!) And you can hear about about more favorites from 2019 on this week's episode of the All the Books! Kelly and I discussed several of our favorite nonfiction books, including Good Talk, Say Nothing, Dapper Dan, and more!
And now, it's time for everyone's favorite gameshow: AHHHHHH MY TBR! Here are today's contestants: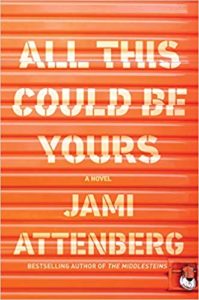 All This Could Be Yours by Jami Attenberg
I loved this book so much. SOOOOOOO MUCH. It's about members of a family who have been lorded over by the abusive narcissist patriarch their whole lives. When he suffers a heart attack, they reflect on his past behavior, and contemplate forgiveness and whether we have to give it. And the ending, holy cats! It was the first time I fist-pumped the air and said "YESSSSSS" while reading a book. I looked like Judd Nelson in The Breakfast Club.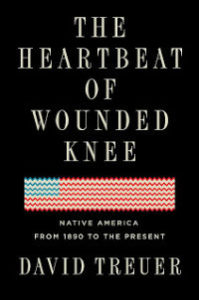 The Heartbeat of Wounded Knee: Native America from 1890 to the Present by David Treuer
This is a very important book: Treuer presents the history of Native Americans in America from the end of the 19th century to present day, a history not often highlighted or documented in history books. This was a finalist for the National Book Award for nonfiction.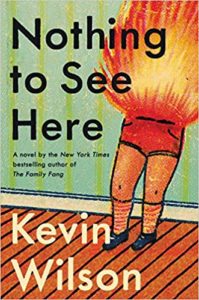 Nothing To See Here by Kevin Wilson
Madison needs her former bff, Lillian, to be the governess for Madison's soon-to-be-arriving stepchildren. She can't hire just anyone, because she needs someone she can trust to keep the family secret: These children catch on fire when they get upset. This is a really sweet, funny novel, and I loved it from beginning to end. I think that it works because Wilson never makes it over-the-top. No one seriously questions the science behind fire children. The book never flies too high, so he has no problem landing it.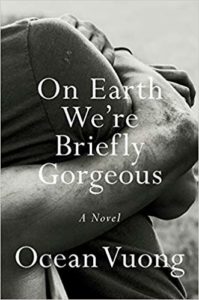 On Earth We're Briefly Gorgeous: A Novel by Ocean Vuong
The debut novel of the incredible poet Vuong, written as a letter from a son to his mother, about her life in Vietnam before his birth, and their difficult lives together later on. This is "reach into your ribcage, pull your heart out, and rub it on your head" beautiful. What a powerfully moving read.
Gideon the Ninth by Tamsyn Muir
I know I mention this book practically every week, but it is my obsession. A swordswoman of the Ninth House accompanies her necromancer to the First House to participate in a competition for the Emperor. Add lots blood, skeletons, and swordplay, and shake vigorously.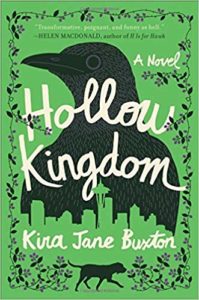 Hollow Kingdom by Kira Jane Buxton
THIS BOOK IS BANANAS, Y'ALL. It's about the end of humanity brought about by the apocalypse, told through the eyes of animals. Mainly S.T., a foul-mouthed domesticated crow, who is traveling to find a cure to help his infected human friend. It's SO funny and gross and awesome, and it's also incredibly moving. I can't wait for the AMC for animated TV series.
Pet by Akwaeke Emezi
A genre-defying young adult novel about monster hunting from the author of Freshwater. This book is such a tremendously imaginative way to talk about children and parents, and the dangers of silence and denial. This was a finalist for the National Book Award for Young People's Literature.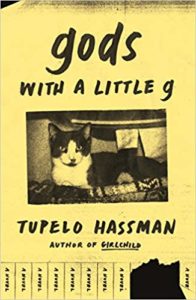 gods with a little g by Tupelo Hassman
This is an incendiary novel of youth and grief and yearning. It perfectly captures how stupid, immediate, and confusing it feels to be a teenager. I loved it with the heat of a thousand suns. I feel like this one needs more love.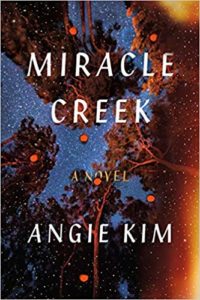 Miracle Creek by Angie Kim
It's definitely one of the year's best novels. It's about a couple who find themselves embroiled in a murder trial after their experimental medical treatment device kills two people. But it's also a story of family, and responsibility, and immigration. The writing is astounding, and it will deliver a kick-o-gram straight to your heart. I can't wait to see what she does next.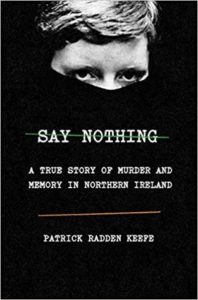 Say Nothing: A True Story of Murder and Memory in Northern Ireland by Patrick Radden Keefe
This book is so intense, and remarkably sad, but it's an incredible read about a mother of ten who was taken in full view of her neighbors in 1972 and never seen again. Everyone knew who took her, but no one would speak, because they were afraid of repercussions. It's an excellent examination of The Troubles and the effects on the country.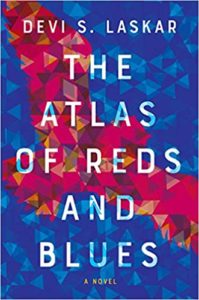 The Atlas of Reds and Blues by Devi S. Laskar
This is an incredible look at micro-aggressions and macro-aggressions experienced by people of color who are American citizens. The main character, Mother, is reflecting on these as she lies injured in her driveway, the result of police violence. The writing in this book and the non-linear storytelling is also amazing.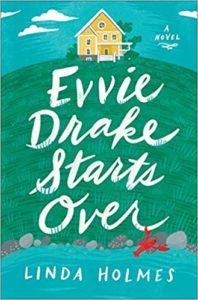 Evvie Drake Starts Over by Linda Holmes
Evvie Drake is about a young widow and a burned-out ballplayer in Maine who strike up a friendship. There's plenty of witty banter and "will they, won't they" tension, but it's also a freaking smart, emotionally charged story about loss. It charmed the pants off me. I can't wait to read more from Holmes.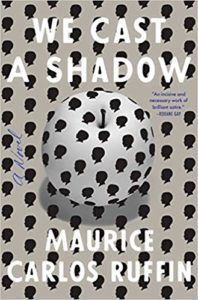 We Cast a Shadow: A Novel by Maurice Carlos Ruffin
I can't believe this was just out in January. I feel like I've been recommending it for years. It's a profound satire about racism and survival in America, about a near-future, post-post-racial America where a father tries to make more money, so his son can have a radical surgery to lighten his skin.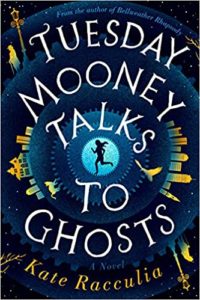 Tuesday Mooney Talks to Ghosts by Kate Racculia
Do you want to recapture the feeling of reading The Westing Game or Agatha Christie novels for the first time? Then read this book. Well, when it comes out. I loved it! It's a spooky, charming scavenger hunt, kind of like a ghostly reality show, but better because you don't have to look at anyone. Reading this made me feel like I was a kid again, watching Mr. Boogedy, just absolutely thrilled and tickled pink. TL;DR: The Westing Game for adults.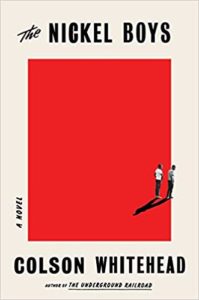 The Nickel Boys by Colson Whitehead
Two young boys with different views on facing the world deal with their challenges after they are thrown in a brutal reform school in Jim Crow-era Florida. Whitehead has taken another dark spot in American history, based on a real school of horrors in Florida, and transformed it into a compelling, powerful novel.
Body Leaping Backward: Memoir of a Delinquent Girlhood by Maureen Stanton
This is a fantastic memoir about Stanton's delinquent childhood, growing up in a working-class prison town. It aches with painful truths and bad decisions, and the writing is incredible. I will be mentioning it eleven million more times, at least, between now and its release.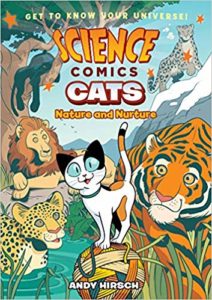 Science Comics: Cats: Nature and Nurture by Andy Hirsch
I adore this book to pieces. I was delighted by the wonderful illustrations and all the information in the book, but my favorite part is when Hirsch poses the question: Are house cats domesticated? And his answer is pretty much, "LOLOLOL, NOPE." Basically, if your cat was big enough, it would eat you, no matter how well you get along. Sleep well.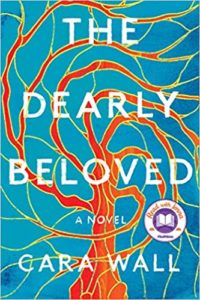 The Dearly Beloved by Cara Wall
I am so glad I managed to squeeze this one in after its released date, because it ended up being one of my favorite novels of the year. It's a look at love, friendship, and faith, revolving around two couples who meet at a church in Chicago in the 1960s.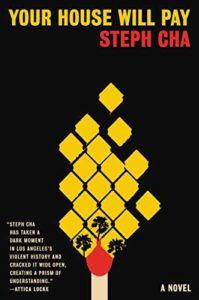 Your House Will Pay: A Novel by Steph Cha
Another book from 2019 that I think deserves WAY more attention. Cha has done an amazing job with this literary thriller about two families caught up in the wake of the shooting of a black teenager in early 1990s in Los Angeles, and a second crime that brings them back together two decades later. This is the most realistic novel I read this year, if that makes sense.
A Friend is a Gift You Give Yourself by William Boyle
When mob widow Rena (rightfully) knocks her disgusting neighbor on the head with an ashtray and steals his car, she sets off a chain of events that sends her in the direction of other people's comeuppances and coincidences. It's dark and funny, just the way I like them. Imagine if Charles Portis wrote a mash-up of Two Days in the Valley and The Sopranos, and you'd have this book, a smart, gritty crime novel about loss, second chances, and the Mafia.
See you next week!
xx,
Liberty