Sponsored by our giveaway of a Kindle Paperwhite.
To enter, just click here and sign up for our Daily Deals newsletter and get notified about the best book sales, every day.
Hi Kid Lit Friends!
Last week I put together a gift guide for middle grade books, and today I present you with a gift guide for picture books! I adore picture books – I read picture books to my kids (ages nine and eleven) all the time – and our living room bookshelf is bulging with picture books…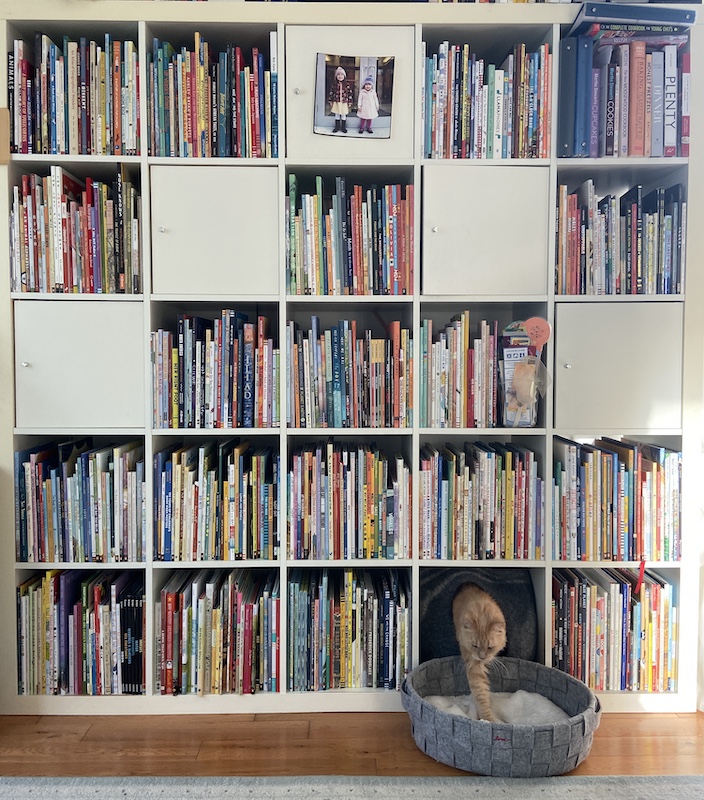 Here are some of my favorites from 2019, sure to bring joy to your young readers! Like my previous gift guides, these recommendations are based on themes from classic children's books.
*Please note that all book descriptions are from the publishers.
If you liked Corduroy by Don Freeman, try…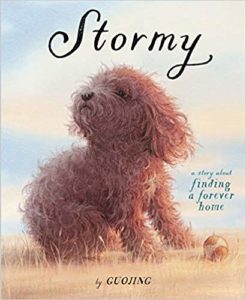 Stormy by Guojing
In this heartwarming, wordless picture book that's perfect for dog lovers, a woman visits a park and discovers a pup hiding under a bench–scruffy, scared, and alone. With gentle coaxing, the woman tries to befriend the animal, but the dog is too scared to let her near. Day after day, the woman tries–and day after day, the dog runs away. With perseverance and patience–and help from an enticing tennis ball–a tentative friendship begins.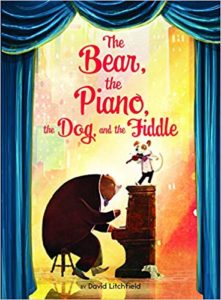 The Bear, the Piano, the Dog, and the Fiddle by David Litchfield
Fiddle-playing Hector and his dog, Hugo, are best friends. Hugo is Hector's biggest fan, and when Hector decides to retire, Hugo secretly learns to play the fiddle himself. Soon, a famous piano-playing bear invites him to join his all-animal band and travel the world to perform in front of huge crowds—an opportunity that Hector had always dreamed of for himself. Will Hector be able to overcome his jealousy and learn to be happy for his friend?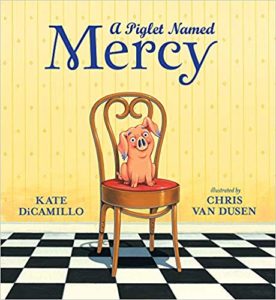 A Piglet Named Mercy by Kate DiCamillo, illustrated by Chris Van Dusen
When the Watsons decide to zip their porcine wonder into a formfitting princess dress for Halloween — complete with tiara — they are certain that Mercy will be beautiful beyond compare. Mercy is equally certain she likes the sound of trick-or-treating and can picture piles of buttered toast already. As for the Lincoln Sisters next door, how could they know that their cat would lead them all on a Halloween "parade" of hysterical proportions?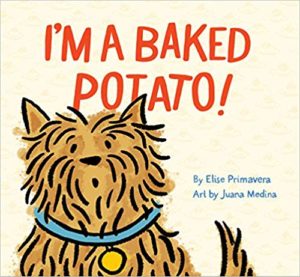 I'm a Baked Potato! by Elise Primavera, illustrated by Juana Medina
When a baked potato–loving lady adopts a dog, she adores him unconditionally&mdashland given the pup's small, round frame and warm, brown coat she can't help but call him "Baked Potato"! But what happens when a dog who thinks he's a baked potato gets lost? Will he find his lady? And more importantly, will he find himself? I'm a Baked Potato! is a fun, bighearted story about the names we're given, the names we choose, and how both can help us find our way home.
Goodbye, Friend! Hello, Friend! by Cori Doerrfeld
Change and transitions are hard, but Goodbye, Friend! Hello, Friend! demonstrates how, when one experience ends, it opens the door for another to begin. It follows two best friends as they say goodbye to snowmen, and hello to stomping in puddles. They say goodbye to long walks, butterflies, and the sun…and hello to long evening talks, fireflies, and the stars. But the hardest goodbye of all comes when one of the friends has to move away.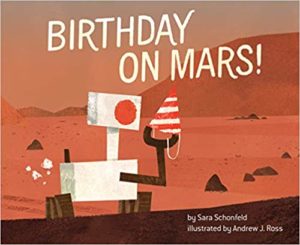 Birthday on Mars! by Sara Schonfeld, illustrated by Andrew J. Ross
Mars is our closest neighbor, and a little robot named Curiosity is investigating the planet for us. Join for a tour of the place this rover calls home. Get to know Mars through eye-catching illustrations of an alien landscape and the adorable robot in charge of exploring it all. And this rover's birthday is a perfect time to celebrate curiosity.
If you liked The Snowy Day by Ezra Jack Keats, try…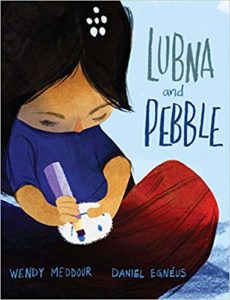 Lubna and Pebble by Wendy Meddour and Daniel Egneus
Lubna's best friend is a pebble. Pebble always listens to her stories. Pebble always smiles when she feels scared. But when a lost little boy arrives in the World of Tents, Lubna realizes that he needs Pebble even more than she does.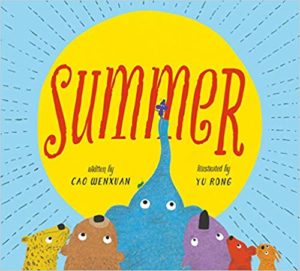 Summer by Cao Wenxuan, illustrated by Yu Rong
During a hot summer day in the grasslands, a group of animals race to claim the single spot of shade―under one tiny leaf that clings to a branch. The animals fight until they are inspired by an act of love to offer shade to one another.
One Snowy Morning by Kevin Tsang, illustrated by Dana Wulfekotte
One morning, a squirrel and a chipmunk find the oddest things stuck in a giant pile of snow. Readers will recognize a snowman, but the two friends have their own ideas about what they've found. The top hat is a tall rowboat; the carrot nose is a rare dragon's tooth; and the mittens, of course, are fish puppets. The squirrel and the chipmunk wonder what all of these items are for — and when they take them home, they figure out just what to do with them.
If you liked The Story of Ferdinand by Munro Leaf, try…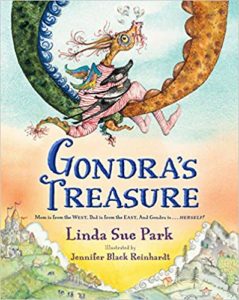 Gondra's Treasure by Linda Sue Park, illustrated by Jennifer Black Reinhardt
Gondra has inherited traits from both her eastern (Asian) dragon dad and western (European) dragon mom and enjoys them all. She's especially happy that she's a combination of both. Cheerful banter and hilariously adorable dragon portrayals present a warm, appealing family portrait. The beautiful and fanciful illustrations are rich in whimsical details that invite repeated readings.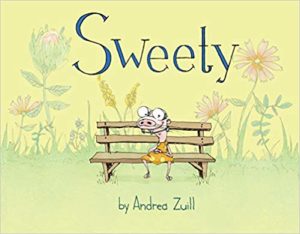 Sweetly by Andrea Zuill
Sweety is awkward, even for a naked mole rat. She has protruding front teeth, thick glasses, and some very unusual hobbies, including interpretive dance and fungus identification. She's intense and passionate–and her peers don't always get her. But surely there are other mushroom lovers out there? As Sweety sets out to find them, she comes to realize–with a little help from her cool Aunt Ruth– that being Sweety is actually pretty awesome.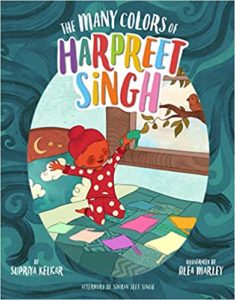 The Many Colors of Harpreet Singh by Supriya Kelkar, illustrated by Alea Marley
Harpreet Singh has a different color for every mood and occasion, from pink for dancing to bhangra beats to red for courage. He especially takes care with his patka—his turban—smoothing it out and making sure it always matches his outfit. But when Harpreet's mom finds a new job in a snowy city and they have to move, all he wants is to be invisible. Will he ever feel a happy sunny yellow again?
The Hundred-Year Barn by Patricia MacLachlan, illustrated by Kenard Pak
One hundred years ago, a little boy watched his family and community come together to build a grand red barn. This barn become his refuge and home—a place to play with friends and farm animals alike. As seasons passed, the barn weathered many storms. The boy left and returned a young man, to help on the farm and to care for the barn again. The barn has stood for one hundred years, and it will stand for a hundred more: a symbol of peace, stability, caring and community.
If you liked Lyle, Lyle Crocodile by Bernard Waber, try…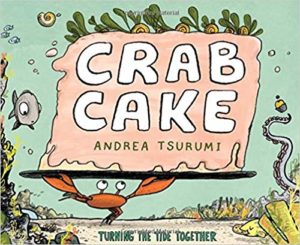 Crab Cake: Turning the Tide Together by Andrea Tsurumi
Under the sea, fish do what fish do: Seahorse hides, Pufferfish puffs up, Parrotfish crunches coral, and Crab . . . bakes cakes?
Scallop swims, Dolphin blows bubbles, and . . . Crab bakes cakes.
And so life goes on, until one night when everything changes with a splash!
In the face of total disaster, can Crab's small, brave act help the community come together and carry on?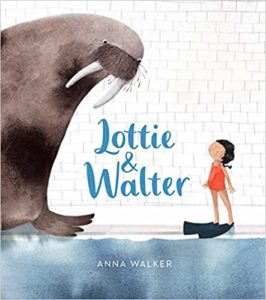 Lottie & Walter by Anna Walker
Lottie goes to swim lessons every Saturday, but she never gets in the water. That's because she is convinced there is a shark in the pool, a shark that wants to eat her and only her. But then Walter appears. Walter likes singing and reading books and bubble baths, and his favorite food is fish sticks, just like Lottie. When Saturday rolls around again, Lottie is no more ready to jump in the pool than she was before. Or is she?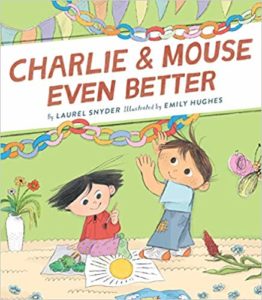 Charlie & Mouse Even Better by Laurel Snyder, illustrated by Emily Hughes
In this follow-up to Laurel Snyder's award-winning beginning chapter book Charlie & Mouse, the two brothers prepare to celebrate one very special birthday: their mom's! Follow along as they choose the best pancakes, hunt for presents, decorate with snakes, and more. Things don't go exactly as planned . . . but with plenty of humor and heart, Charlie and Mouse prove that sometimes when things aren't perfect, what they turn out to be is even better.
If you liked I Want My Hat Back by Jon Klassen, try…
Bikes for Sale by Carter Higgins, illustrated by Zachariah Ohora
Maurice rides his bike to his shop every day. Lotta rides her bike to collect sticks every day. Both go about their separate routines, unaware of the friendship that awaits them just a few blocks away. But what happens when a branch and a lemon peel get in the way?
Tallulah the Tooth Fairy CEO by Tamara Pizzoli, illustrated by Federico Fabiani
Meet Tallulah. She's the Tooth Fairy CEO. Tallulah knows practically everything about being a tooth fairy. How to collect teeth. Dispense money. Train other fairies. And it's all in the Teeth Titans Incorporated Employee Manual. But when something happens that's not covered in the manual, what's a fairy to do?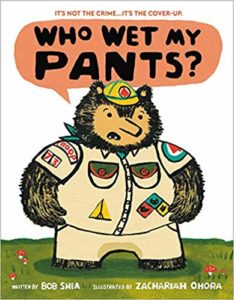 Who Wet My Pants? by Bob Shea, illustrated by Zachariah Ohora
Reuben the bear's got donuts for everyone in his scout troop, but his friends are all staring at something else: there's a wet spot on Reuben's pants, and it's in a specific area. "WHO WET MY PANTS?" he shouts, and a blame game starts. His buddies try to reassure him there was no crime. Just an accident. It could happen to anyone! But as all the clues begin to point in Reuben's own direction as the culprit, Reuben must come to terms with the truth.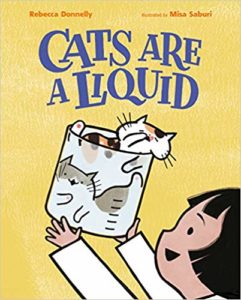 Cats are a Liquid by Rebecca Donnelly, illustrated by Misa Saburi
Inspired by an Ig Nobel Prize–winning investigation of how cats behave like liquids, this book introduces some of the physical properties of liquids―they adapt to fit a container, they flow like fluids―and is just pure fun. Like its inspiration, it makes you laugh, then think. Back matter includes a brief introduction to the different physical states: solid, liquid, gas.
If you liked Martin's Big Words by Doreen Rappaport, illustrated by Bryan Collier, try…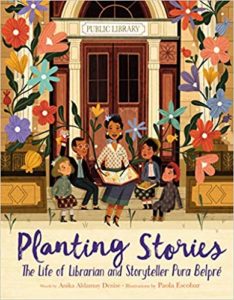 Planting Stories: The Life of Librarian and Storyteller Pura Belpre by Anika Aldamuy Denise, illustrated by Paola Escobar
When she came to America in 1921, Pura Belpré carried the cuentos folklóricos of her Puerto Rican homeland. Finding a new home at the New York Public Library as a bilingual assistant, she turned her popular retellings into libros and spread story seeds across the land. Today, these seeds have grown into a lush landscape as generations of children and storytellers continue to share her tales and celebrate Pura's legacy.
The Bluest of Blues: Anna Atkins and the First Book of Photographs by Fiona Robinson
After losing her mother very early in life, Anna Atkins (1799–1871) was raised by her loving father. He gave her a scientific education, which was highly unusual for women and girls in the early 19th century. Fascinated with the plant life around her, Anna became a botanist. She recorded all her findings in detailed illustrations and engravings, until the invention of cyanotype photography in 1842. Anna used this new technology in order to catalogue plant specimens—a true marriage of science and art.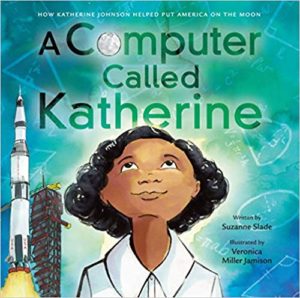 A Computer Called Katherine by Suzanne Slade, illustrated by Veronica Miller Johnson
Katherine knew it was wrong that African Americans didn't have the same rights as others–as wrong as 5+5=12. She knew it was wrong that people thought women could only be teachers or nurses–as wrong as 10-5=3. And she proved everyone wrong by zooming ahead of her classmates, starting college at fifteen, and eventually joining NASA, where her calculations helped pioneer America's first manned flight into space, its first manned orbit of Earth, and the world's first trip to the moon!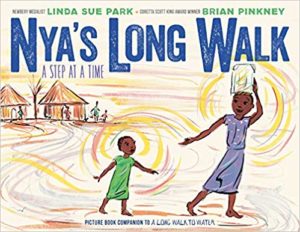 Nya's Long Walk: A Step At A Time by Linda Sue Park, illustrated by Brian Pinkney
Young Nya takes little sister Akeer along on the two-hour walk to fetch water for the family. But Akeer becomes too ill to walk, and Nya faces the impossible: her sister and the full water vessel together are too heavy to carry. As she struggles, she discovers that if she manages to take one step, then another, she can reach home and Mama's care.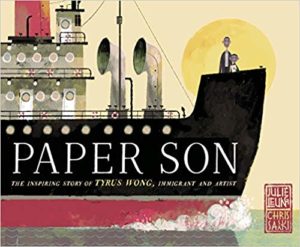 Paper Son: The Inspiring Story of Tyrus Wong, Immigrant and Artist by Julie Leung and Chris Sasaki
Before he became an artist named Tyrus Wong, he was a boy named Wong Geng Yeo. He traveled across a vast ocean from China to America with only a suitcase and a few papers. Not papers for drawing–which he loved to do–but immigration papers to start a new life. Once in America, Tyrus seized every opportunity to make art, eventually enrolling at an art institute in Los Angeles. Working as a janitor at night, his mop twirled like a paintbrush in his hands. Eventually, he was given the opportunity of a lifetime–and using sparse brushstrokes and soft watercolors, Tyrus created the iconic backgrounds ofBambi.
If you liked The Story of Ruby Bridges by Robert Coles, illustrated by George Ford, try…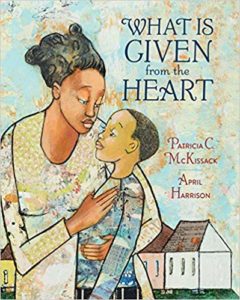 What Is Given from the Heart by Patricia C. McKissack, illustrated by April Harrison
"Misery loves company," Mama says to James Otis. It's been a rough couple of months for them, but Mama says as long as they have their health and strength, they're blessed. One Sunday before Valentine's Day, Reverend Dennis makes an announcement during the service– the Temples have lost everything in a fire, and the church is collecting anything that might be useful to them. James thinks hard about what he can add to the Temple's "love box," but what does he have worth giving?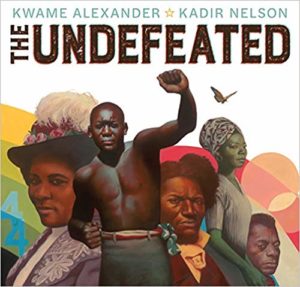 The Undefeated by Kwame Alexander, illustrated by Kadir Nelson
Originally performed for ESPN's The Undefeated, this poem is a love letter to black life in the United States. It highlights the unspeakable trauma of slavery, the faith and fire of the civil rights movement, and the grit, passion, and perseverance of some of the world's greatest heroes. The text is also peppered with references to the words of Martin Luther King, Jr., Langston Hughes, Gwendolyn Brooks, and others, offering deeper insights into the accomplishments of the past, while bringing stark attention to the endurance and spirit of those surviving and thriving in the present.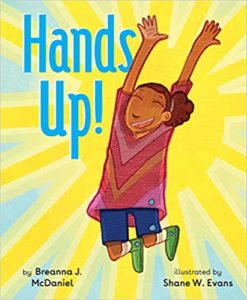 Hands Up! by Breanna J. McDaniel, illustrated by Shane W. Evans
A young black girl lifts her baby hands up to greet the sun, reaches her hands up for a book on a high shelf, and raises her hands up in praise at a church service. She stretches her hands up high like a plane's wings and whizzes down a hill so fast on her bike with her hands way up. As she grows, she lives through everyday moments of joy, love, and sadness. And when she gets a little older, she joins together with her family and her community in a protest march, where they lift their hands up together in resistance and strength.
The Proudest Blue by Ibitihaj Muhammad with S.K. Ali, illustrated by Hatem Ali
It's Faizah's first day of school, and her older sister Asiya's first day of hijab – made of a beautiful blue fabric. But not everyone sees hijab as beautiful. In the face of hurtful, confusing words, will Faizah find new ways to be strong?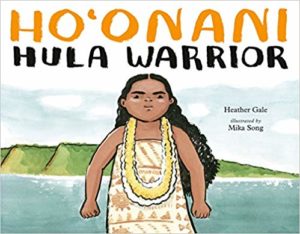 Ho'onani: Hula Warrior by Heather Gale, illustrated by Mika Song
Ho'onani feels in-between. She doesn't see herself as wahine (girl) OR kane (boy). She's happy to be in the middle. But not everyone sees it that way. When Ho'onani finds out that there will be a school performance of a traditional kane hula chant, she wants to be part of it. But can a girl really lead the all-male troupe? Ho'onani has to try . . .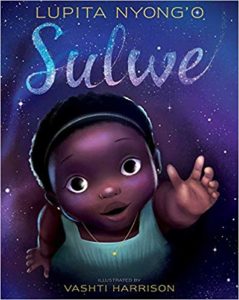 Sulwe by Lupita Nyong'o, illustrated by Vashti Harrison
Zuri's hair has a mind of its own. It kinks, coils, and curls every which way. Zuri knows it's beautiful. When Daddy steps in to style it for an extra special occasion, he has a lot to learn. But he LOVES his Zuri, and he'll do anything to make her — and her hair — happy.
If you liked All the World by Liz Garton Scanlon, illustrated by Marla Frazee, try…
Fry Bread by Kevin Noble Maillard, illustrated by Juana Martinez-Neal
Fry bread is food.
It is warm and delicious, piled high on a plate.
Fry bread is time.
It brings families together for meals and new memories.
Fry bread is nation.
It is shared by many, from coast to coast and beyond.
Fry bread is us.
It is a celebration of old and new, traditional and modern, similarity and difference.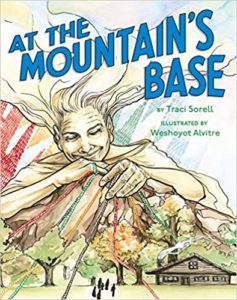 At The Mountain's Base by Traci Sorell, illustrated by Weshoyot Alvitre
At the mountain's base sits a cabin under an old hickory tree. And in that cabin lives a family — loving, weaving, cooking, and singing. The strength in their song sustains them through trials on the ground and in the sky, as they wait for their loved one, a pilot, to return from war.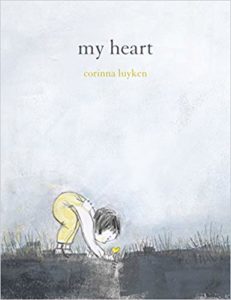 My Heart by Corinne Luyken
My heart is a window. My heart is a slide. My heart can be closed…or opened up wide.
Some days your heart is a puddle or a fence to keep the world out. But some days it is wide open to the love that surrounds you.
With lyrical text and breathtaking art, My Heart empowers all readers to listen to the guide within in this ode to love and self-acceptance.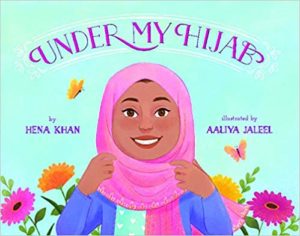 Under My Hijab by Hena Khan, illustrated by Aaliya Jaleel
Grandma wears it clasped under her chin. Aunty pins hers up with a beautiful brooch. Jenna puts it under a sun hat when she hikes. Zara styles hers to match her outfit. As a young girl observes six very different women in her life who each wear the hijab in a unique way, she also dreams of the rich possibilities of her own future, and how she will express her own personality through her hijab.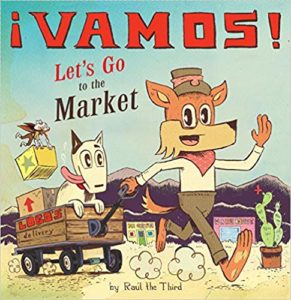 Vamos! Let's Go to the Market by Raul Gonzalez III
Bilingual in a new way, this paper over board book teaches readers simple words in Spanish as they experience the bustling life of a border town. Follow Little Lobo and his dog Bernabe as they deliver supplies to a variety of vendors, selling everything from sweets to sombreros, portraits to piñatas, carved masks to comic books!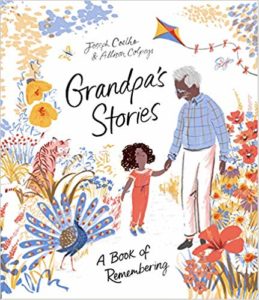 Grandpa's Stories by Joseph Coelho and Allison Colpoys
One young girl reflects on a year with her beloved grandpa. She remembers the fields and parks they explored in the springtime and the old toys they fixed up in the summer. She remembers the handmade gifts they exchanged in the fall and the stories Grandpa told by the fi re each winter. But this year, the girl must say good-bye to Grandpa. In the face of her grief, she is determined to find a way to honor him. She decides to record her Grandpa stories in the notebook he made for her and carry Grandpa with her as she grows.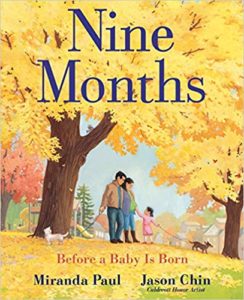 Nine Months: Before a Baby is Born by Miranda Paul, illustrated by Jason Chin
A soon-to-be big sister and her parents prepare for the arrival of a new baby in the family. Alternating panels depict what the family is experiencing in tandem with how the baby is growing, spanning everything from receiving the news about the new baby to the excitement of its arrival.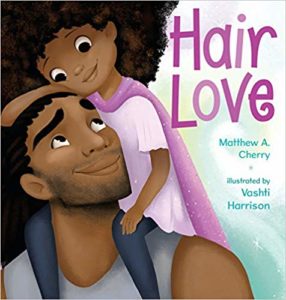 Hair Love by Matthew A. Cherry, illustrated by Vashti Harrison
Zuri's hair has a mind of its own. It kinks, coils, and curls every which way. Zuri knows it's beautiful. When Daddy steps in to style it for an extra special occasion, he has a lot to learn. But he LOVES his Zuri, and he'll do anything to make her — and her hair — happy. Tender and empowering, Hair Love is an ode to loving your natural hair — and a celebration of daddies and daughters everywhere.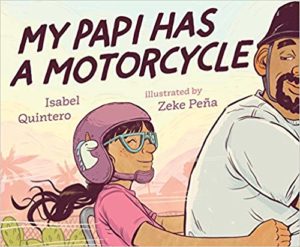 My Papi Has a Motorcycle by Isabel Quintero, illusrated by Zeke Pena
When Daisy Ramona zooms around her neighborhood with her papi on his motorcycle, she sees the people and places she's always known. She also sees a community that is rapidly changing around her. But as the sun sets purple-blue-gold behind Daisy Ramona and her papi, she knows that the love she feels will always be there.
How to Read a Book by Kwame Alexander, illustrated by Melissa Sweet
Find a tree—a
black tupelo or
dawn redwood will do—and
plant yourself.
(It's okay if you prefer a stoop, like Langston Hughes.)
With these words, an adventure begins. Kwame Alexander's evocative poetry and Melissa Sweet's lush artwork come together to take readers on a sensory journey between the pages of a book.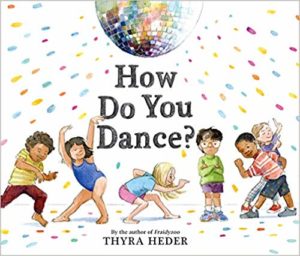 How Do You Dance? by Thyra Heder
There are so many ways to dance! You can jiggle or wiggle or stomp. You can bop or bounce or go completely nuts. You can dance at the market or the bus stop, with your fingers or your face. You can dance because you're happy or even because you're sad.
But, what's the best way to dance?
Exactly how you want to!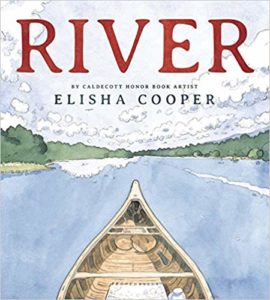 River by Elisha Cooper
In Cooper's flowing prose and stunning watercolor scenes, readers can follow a traveler's trek down the Hudson River as she and her canoe explore the wildlife, flora and fauna, and urban landscape at the river's edge. Through perilous weather and river rushes, the canoe and her captain survive and maneuver their way down the river back home.
If you liked the Encyclopedia Brittanica, try…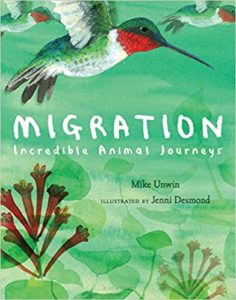 Migration: Incredible Animal Journeys by Mike Unwin, illustrated by Jenni Desmond
Animals of all shapes and sizes make epic journeys across our planet, through harsh weather, avoiding hungry predators, in their efforts to survive. Travel around the globe with some of the world's most incredible animals and discover their unique migration stories. Follow the emperor penguin through snow, ice and bitter temperatures; watch as the great white shark swims 10,000 km in search of seals; track huge herds of elephants, on their yearly hunt for water and be amazed at the millions of red crabs, migrating across Christmas Island.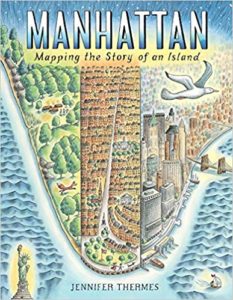 Manhattan: Mapping the Story of an Island by Jennifer Thermes
From before its earliest settlement to the vibrant metropolis that exists today, the island of Manhattan has always been a place of struggle, growth, and radical transformation. Humans, history, and natural events have shaped this tiny sliver of land for more than 400 years. In Manhattan, travel back in time to discover how a small rodent began an era of rapid change for the island. Learn about immigration, the slave trade, and the people who built New York City. See how a street plan projected the city's future, and how epic fires and storms led to major feats of engineering above and below ground.
A Life Made by Hand: The Story of Ruth Asawa by Andrea D'Aquino
Ruth Asawa (1926-2013) was an influential and award-winning sculptor, a beloved figure in the Bay Area art world, and a devoted activist who advocated tirelessly for arts education. This lushly illustrated book by collage artist Andrea D'Aquino brings Asawa's creative journey to life, detailing the influence of her childhood in a farming family, and her education at Black Mountain College where she pursued an experimental course of education with leading avant-garde artists and thinkers. Delightful and substantial, this engaging title for young art lovers includes a page of teaching tools for parents and educators.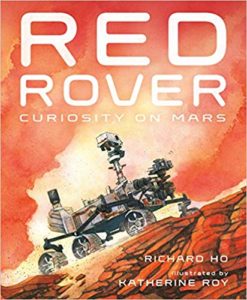 Red Rover: Curiosity on Mars by Richard Ho, illustrated by Katherine Roy
Mars has a visitor.
It likes to roam…
observe…
measure…
and collect.
It explores the red landscape―
crossing plains, climbing hills,
and tracing the bottoms of
craters―in search of water
and life.
If you liked Harold and the Purple Crayon, try…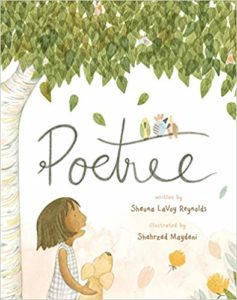 Poetree by Shauna LaVoy Reynolds, illustrated by Shahrzad Maydani
The snow has melted, the buttercups are blooming, and Sylvia celebrates winter's end by writing a poem. She ties her poem to a birch tree, hoping that it doesn't count as littering if it makes the world more beautiful. But when she returns, a new poem is waiting for her. Could the tree really be writing back? Sylvia decides to test her theory, and so begins a heartwarming poetic correspondence…as well as an unexpected new friendship.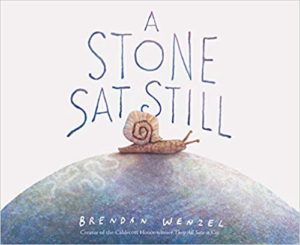 A Stone Sat Still by Brendan Wenzel
A Stone Sat Still tells the story of a seemingly ordinary rock—but to the animals that use it, it is a resting place, a kitchen, a safe haven…even an entire world. This is a gorgeous exploration of perspective, perception, and the passage of time, with an underlying environmental message that is timely and poignant.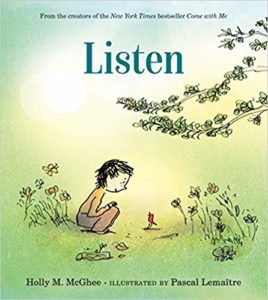 Listen by Holly M. McGhee, illustrated by Pascal Lemaitre
Listen
with your heart.
It is your ears
your eyes
your nose
your mouth
your hands–
Author Holly M. McGhee and illustrator Pascal Lemaître ask you, me, and all of us to inspire empathy by exploring what it means to be connected to everything, including the natural world.
What are you reading these days? I want to know! Find me on Twitter at @KarinaYanGlaser, on Instagram at @KarinaIsReadingAndWriting, or email me at KarinaBookRiot@gmail.com.
Have you checked out Book Riot's Kidlit These Days podcast yet? I co-host it with my friend, school librarian Matthew Winner. We chat about the intersection of children's books and what's going on in the world today. Give it a listen and let us know what you think!
Until next time!
Karina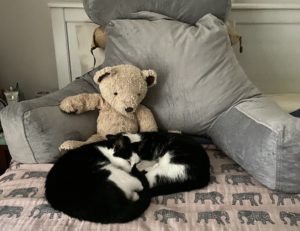 *If this e-mail was forwarded to you, follow this link to subscribe to "The Kids Are All Right" newsletter and other fabulous Book Riot newsletters for your own customized e-mail delivery. Thank you!*