Sponsored by Mighty Justice: My Life in Civil Rights by Dovey Johnson Roundtree and Katie McCabe from Algonquin Books.
"Dovey Johnson Roundtree set a new path for women and proved that the vision and perseverance of a single individual can turn the tides of history." —Michelle Obama. Meet the remarkable trailblazer everyone—everyone!—should know about. In Mighty Justice: My Life in Civil Rights, Dovey Johnson Roundtree recounts her inspiring life story that speaks with urgency to our current troubled times. From the streets of North Carolina to the segregated courtrooms of the nation's capital, from the male stronghold of the army to the pulpits of churches, Roundtree sought justice throughout her 104 years. Get to know this true inspiration!
Hello, hello, happy Friday dear nonfiction readers! Minnesota's November cold snap is ongoing, so I am writing this missive to you while sitting under several blankets, SAD lamp turned on high, wishing I'd been motivated enough to make myself a cup of tea before sitting down at my desk. C'est la vie.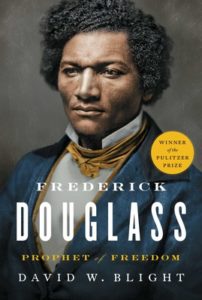 In my reading life, I'm getting ready to tackle my own white whale, Frederick Douglass: Prophet of Freedom by David W. Blight. The book is the 2019 Pulitzer Prize winner in history and my book club's final read of the year. Readers who listen to the podcast will know that I am TERRIBLE at reading giant biographies. I start them with the best of intentions, but inevitably fizzle out around page 300 when it occurs to me that, if this were another book, I would be done already!
But, I'm going to make a solid effort with this one. I have a chapter-a-day reading schedule mapped out (although I'm already behind) and, with this newsletter, have created a bit of public accountability with the effort. I will see you next Friday with an update!
Today, however, I'm thinking all about memoirs. This week's news includes a few upcoming memoirs, one list of the best memoirs of the decade, and an update on Edward Snowden's book. Let's go!
Tori Amos is writing a politically-themed memoir coming out in May 2020! Resistance: A Songwriter's Story of Hope, Change, and Courage will be a guide for "for engaging with our current political moment and handling it with intelligence, grace, and integrity."
Val Kilmer is also writing a memoir coming out in April 2020! Kilmer recently sold the book, I'm Your Huckleberry, to Simon & Schuster. The book will be about his career, his romances, his spiritual journey, and include some "tantalizing celebrity anecdotes." The announcement notes that the April 2020 release will coincide with the release of Top Gun: Maverick, so that's a thing too.
I am deeply fascinated by all of the "best books of the decade" lists we're starting to see published. This week, Paste Magazine offered their take on the 25 best memoirs of the 2010s. It's a good reading list, although a little heavy on 2019 releases at the expense of some earlier titles.
In a long Twitter thread, Edward Snowden shared how the Chinese version of his book, Permanent Record, has been censored by the Chinese government. The cuts seem to be around critiques of authoritarianism, ways for getting around government restrictions, and other small critiques of China.
Over at Book Riot
Since it's unofficially memoir week, here are some great recent Book Riot posts about memoirs:
And that's all for this week! You can find me on Twitter and Instagram @kimthedork and co-hosting the For Real podcast here at Book Riot. Happy reading! – Kim