Sponsored by Udon Entertainment
It's autumn in Eiteriach, and the season brings with it new ingredients and fresh encounters. Like an uptight priest who only loosens up after some eggplant agebitashi, or a mysterious, self-styled minstrel, who starts waxing poetic after a plate of tempura… Not to mention the ups and downs of Berthold and Hermina, who enjoy the blissful pairing of squid and pumpkin in a "couple's boil"…!! Chief's array of autumn flavors bring smiling faces together in this gourmet fantasy!
Welcome to another Monday, my little book huggers! It was another excellent reading weekend in Libertyville. I spent some time dropping awesome 2020 titles on Twitter, I drooled a bit over my recent book mail, and I watched a few episodes of Castle Rock with fellow Rioter Jamie Canavés. (She lives in Florida, but it's fun to watch episodes at the same time and text each other while it's on. Especially since I'm in Maine, just like the show!) I hope you had an excellent weekend too. Please enjoy the rest of your week, and remember to be excellent to each other! I'll see you again on Thursday. – xoxo, Liberty
Here's Monday's trivia question: The Great Ormond Street Hospital in the London borough of Camden famously received the rights to what classic novel? (Scroll to the bottom for the answer.)
Deals, Reels, and Squeals!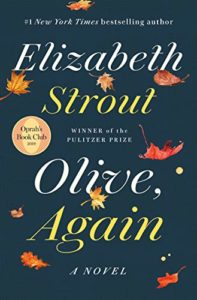 Oprah's next book club pick is Olive, Again by Elizabeth Strout.
Here's the first trailer for Megan Abbott's Dare Me, debuting on the USA Network.
Tananarive Due announced a graphic novel adaptation of her horror screenplay.
Here's the trailer for Wendy, the upcoming Peter Pan-related film.
Talia Hibbert announced her new novel: Take a Hint, Dani Brown.
There's a musical adaptation of Scotland, PA, the amazing movie of Macbeth set in a 1970s fast food restaurant starring my girlfriend Maura Tierney.
And here's the trailer for the new version of The Invisible Man starring Elisabeth Moss.
Zoraida Córdova shared the first look at Wayward Witch, her upcoming third book in the Brooklyn Bruja series.
And Kelly Yang shared the cover of her next book: Parachutes.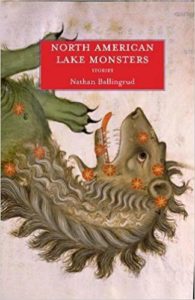 Hulu announced the stars of Monsterland, the upcoming series based on the short stories from Nathan Ballingrud's collection, North American Lake Monsters.
And here's the first look at A Song Below Water, Bethany C. Morrow's upcoming young adult novel.
There's a musical adaptation of Chelsea Clinton's children's book She Persisted debuting off-Broadway.
Book Riot Recommends
At Book Riot, I work on the New Books! email, the All the Books! podcast about new releases, and the Book Riot Insiders New Release Index. I am very fortunate to get to read a lot of upcoming titles, and learn about a lot of upcoming titles, and I'm delighted to share a couple with you each week so you can add them to your TBR!
Loved, loved, loved:
Network Effect (The Murderbot Diaries Book 5) by Martha Wells (Tor.com, May 5, 2020)
If you haven't heard me say it before, allow me to say it again: The Murderbot Diaries is one of the most perfect series I have ever read. It's an award-winning, four-novella series about a rogue, self-aware security robot who hates humans and emotions, and just wants to stream entertainment shows, yet also wants to help humans. They are some of the smartest, funniest books I have read, and I was SO sad when I read the fourth and supposedly last one last year. BUT PLOT TWIST: There's a full-length Murderbot novel coming in 2020! I received it on Friday and immediately dropped everything and read it, and I am here to report that it is also AWESOME. I love Murderbot so much. If you haven't read them yet, what are you waiting for??!?
What I'm reading this week:
The Order of the Pure Moon Reflected in Water by Zen Cho
I Hold a Wolf by the Ears: Stories by Laura van den Berg
A Song Below Water: A Novel by Bethany C. Morrow
Solstice: A Tropical Horror Comedy by Lorence Alison
Acid for the Children: A Memoir by Flea
Pun of the week:
What do you call a fake noodle? An impasta.
Here's a kitten picture:
Zevon and Farrokh turned one this weekend! I guess I will now have to refer to this as a cat picture. *SOB* It went by so fast! It means that they've been causing chaos in my life for ten months now. Today is also Millay's birthday! She's nine this year, but not nearly as cooperative when it comes to having her photo taken.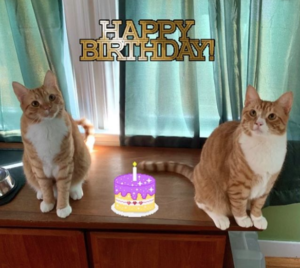 And this is funny.
Rakesh Satyal is a gift.
Trivia answer: Peter Pan by J.M Barrie.
You made it to the bottom! Thanks for reading! – xo, L