Sponsored by Book Riot's $50 gift card to the indie bookstore of your choice giveaway! Enter here.
We're giving away a $50 gift card to one reader's independent bookstore of choice! To enter, click here and sign up for our Read This Book newsletter.
It's Veterans Day in the US, so I'll take this opportunity to thank any vets who read Kissing Books for your service. Let's talk love!
News and Useful Links
Do you like Robyn Carr? Have you heard that her Virgin River series is getting a Netflix adaptation? I look forward to checking it out!
A TED Talk! About romance novels!
Have you voted in the Goodreads Choice Awards? I'll admit, I did enjoy some of the books that were listed in the romance category, but the lack of historical romance and the lack of Alyssa Cole threw me lolsob. Needless to say, I might have written in something that covers both of those vacancies.
This is an amazing article by Adriana Herrera about the presence of immigrants in romance. (Also, if you want to preorder her next book—A F/F HOLIDAY FOODIE ROMANCE—you definitely should.)
Sarah MacLean's got a new merch line coming out in the spring, but she decided to give us a little taste! I'd say hide your wallet, but you're just going to buy everything anyway.
Rebel Carter wrote this searing piece about why she writes historical romance.
The Bawdy Quickie is ready to ship! If you haven't gotten yours yet, do yourself a favor.
Do you have PassionFlix? They finally announced the leading cast of their adaptation of Gabriel's Inferno, which I don't want to want to watch, but goodness gracious, he is pretty.
Have you seen the cover for Talia Hibbert's next Avon book, Take a Hint, Dani Brown? It's so freaking precious. I can't wait!
ALSO. Sonali Dev is continuing the work she started with Pride, Prejudice and Other Flavors with Recipe for Persuasion, which is bound to kill me, I think.
Deals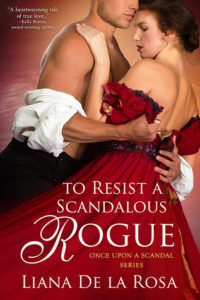 Liana de la Rosa's To Resist a Scandalous Rogue is 99 cents right now! It's the second book in the series, but can stand alone. This one features a Viscount running for Parliament and the widow he can't get out of his head. She's a teacher, and also Jewish, and the two share a night together before she disappears…so yeah. A bunch of things to tick off your mental checklist. The rest of the series is less than five dollars, so might as well load up on the rest (the first is To Love a Scandalous Duke, if you're interested).
Recs!
You'd think I'd want to talk about romances featuring folks who serve, but instead I'm going to talk about another kind of service: single parenthood. I've come across a couple really good books featuring single parents with delightful little ones, and I am that person who doesn't hate their existence in romance novels.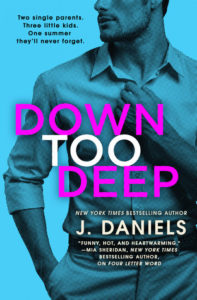 Down too Deep
J. Daniels
J. Daniels books are hit or miss for me—I read a four star one and then picked up one that was a hate-quit DNF—but this one was definitely a hit. Nathan and Jenna are two single parents who are at two very different points in their lives. Nathan is a workaholic widower with a two-year-old who is finally emerging from the cloud of grief that he's buried himself in since his wife's (CW) death by suicide. Jenna has been mostly on her own with her eight-year-old twins since they were born, and has the advantage of being able to work from home when they're out of school. When Jenna offers to help Nathan with Marley while he runs his restaurant in the hope of cutting back hours and getting to know his daughter.
This is one of those books you can see the flaws in, but can't help but love. Nate and Jenna are both trying to do their best for their kids, but definitely can't resist each other. They start out as friends, and try to back away when more comes along. But…well, that isn't really an option, is it?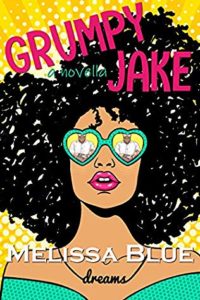 Grumpy Jake
Melissa Blue
This novella packs a seriously sexy punch while also making you swoon over a kindergartener. The titular grumpy gus is a father at Bailey's school, where he has probably dated every available woman at the school where his son Jayden has gone through daycare and is now starting Kindergarten in Bailey's class. Bailey herself is immediately attracted to the hot, bearded, tattooed healthcare worker, but is less than attracted to his serial dating ways and his attitude. But when they get stuck in an elevator together (STUCK IN AN ELEVATOR TOGETHER YOU KNOW HOW I LOVE THOSE) and start to reveal their truths to each other, their relationship starts to shift.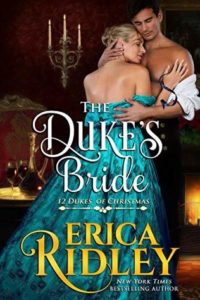 I've also been picking my way (out of order, which kind of hurts) through Erica Ridley's 12 Dukes of Christmas, the next of which is The Duke's Bride. It's got a smuggler hero, his ten-year-old twins, and the French governess who takes the job to gain enough capital to go back to France and recover her vineyard. I haven't started it yet, but I'm looking forward to it.
Who are your favorite single parents in romance?
What are you reading this week?
As usual, catch me on Twitter @jessisreading or Instagram @jess_is_reading, or send me an email at wheninromance@bookriot.com if you've got feedback, bookrecs, or just want to say hi!