Sponsored by Turner Publishing
Burns have disfigured him, his father has passed away, and his mother now works so many jobs that Wilder Tate feels like he's living alone. He expects more of that same loneliness as he starts at a new high school, but Wilder surprises even himself as he finds a new best friend, discovers a knack for basketball, and catches the eye of the coolest girl in school. But he's haunted by a secret he thinks he can erase with a bold and risky plan to fix his disfigurement for good―a plan that may cost him far more than he ever imagined.
Welcome to In The Club, a newsletter of resources to keep your book group well-met, well-read, and well-fed.
Thank you to all of you again who continue to reach out with condolences over my grandfather. We buried him last week and he's at peace now. It gets easier every day.
As for this week's theme, I'm suddenly very aware of how little time is left in this year (and decade, good grief). Thanksgiving is but a few weeks away, which got me thinking a lot about the ways we've constructed narratives that paint American history in such a glossy and positive light. I want to dedicate some time in book club to reckon with the truth, be it ugly, pretty, or all of the above.
To the club!!
---
Nibbles and Sips
Hmm… what snacks go with ugly truths and conspiracy?! I suppose good ol' comfort food, because we're gonna need it!
Personally, I look for any excuse to enjoy fall foods. Try this butternut squash soup for a starter and this pork shoulder with basil sauce for the main course. If you don't feel like basil sauce, I think chimichurri would be so perfect here too. If you're down for some seafood instead, this scallop dish with a brown butter and lemon pan sauce comes together pretty quickly and it's SO good. I always add extra lemon zest
For dessert, try these delectable baked apples that I can legit eat three of if left unsupervised. I might top these with a little cream cheese whipped with some brown sugar and a splash of vanilla extract because I do what I want.
For sips, go with some good ol' American beer, or try this Fall From the Tree cocktail I've been meaning to try (bourbon, apple juice, cinnamon, and a few other fun things).
Umm…That's Not How I Heard It
The version of history most of us got in school is not even close to the whole story (Columbus Day, I'm lookin' at you, bruh). The truth is, of course, much less happy-pilgrims-and-natives-sharing-maize and a lot more this-land-was-your-land-but-now-its-ours-move-or-die-also-here's-some-small-pox. So let's read up, get informed, and then unpack the darker parts of our country's legacy. Discuss which of the facts you encounter were the most shocking, and get into how the ground we laid when the country was founded directly correlate to the issues that divide us today.
Killers of the Flower Moon: The Osage Mrurders and the Birth of the FBI by David Grann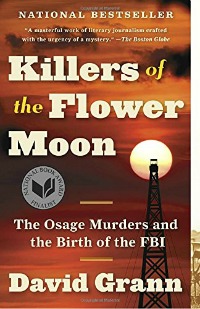 I used to handsell this all the time at the bookstore and my line every time was, "How the hell did we never learn about this?" The people of the Osage Nation were the richest people per capita in the world in the 1920s when oil was discovered on their land (land that, by the way, they were pushed onto in the first place). That's when the Osage started dying one by one, and not by natural causes. Many of those who tried to investigate these suspicious deaths ended up dead too, so the newly-formed FBI eventually got involved under the direction of J. Edgar Hoover. What really happened to the Osage people is a downright scandalous conspiracy that I cannot believe I knew nothing about until two years ago.
These Truths: A History of the United States by Jill Lepore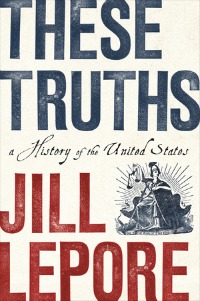 I call this my "I need a Christmas gift for my history-loving father-in-law" recommendation, but it's a great read for anyone who wants a broader and more accurate view of the United States' past. It's a meaty tome that goes back to 1492 and attempts to provide a more accurate and sobering account of our nation's history. It's nowhere near as pretty and altruistic as our textbooks have made it out to be; in fact, the truths told here are often uncomfortable and ones it's about time they were reckoned with.
How to Hide an Empire: A History of the Greater United States  by Daniel Immerwahr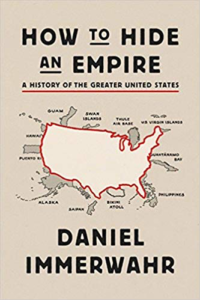 I own but have not yet taken on what is by numerous accounts a "fascinating, meticulously researched, & highly readable 'revisionist history' of the US shown through the lens of the territories and colonies that have been at the outlying edges of the American empire" (ripped that from the staff picks section of the indie I worked at, courtesy of owner Seth Marko). This book shows in very black and white terms that the objective has always been domination, expansion, capitalistic supremacy. Again, a lot of this narrative ain't pretty, but of vital importance for any informed American.
Suggestion Section
We have some book club questions for Becoming for ya.
Today suggest these discussion points for Ann Patchett's The Dutch House
From the Good Morning America Book Club: the recipe for Ana's Pastelito Love Bites from Dominicana
This book club has been meeting for over 6 decades!
This feels a little Late to the Party of NBC, but here's their list of celeb book clubs you might enjoy. They even went and threw in some up-and-comers: Oprah and Reece something?
---
Thanks for hanging with me today! Shoot me an email at vanessa@riotnewmedia.com with your burning book club questions or find me on Twitter and the gram @buenosdiazsd. Sign up for the Audiobooks newsletter, get it on the Read Harder podcast, and watch me booktube every Friday too.
Stay bad & bookish, my friends.
Vanessa
More Resources:
– Our Book Group In A Box guide
– List your group on the Book Group Resources page