Sponsored by The Jumbie God's Revenge by Tracey Baptiste, new from Algonquin Young Readers
In book three of the popular Jumbies series, Corinne must use her emerging supernatural powers to battle the angry god who would destroy her Caribbean island home. When a ferocious out-of-season hurricane wrecks Corinne's seaside village, Corinne knows it's not a typical storm. She discovers the storms weren't caused by a jumbie, but by the angry god Huracan. Now Corinne, with the help of her friends and even some of her enemies, must race against time to find out what has angered Huracan and try to fix it before her island home is destroyed forever.
Dear Kid Lit Friends,
I hope you are enjoying the fall! I have been in an autumnal cooking mood. Yesterday I baked bread, roasted vegetables, made spicy enchiladas, and baked an apple pie! After the hot summer, it's nice to use the oven as the temperatures go down. I have a great list of new releases for your reading pleasure today. As always, if I loved it a particular book, I marked it with a
. Please note that all descriptions come from the publisher.
Picture Books
Fry Bread by Kevin Noble Maillard, illustrated by Juana Martinez-Neal
Told in lively and powerful verse by debut author Kevin Noble Maillard, Fry Bread is an evocative depiction of a modern Native American family, vibrantly illustrated by Pura Belpre Award winner and Caldecott Honoree Juana Martinez-Neal.

Fry bread is food.
It is warm and delicious, piled high on a plate.
Fry bread is time.
It brings families together for meals and new memories.
Fry bread is nation.
It is shared by many, from coast to coast and beyond.
Fry bread is us.
It is a celebration of old and new, traditional and modern, similarity and difference.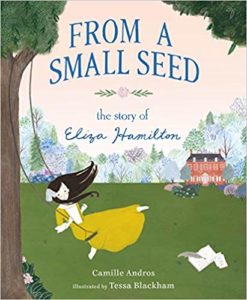 From a Small Seed: The Story of Eliza Hamilton by Camille Andros, illustrated by Tessa Blackham (PB)
Ever since she was a young girl, Eliza Hamilton hoped to help people in need. From the private quarters of her family home to her national platform as Hamilton's partner, Eliza was a lifelong advocate for fairness, freedom and faith. The remarkable acts of charity and public service she performed after Alexander's death are considered a significant contribution to the Hamilton legacy the world celebrates today.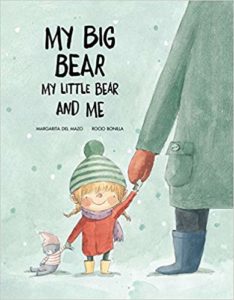 My Big Bear, My Little Bear and Me by Margarita Del Mazo and Rocio Bonilla by Margarita Del Mazo and Rocio Bonilla
It's good to have a bear, but this little girl has two: the big one has the strength of a giant, the small one is as soft as cotton. Join our protagonist on her fun day out hand-in-hand with her two bears.
I Remember: Poems and Pictures of Heritage by Lee Bennett Hopkins
From the joyous to the poignant, poems by award-winning, diverse poets are paired with images by celebrated illustrators from similar backgrounds to pay homage to what is both unique and universal about growing up in the United States. Together these heartfelt poems and captivating illustrations shine a light on the rich diversity of people in our nation as well as the timeless human connections and experiences we all share.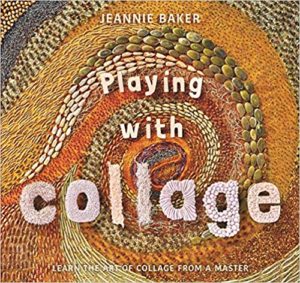 Playing with Collage by Jeannie Baker
Whether using dried flowers or tiny shells, spaghetti or postage stamps, Jeannie Baker draws from the world around her to make work that is singularly beautiful and imaginative. Incorporating a wide range of textures, her arresting collage pieces have earned her international acclaim. Now she shares her secrets and encourages readers to get creative: each of the four main sections in Playing with Collage presents an abstract collage by the artist and offers suggestions and starting points for anyone aspiring to master the art.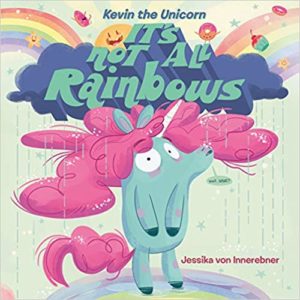 It's Not All Rainbows by Jessika von Innerebner
Everyone knows that unicorns are perfect. They are glamorous and glittery, and their smiles make rainbows appear! But Kevin is having a less-than-perfect day. First, he wakes up on the wrong side of the bed …on the floor. Then he discovers that his mane is so wild that even his Super-Perfect-Hair-Day-Spray can't tame it. And the day just gets worse from there. Kevin does his best to keep his outlook sunny, but it's hard to keep smiling when everything goes horribly wrong!
Chapter Books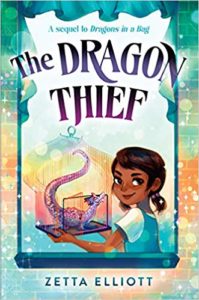 The Dragon Thief by Zetta Elliott, illustrated by Geneva B
Jaxon had just one job–to return three baby dragons to the realm of magic. But when he got there, only two dragons were left in the bag. His best friend's sister, Kavita, is a dragon thief! Kavita only wanted what was best for the baby dragon. But now every time she feeds it, the dragon grows and grows! How can she possibly keep it secret? Even worse, stealing it has upset the balance between the worlds. The gates to the other realm have shut tight! Jaxon needs all the help he can get to find Kavita, outsmart a trickster named Blue, and return the baby dragon to its true home.
Middle Grade Books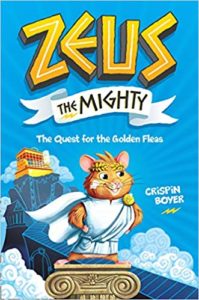 Zeus the Mighty: The Quest for the Golden Fleas by Crispin Boyer
Welcome to the Mount Olympus Pet Center, which sits high on a hill in Athens … Georgia. The owner, Artie, has a soft spot for animals that need a forever home, and she has rescued a menagerie of creatures, each named after a powerful god or goddess. But these animals aren't just pets with cool names … Meet Zeus, a tiny hamster with a mighty appetite for power. His cage sits atop a high shelf so he can watch the other pets from above. But being king of the gods is a tough job: You've got to issue orders and decrees, make sure to stay in tip-top shape by running on your exercise wheel, and most importantly, lead your minions on epic journeys. And Zeus the Mighty has one giant task in front of him: Find the "Golden Fleas" and solidify his position before the other gods rebel.
Graphic Novels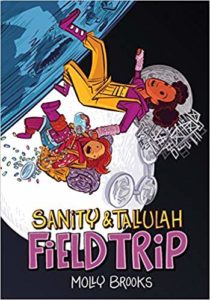 Sanity and Tallulah: Field Trip by Molly Brooks
Sanity and Tallulah are going on a field trip-to a real live planet! Some of their classmates are nervous (none of them have been on a planet before, and they've heard terrible things), but Tallulah is beside herself with excitement. Sanity would be more excited if her grumpy older sister, Prudence, wasn't coming along to supervise the trip. Things get off to a rocky start (asteroid-y start, to be specific) and Sanity and Tallulah find themselves separated from their school group, pursued by a pirate, and stranded on a planet that's about to explode, with nothing but the wreckage of a crashed space shuttle and the contents of Tallulah's overloaded backpack to work with.
What are you reading these days? I want to know! Find me on Twitter at @KarinaYanGlaser, on Instagram at @KarinaIsReadingAndWriting, or email me at karina@bookriot.com.
Also, if you love listening to podcasts while you're cooking, commuting, or getting ready for the day, check out the Kidlit These Days podcast. We publish a new episode every two weeks and have covered topics such as the border wall, banned books, and the hijab. Give it a listen!
Until next time!
Karina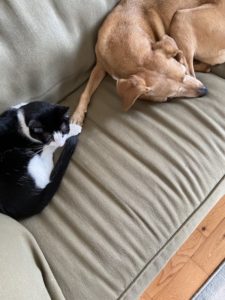 *If this e-mail was forwarded to you, follow this link to subscribe to "The Kids Are All Right" newsletter and other fabulous Book Riot newsletters for your own customized e-mail delivery. Thank you!*