Sponsored by Naked Mole Rat Saves the World by Karen Rivers, new from Algonquin Young Readers
Kit has a really big, strange secret: Sometimes, without warning, she turns into a naked mole rat. It first happened as Kit watched Clem fall during a performance with her acrobatic-troupe family on TV. Kit can't tell Clem though, because Clem hasn't been herself after the accident. She's mad and gloomy and keeping a secret of her own. Kit and Clem still haven't figured out how to deal with all the ways they have changed—inside and out. Somehow, Kit has to save the day. But turning into a naked mole rat isn't a superpower. Or is it?
Hi Kid Lit Friends,
There has been such a terrific influx of children's books by Indigenous authors in the past couple of years, and I have been enjoying all of them. My co-host Matthew Winner and I have recently explored this topic on our Book Riot podcast, called Kidlit These Days. Check out the episode here!
Here are some of the books that have caught my eye recently. Check them out and let me know what you think! *Please note that all descriptions come from the publisher.
Picture Books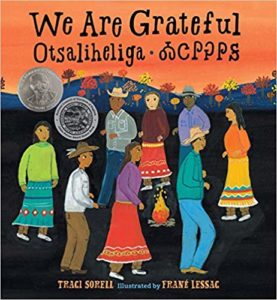 We Are Grateful: Otsaliheliga by Traci Sorrell, illustrated by Frane Lessac
The word otsaliheliga (oh-jah-LEE-hay-lee-gah) is used by members of the Cherokee Nation to express gratitude. Beginning in the fall with the new year and ending in summer, follow a full Cherokee year of celebrations and experiences. Written by a citizen of the Cherokee Nation, this look at one group of Native Americans is appended with a glossary and the complete Cherokee syllabary, originally created by Sequoyah.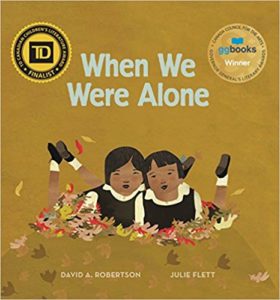 When We Were Alone by David A. Robertson, illustrated by Julie Flett
When a young girl helps tend to her grandmother's garden, she begins to notice things that make her curious. Why does her grandmother have long, braided hair and beautifully coloured clothing? Why does she speak another language and spend so much time with her family? As she asks her grandmother about these things, she is told about life in a residential school a long time ago, where all of these things were taken away. When We Were Alone is a story about a difficult time in history, and, ultimately, one of empowerment and strength.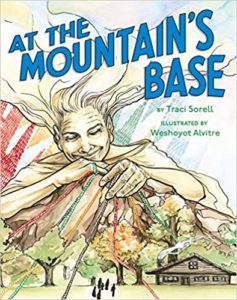 At The Mountain's Base by Traci Sorrell, illustrated by Weshoyot Alvitre
At the mountain's base sits a cabin under an old hickory tree. And in that cabin lives a family — loving, weaving, cooking, and singing. The strength in their song sustains them through trials on the ground and in the sky, as they wait for their loved one, a pilot, to return from war. With an author's note that pays homage to the true history of Native American U.S. service members like WWII pilot Ola Mildred "Millie" Rexroat, this is a story that reveals the roots that ground us, the dreams that help us soar, and the people and traditions that hold us up.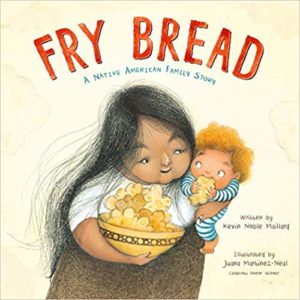 Fry Bread by Kevin Noble Maillard, illustrated by Juana Martinez (10/22, Roaring Brook)
Fry bread is food.
It is warm and delicious, piled high on a plate.
Fry bread is time.
It brings families together for meals and new memories.
Fry bread is nation.
It is shared by many, from coast to coast and beyond.
Fry bread is us.
It is a celebration of old and new, traditional and modern, similarity and difference.
The Grizzly Mother by Hetxw'ms Gyetxw (Brett D. Huson); illustrated by Natasha Donovan
To the Gitxsan people of Northwestern British Columbia, the grizzly is an integral part of the natural landscape. Together, they share the land and forests that the Skeena River runs through, as well as the sockeye salmon within it. Follow mother bear as she teaches her cubs what they need in order to survive on their own.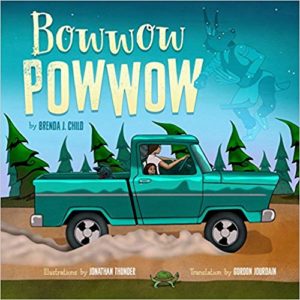 Bowwow Powwow by Brenda J. Child, illustrated by Jonathon Thunder, translated by Gordon Jourdain
Windy Girl is blessed with a vivid imagination. From Uncle she gathers stories of long-ago traditions, about dances and sharing and gratitude. Windy can tell such stories herself–about her dog, Itchy Boy, and the way he dances to request a treat and how he wriggles with joy in response to, well, just about everything.
Middle Grade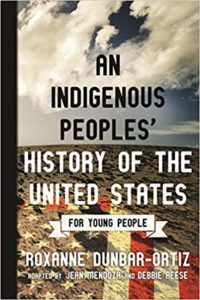 An Indigenous Peoples' History of the United States of America for Young People by Roxanne Dunbar-Ortiz, adapted by Jean Mendoza and Debbie Reese (nonfiction)
Going beyond the story of America as a country "discovered" by a few brave men in the "New World," Indigenous human rights advocate Roxanne Dunbar-Ortiz reveals the roles that settler colonialism and policies of American Indian genocide played in forming our national identity. The original academic text is fully adapted by renowned curriculum experts Debbie Reese and Jean Mendoza, for middle-grade and young adult readers to include discussion topics, archival images, original maps, recommendations for further reading, and other materials to encourage students, teachers, and general readers to think critically about their own place in history.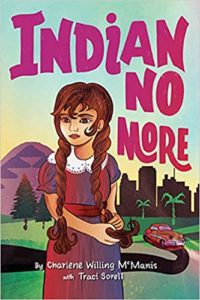 Indian No More by Charlene Willing Mcmanis with Traci Sorrell
Regina Petit's family has always been Umpqua, and living on the Grand Ronde reservation is all ten-year-old Regina has ever known. Her biggest worry is that Sasquatch may actually exist out in the forest. But when the federal government signs a bill into law that says Regina's tribe no longer exists, Regina becomes "Indian no more" overnight–even though she was given a number by the Bureau of Indian Affairs that counted her as Indian, even though she lives with her tribe and practices tribal customs, and even though her ancestors were Indian for countless generations.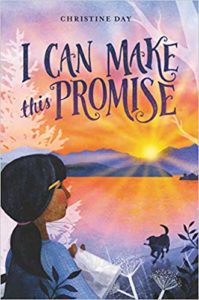 I Can Make This Promise by Christine Day
All her life, Edie has known that her mom was adopted by a white couple. So, no matter how curious she might be about her Native American heritage, Edie is sure her family doesn't have any answers. Until the day when she and her friends discover a box hidden in the attic—a box full of letters signed "Love, Edith," and photos of a woman who looks just like her. Suddenly, Edie has a flurry of new questions about this woman who shares her name. Could she belong to the Native family that Edie never knew about? But if her mom and dad have kept this secret from her all her life, how can she trust them to tell her the truth now?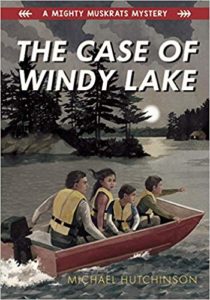 The Case of Windy Lake by Michael Hutchinson
Sam, Otter, Atim and Chickadee are four cousins growing up on the Windy Lake First Nation. They are inseparable. Nicknamed the Mighty Muskrats for their habit of laughing, fighting and adventuring together, the cousins find that each new exploit adds to their reputation. When a visiting archeologist goes missing, the cousins decide to solve the mystery of his disappearance. In the midst of community conflict, family concerns and environmental protests, the four get busy following every lead. From their base of operations in a fort made out of an old school bus, the Mighty Muskrats won't let anything stop them from solving their case!
What are you reading these days? I want to know! Find me on Twitter at @KarinaYanGlaser, on Instagram at @KarinaIsReadingAndWriting, or email me at karina@bookriot.com.
Also, if you love listening to podcasts while you're cooking, commuting, or getting ready for the day, check out the Kidlit These Days podcast. We publish a new episode every two weeks and have covered topics such as the border wall, banned books, and the hijab. Give it a listen!
Until next time!
Karina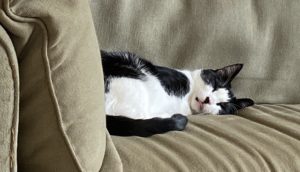 *If this e-mail was forwarded to you, follow this link to subscribe to "The Kids Are All Right" newsletter and other fabulous Book Riot newsletters for your own customized e-mail delivery. Thank you!*