Sponsored by The Daughters of Temperance Hobbs, the new book from New York Times bestselling author Katherine Howe. On sale now from Henry Holt.
A magical bloodline. A family curse. Can Connie break the spell before it shatters her future? The new book from Katherine Howe, bestselling author of The Physick Book of Deliverance Dane. "There's real magic in this book." –Kathleen Kent. New York Times bestselling author Katherine Howe returns to the world of The Physick Book of Deliverance Dane with a bewitching story of a New England history professor who must race against time to free her family from a curse
It's time I came clean to you, dear reader, about the trifecta of shit I can't handle: number one on the list is Evil Kids.
I'll be the first to admit that all children are feral children, kids are chaotic neutral and we teach them to be good or evil, et cetera, but in the world of books, when there's a kid, and they're evil… well. I bust out the wall like the Kool Aid man. Don't get me wrong, I love me some badass little kids, the ones who negotiate with you for an extra cookie, but when it comes to horror… kids? Fuckin' nu uh.
I'm Mary Kay McBrayer, true crime author and horror movie podcaster, and most importantly, your Virgil through Book Riot's weekly horror newsletter, The Fright Stuff. If you, like me, are terrified of evil children, you're in the fright circle of hell.
Fresh Hells: (FKA new releases)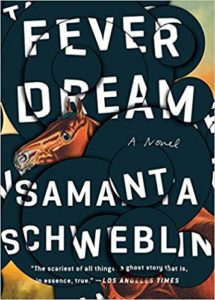 Fever Dream by Samanta Schweblin
Hooookay, so this one is terrifying. Translated from the Spanish, this novel reads exactly like it sounds: it's surrealist horror at its very core. When Amanda moves with her family to a new town, she discovers something wrong with her neighbor's son only because, in fragmented, purposefully disorienting prose, his mother tells on him. The reader spends most of the book on the edge of her seat, wondering what exactly is wrong with David… is he a ghost? a changeling? just a creepy little boy? I've been recommending this book to anyone who will listen… not only because I need someone to bond with over my fear of evil kids.
If you like Fever Dream, you should also check out her book of essays that released earlier this year, Mouthful of Birds. Plus, she has a new-to-English book coming out in the spring! (Don't worry: I won't let it get past you.)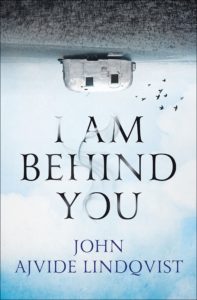 I Am Behind You by John Ajvide Lindqvist
You likely remember this author from his novel and its film adaptation, Let the Right One In, and although I'd argue this one is less viscerally upsetting than the one about the child vampire in Sweden, I Am Behind You does carry on the motif of the evil kid. Something is up with Molly. When an entire campsite wakes up in a landscape of… well… basically NOTHING, we get the sense that this little girl knows more than she lets on… and that maybe she's responsible.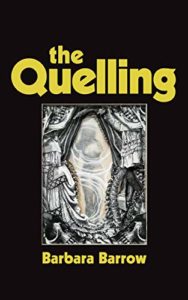 The Quelling by Barbara Barrow
This book has not one, but TWO evil kids in it: the novel traces the sisters from the violent crime they commit as pre-adolescents through their mental health residency. "The Quelling" references a particularly bizarre therapy that (without giving too much away) also alludes to the trope of the evil child. We get the story from both sisters' perspectives, as well as their doctor's, and two direct-care workers, which shows both their unreliability and their confirmation biases. This novel is so unsettling… you're gonna love it.
Crypt-Keepers: (well-beloved reads that are still on-theme)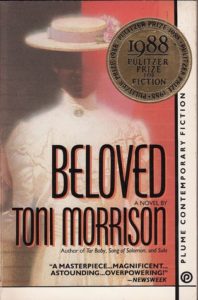 Beloved by Toni Morrison
Y'all already probably know that I reference this novel any time I'm able–it's a true masterpiece from the late, great Toni Morrison. Though it's based on the true story of a fugitive slave, this book brings a baby ghost back. Don't worry, I'm not spoiling the book: the first line is, "124 was spiteful. Full of a baby's venom." Why is she so angry? Look, if you haven't read this book yet, I don't know what you have been doing with your life. I really don't. GET. ON. IT.
Ear Worm: "La Llorona" by Chavela Vargas (This rendition of the song is from Julie Taymor's film Frida, based on the life of Mexican folk-surrealist painter, Frida Kahlo, but the myth of La Llorona is a terrifying one of a drowned ghost and family annihilator. And how fitting for her to torment children in this newsletter featuring children as tormentors…)
News:
You can win a trip to see the premiere of Doctor Sleep, the latest chapter in Stephen King's The Shining series.
So, this is more of a news-to-me situation than an actual news situation, but did you know that the original Jack-o-Lanterns were carved from turnips or beets, and that they were HORRIFIC? Check out this post about the Irish folklore to prove me right.
Seven years ago, Donald Ray Pollock hoped there would be someone gutsy enough to adapt his novel, The Devil All the Time into a film. Now, it's happening. (Slated to release in 2020.)
Want to hear about the history of the maligned first line, "It was a Dark and Stormy Night?" Click here.
Do you want to sleep in the Addams Family Mansion? You do.
Clive Owen will star in a limited series adaptation based on Stephen King's novel, Lisey's Story. All eight episodes will be written by King.
Speaking of Kids in Horror, visit the Halloween Museum in Salem, MA that devotes itself to McDonald's role in the development of Halloween!
The Haunting of Hill House, Netflix's series inspired by Shirley Jackson's novel of the same name, is now available on Blu-Ray.
LeVar Burton reads Carmen Maria Machado's short story "Blur."
Augusten Burroughs' new memoir is about his life as a witch.
Will I see you at Spooky Empire in Tampa, FL, this Samhain? (But seriously… are you coming to see me? THIS OUR SPOT! Hollaaaaa!)
I hope you've enjoyed this horrorscape of evil children and fresh hells. Y'all come on and follow me through more circles on IG @marykaymcbrayer and TW @mkmcbrayer , and definitely, absolutely, please send me any horror news that I may have missed. Until next week…
Your Virgil,
Mary Kay