Sponsored by HMH
Best-selling author Tim O'Brien shares wisdom from a life in letters, lessons learned in wartime, and the challenges, humor, and rewards of raising two sons. "We are all writing our maybe books full of maybe tomorrows, and each maybe tomorrow brings another maybe tomorrow, and then another, until the last line of the last page receives its period." Dad's Maybe Book is a funny, tender, wise, and enduring literary achievement that will squeeze the reader's heart with joy and recognition.
Hola Audiophiles, welcome to Thursday! I've got some more new releases for you this week, some DNFs and witchiness, audiobooks about food and more. Let's get right to it before I burn the cobbler I happen to have in the oven. Yay for fall and baking, amirite?
Ready? Let's audio.
---
New Releases – October 22 (publisher's descriptions in quotes)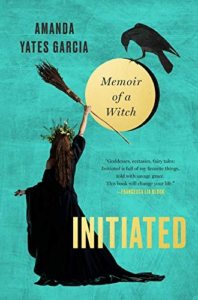 Initiated: The Memoir of a Witch by Amanda Yates Garcia, narrated by the author – Memoir + witch = often an automatic Add to Cart in Vanessa math, but I'm even more interested now that I know Amanda Yates Garcia is A Thing (she was raised in the tradition of witchcraft and is sort of a witch to the stars). Her story is a "memoir about finding meaning, beauty, and power through a life in witchcraft."
Narrator Note: Full disclosure: a quick Googling of Ms. Yates Garcia yielded more YouTube entries of her being interviewed on Fox News than I am entirely comfortable with, even if she was on there to call Trump wicked and hex him.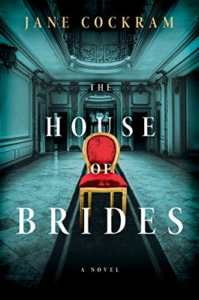 The House of Brides by Jane Cockram, narrated by Jaye Rosenberg – This debut is a psychological thriller about a woman who flees her hot mess life, hoping to find respite at her family's estate in England BUT SECRETS. Just what I'm in the mood for: suspense and some English stuff.
Narrator Note: The only other credit I found for Jane Rosenberg was Amelia Westlake Was Never Here by Erin Gough, but I liked the sample well enough. She is apparently an Aussie actress though, so she's not new to the performance space.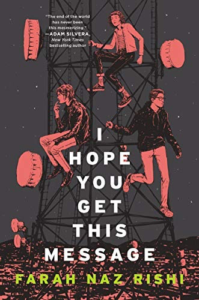 I Hope You Get This Message by Farah Naz Rishi, narrated by Priya Ayyar – Three teens are trying to figure out their lives when they learn the world may end in less than a week. "With only a week to face their truths and right their wrongs, Jesse, Cate, and Adeem's paths collide as their worlds are pulled apart."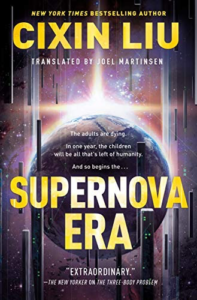 Supernova Era by Cixin Liu, translated by Joel Martinsen, narrated by Feodor Chin – The latest from sci-fi legend Cixin Liu (I've been meaning to read The Three Body Problem for years!) is pitched as Lord of the Flies on a global scale. "Eight light years away, a star has died, creating a supernova event that showers Earth in deadly levels of radiation. Within a year, everyone over the age of 13 will die. And so the countdown begins." Oh ok, sure.Nnot panicking at all.
Narrator Note: If you've been keeping up with Cixin Liu's other work, you'll recognize Feodor Chin's crisp, commanding voice. Chin has also narrated work for peeps like Michio Kaku and Kim Stanley Robinson.
Latest Listens
Welp, I went into the week 0 for 2 in the audiobook department. I paused on Stacy Schiff's The Witches and moved on to God Save the Queens. Eh. I hadn't realized the latter was written by a white woman, albeit one with a long history writing about hip hop and gender in urban outlets. I might have kept going with it, but got some sad news of a family member passing away this week. There's nothing like tragedy to remind you that life it too short to force my reading. On to the next one.
Listens on Deck
In the interest of finding joy, I chose another witchy listen from the deep, dark corners of my TBR. I'm finally listening to Alice Hoffman's Practical Magic! I never saw the film, but I thought I remembered the previews being very light, happy, and rom-com-adjacent. The book is darker, sexier, and more vulgar than I was ready for. I'm SO into it so far!
What are your favorite spooky season listens??
From the Internets
Apparently Ronan Farrow, who gets all my praise for his relentless and prolific journalistic efforts, does some pretty goofy voices in his self-narrated Catch and Kill. Don't know how to feel about that! (For any Pod Save America listeners, all I can hear in my head is Lovett's bad Russian guy accent, who so happens to be Farrow's fiancé).
This roundup of books to listen to while cooking tells you both what to read and what to cook. I'd like to throw in a Save Me the Plums + chocolate jewel cake entry here, and request that you kindly send that cake on over to Portland.
AudioFile suggests some mysterious audiobooks for kids. Having just finished the second installment in Victoria's Schwab's Cassidy Blake middle grade series, I can also recommend City of Ghosts and Tunnel of Bones for kiddos who like a little scariness.
Over at the Riot
The fact that a serial killer narrating several well-known audiobooks is just the tip of the iceberg is… well, it's a thing!
---
That's all I got today! Shoot me an email at vanessa@riotnewmedia.com with audiobook feedback & questions or find me on Twitter and the gram @buenosdiazsd. Sign up for the In The Club newsletter, peep the Read Harder podcast, and watch me booktube every Friday too (taking this week off)!
Stay bad & bookish, my friends.
Vanessa